In the days leading to Hitler's rise to power in 1933, Hitler's Nazi plotters burned the Reichstag (Germany's parliament building in Berlin) and blamed the Communists to discredit and remove the opposition. Quigley noted most of the plotters were homosexual who recruited another "degenerate moron" to go with them. On February 28, 1933 the day after the Reichstag fire, all civil liberties were suspended, "giving the government power to invade any personal privacy, including the right to search private homes or confiscate property" (Quigley, p. 437-438; Sutton's Wall Street and the Rise of Hitler, p. 118-120).
Lacking the votes to declare himself dictator of Germany, Hitler appealed to Pope Pius XI. On March 23, 1933, Germany's Catholic Centre Party coalition casted its deciding block of votes for Hitler. A day later, the Vatican became the first foreign state to recognize Hitler's Nazi government. The Pope dissolved and merged the Catholic Centre Party into the Nazi Party  (Lucien Gregoire's Murder by the Grace of God (2013), p. 64-65).
[In 1929, before recognizing Hitler's Third Reich, the Vatican took millions in cash from Italy's fascist Premier Mussolini in return for papal recognition of the Italian fascist regime. ("How the Vatican Built A Secret Property Empire Using Mussolini's Millions." The Guardian,  21 Jan 2013; "Vatican Denies It Built Property Empire on Back of Mussolini's Money." Telegraph, 22 Jan 2013]
To keep secret the truth about the Reichstag, several who knew were murdered. A few months later, most of the Nazis plotters ('tools') were murdered by Hitler's Hermann Goring during the "blood purge" of June 30, 1934 (Quigley, p. 438) as Hitler's Federal Reserve Bank of New York-London et al. bankers who built up the war machines of the Nazi Third Reich prepared Hitler for world war (Leave the European Union series Part IV, Part II-III, Part I).
On September 1, 1939, Hitler's SS officers donned Polish uniforms and staged a fake attack against a German radio station. Drugged concentration camp inmates were dragged into position and smeared with blood to become the "German casualties," providing Hitler with the pretext to invade Poland (Quigley, p. 179), the official spark to World War II.
Georgetown University Professor Carroll Quigley, author of Tragedy and Hope, was a consultant to the U.S. Department of Defense and to setting up the U.S. space program when Nazi scientists were secretly brought to the U.S. under Operation Paperclip to establish the National Aeronautics and Space Administration (NASA), and absorbed into the U.S. Central Intelligence Agency and industry. Quigley mentored the future President Bill Clinton. (Quigley Interview in 1974 YouTube; Lecture on "The Quigley Formula" https://www.youtube.com/watch?v=ynVqPnMQ2sI)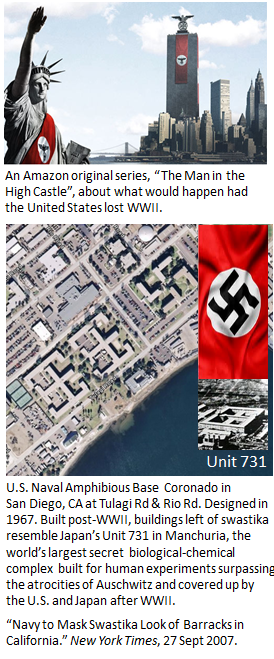 "We must speak the truth about terror. Let us never tolerate outrageous conspiracy theories concerning the attacks of September the 11th, malicious lies that attempt to shift the blame away from the terrorists, themselves, away from the guilty. To inflame ethnic hatred is to advance the cause of terror," declared 43rd President George W. Bush before the United Nations two months after nearly 3,000 people exploded on September 11, 2001, ushering in the Patriot Act with government power to invade any personal privacy et al. and what was the United States Constitution (U.N. Speech on November 10, 2001, http://www.c-span.org/video/?167220-2/president-bush-speech-united-nations).
Such conspiracies would mean treason and the finishing coup d'état of  "the most exceptional nation on this earth" because "Americans, We Are the Most Exceptional" declares the President's brother, Neil Bush (USA Today, Sept 17, 2013), our U.S. military men are "dumb, stupid animals" to be used as pawns for foreign policy says the President's appointee to lead the  9/11 investigation, Henry Kissinger (Woodward & Bernstein. (1976). The Final Days, p.194; "Kissinger Resigns as Head of 9/11 Commission." CNN, Dec 13, 2002). A new Patriot flag to accompany the new Patriot Act?
One such 'outrageous conspiracy' nutter was U.S. Ambassador William E. Dodd to Germany during Nazi Reich. Ambassador Dodd published a letter in The New York Times warning the Senators and the public that an American billionaire and other individuals of great riches were working to bring about a fascist dictatorship in the United States along with U.S. senators who believed they would come to power ("Letter of Ambassador Dodd to Senators." NYT, May 12, 1937; "Warning by Dodd of a Dictatorship." NYT, May 11, 1937; "Confirms Letter in Berlin: Dodd Declines to Name 'Billionaire' American Fascist." NYT, May 12, 1937; People's Will Defeated." Washington Post, May 12, 1937).
What a "figment of a disturbed mind" and "a disgrace to our country" a U.S. senator called Ambassador Dodd as several others demanded Dodd's recall. A few months later, Dodd resigned. ("Dodd Is Denounced…: Borah Terms the Ambassador 'a Disgrace to His Country' and a 'Scandal Monger'." NYT, May 13, 1937; "In Washington Waters Too Troubled…"  NYT, May 14, 1937; "Dodd Resigns Post as Envoy to Reich." NYT, Dec. 7, 1937)… as President Bush's grandfather, Prescott S. Bush, serves as a director of Union Banking Corporation, a Nazi financing conduit in New York. The 'American billionaire' Dodd identified in his correspondence with President Franklin D. Roosevelt were the Rockefeller-controlled entities and others who were collaborating with the Nazi Reich (Sutton's Hitler, p. 15-16). Dodd would not live to see another of Sutton's book, Wall Street and FDR (1975).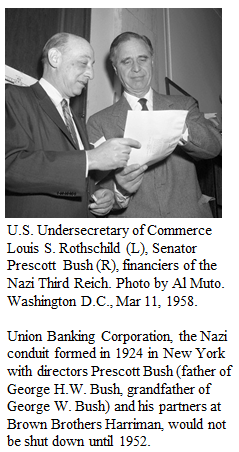 [Union Banking Corporation had accounts at (Rockefellers') Chase National Bank and National City Bank, the bank for Rockefellers' Standard Oil whose oil tankers were operated by Nazis to refuel Nazi submarines. One of Standard Oil's largest shareholders was the Nazi I.G. Farben cartel through a reciprocal arrangement. Standard Oil chairman Charles E. Mitchell served on the boards of the Nazi I.G. Farben cartel and the Federal Reserve, whose Federal Reserve chairmen had built what became the backbones of the Nazi Reich war machines. (Racusin, M.J. "Thyssen has $3,000,000 Cash in New York." New York Herald Tribune, July 31, 1941 – online copy, http://www.randomhouse.com/doubleday/thefamily/media/thefamily_document002m.pdf "General Aniline to Sell Oil Shares." NYT, Apr 24, 1942; "Standard Oil Ordered to Surrender Securities." WSJ, May 25, 1944).]
Hendrik Jozef Kouwenhoven, with fellow partners of Brown Brothers Harriman, was managing director of Union Banking Corporation in New York and its Nazi parent Bank voor Handel en Scheepvaart (formerly von Heydt Bank named in Hitler's Secret Backers authored under pseudonym "Sidney Warburg" – see Sutton's discussion in Hitler, p. 133-148) in Rotterdam, serving as the transfer bank for Hitler's financier, Fritz Thyssen. In the 1930s Kouwenhoven was a director of the Thyssen German steel cartel, Vereinigte Stahlwerke, founded by the New York-London bankers et al. and their future CIA Director Allen Dulles, to whom Henry Kissinger reported ("In and Out of the Banks." WSJ, Sept. 11, 1924; "Allen W. Dulles, C.I.A. Director from 1953-1961, Dies at 75." NYT, Jan 31, 1969; Sutton's Hitler, p. 107; Sutton's Establishment, p. 169-170; Leave the EU Part IV: Hitler's Missionaries for Democracy).
Knight Woolley was also a director of Union Banking Corporation, Guaranty Trust in New York [J.P. Morgan-Rothschild-Rockefeller], and the Federal Reserve Bank of New York (Sutton's  Establishment, p. 169-170).]
Even after over 70 years, the sight of Nazi symbols recently on just one New York subway train caused such a stir that within hours, the NYC mayor called on Amazon to remove the train ads, calling them "irresponsible and offensive to World War II and Holocaust survivors, their families, and countless other New Yorkers." ("Nazi-inspired Ads for 'The Man in the High Castle' pulled from New York Subway." The Guardian, Nov 24, 2015; "Why Is This Subway Car Covered in Nazi Symbols." New York Magazine, Nov 23, 2015; "New York Subway Pulls Nazi-Themed Ads For New Show, 'Man In The High Castle'." NPR, Nov 27, 2015).
Such is the world of advertising and conspiracies where facts have been kept hidden, but some in plain sight on Google Earth map at the intersection of Tulagi Road and Rio Road in San Diego, California: a military complex designed after the largest symbols on earth of almost the worst atrocities committed against humanity post-World War II. Most people will have never heard of Unit 731. ("Navy to Mask Swastika Look of Barracks in California." NYT, Sept 27, 2007; History Channel documentary video in 1996, YouTube "Unit 731 Nightmare in Manchuria"; ABC Australia Documentary, May 2003 video.)
Yet, without the conspicuous gas chambers and smoke stacks, the grandest silent genocide has been in progress in full view, with the "defectives" and "undesirables" once thrown into the gas chamber since promoted as aids in carrying the cause of human rights.
"Who controls the past controls the future: who controls the present controls the past,"  wrote Eric Arthur Blair, better known as George Orwell, in his famous book, 1984.
It took 50 years after World War II to learn who financed the Nazi Reich in Professor Antony C. Sutton's little-known book, Wall Street and the Rise of Hitler (cited as abbrev. "Hitler") published in 1976. Another 25 years after that, Hitler's genocide collaborator is documented in Edwin Black's book, IBM and the Holocaust: The Strategic Alliance Between Nazi Germany and America's Most Powerful Corporation, first published in 2001 and expanded in 2012 (cited).
If there were a chapter in Black's book on IBM's financiers and directors, it would be Hitler's New York-London et al. financiers who knew the location of every single IBM Hollerith tabulating machine leased and serviced to the Nazi Reich at concentration camps around Europe counting every Jew, homosexual et al. being herded into the gas chambers (Black, p.207-208, 260, 265; Leave the European Union series Part IV, Part II-III, Part I).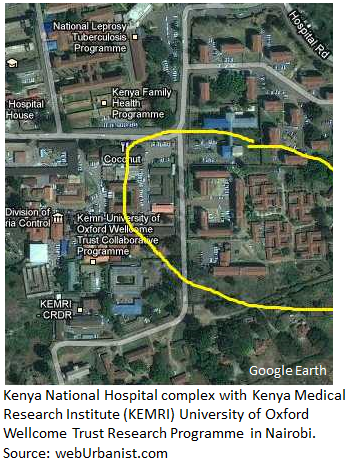 The term "neo-Nazi" is a misnomer, because it presumes Nazi fascism began and died with Adolf Hitler and the Nazi Third Reich. Hitler was about 15 years old in 1904, the same year Wall Street's Carnegie, Harriman, and Rockefeller formed the backbone of funding for eugenics at Cold Spring Harbor Laboratory in New York with the stated goals "to study the utility of the human race… .and best method of restricting strains that produce defective and delinquent classes" ("Extends Work in Eugenics." NYT, Mar 30, 1913), the same eugenics site that would give birth with the Wellcome Trust to the Human Genome Project in 1990 which heralds human beings as decoded strands of DNA. With patron Rothschilds, they would soon build the Nazi Third Reich and finance Hitler's rise to power in 1933 (Ibid., Leave the European Union series).
Hitler would cleanse Europe of the "defective and delinquent classes" with IBM. International Business Machines was formed through a combine of Computing-Tabulating-Recording Company (Fairchild) by Guaranty Trust (later became J.P. Morgan & Co), whose original capital came from the Rockefeller, Harriman and Whitney families (Sutton America's Secret Establishment, p. 133) that financed eugenics and the Nazi Reich, and whose agents on Guaranty's board counted the soaring profits to the Zyklon B poison gas filling the gas chambers.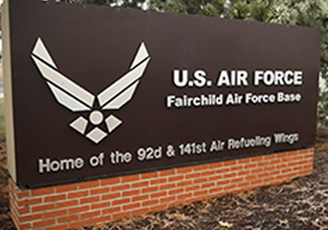 In the mid-1930s, the U.S. War Department run by Rockefellers' Secretary of War Henry L. Stimson extended lucrative contracts to IBM, which grew to such an extent that IBM became a quasi-governmental institution. IBM's large scale research to advance the Hollerith tabulating system – a punch card registration, identification, storage and retrieval systems used to identify the enslavement and execution of Jews and other defectives – was now funded by the U.S. and Hitler governments (Black, p.120).
Over the street from the Warsaw Ghetto in Poland was IBM's new Watson Business Machines which calculated "exactly how many Jews should be emptied out of the ghettos each day" and how to transport them efficiently on IBM-managed railways leading to the camps. ("IBM Dealt Directly with Holocaust Organizers." The Guardian, 29 Mar 2002).
IBM's [J.P. Morgan-Rothschild-Rockefeller et al.] collaboration with the Nazis never came to light in the Nuremburg trials: IBM oversaw every single document and translation for the Nuremburg trials (Edwin Black discusses IBM and the Holocaust. February 26, 2012 at Yeshiva University. https://www.youtube.com/watch?v=kQPiub5Qyqw).
Each day during the heights of the mass extermination, Karol Wojtyla, being a seminarian which would have exempted him from Nazi military service, passed the Auschwitz concentration camp on his way to work for the Nazis at the Brussels Solvay Company chemical plant. Solvay was a subsidiary of the Nazi I.G. Farben cartel that also produced the poison gas Zyklon B for the gas chambers. His future right-hand man, Joseph Ratzinger, guarded a depot herding Jews to the Auschwitz extermination camps (Gregoire, p. 145-146; "German Industrial Octopus." Current History, November 1942; "12 Solvay Officials Held on Sabotage Charges by Reds." Washington Post, Jul 5, 1950).
Hitler's personal representative on the advisory committee of IBM's German subsidiary, Dehomag, was Dr. Edmund Veesenmayer, who was also on the board of Rockefellers' Standard Oil and J.P. Morgan[Rothschild]'s International Telephone and Telegraph (I.T.T.), and served as Hitler's intermediary to General Motors, among others (Black, p. 254, 266; Sutton Hitler, p. 77). Veesenmayer, a behind-the-scenes man considered a step or two from Adolf Hitler, became the scheduler of the actual genocide, organizing the deportations and transfers to concentration camps by the train railways network managed by IBM systems throughout Nazi-occupied Europe (Black, p. 263-265, 60).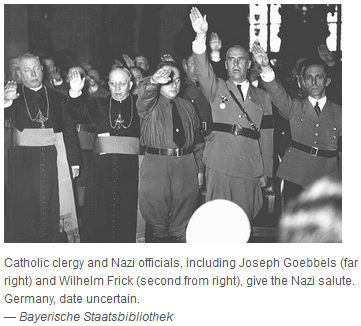 Catholic churches, which were clients of IBM, were among the leading sources of information on bloodline and race for the Nazi Reich (Black, p.155-156). The Nazi Reich with the aid of IBM Hollerith in 1934 canvassed baptism records, birth and death registries and other church records going back over a century (Ibid., p.103-104).
Finally, after all these years, a few more facts shed light on a more plausible reason why over 6 million Jews and other "defectives" ended up in the gas chambers.
Almost on par with Italy, Nazi-occupied Germany was the most Christian nation in the world split between Catholics and Protestants. Germany's "Axis of Evil" was Fascist Premier Benito Mussolini of Italy, whose Italian army was entirely Christian and obeyed the directives of Pope Pius XI. Nazi uniforms had a small zippered pocket that contained rosary beads if soldiers were Catholic, and if caught not attending church, risked being sent to a death camp. (Lucien Gregoire's (2013) Murder by the Grace of God, p. 61-62).
"He alone, who owns the youth, gains the Future!" declared Adolf Hitler in a speech at the Reichsparteitag in 1935.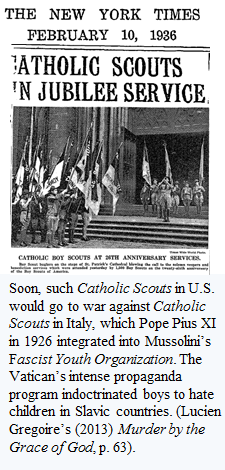 In 1925, Pope Pius XI and Premier Mussolini, a former  British MI5 intelligence agent, began moving children from the social group, Catholic Scouts, to the Fascist Scouts, a military troop. (Gregoire, p. 63; "Recruited by MI5: The Name's Mussolini. Benito Mussolini." The Guardian, Oct. 13, 2009; "Pope Suppresses Catholic Scouts to Balk Mussolini." NYT, 25 Jan 1927; "Scouts' Army Numbers 5000…" Los Angeles Sunday Times, 26 Apr 1925; "Belgian Scouts Report Growth." Christian Science Monitor, 09 July 1929; Historical Boys' Clothing website on Hitler & Mussolini's Nazi, Fascist Youth Group, http://histclo.com/youth/youth/org/nat/hitler/hitler.htm, http://histclo.com/youth/youth/org/nat/ita/natit.htm).
In January 1927, the Chicago Daily Tribune reported Pope Pius XI published a letter in the Vatican newspaper L'Osservatore Romano, in which he declared the Church will not let Italy's Fascist government destroy the Church's religious institutions and monopolize the education of Italian youth. Therefore, the Holy See itself will dissolve the Catholic Scouts, the pontiff said invoking the Bible. ("Pope Dissolves Boy Scouts…" Chicago Daily Tribune, 25 Jan 1927; "Il Duce Threatens to Induct Catholic Scouts as Fascisti." Washington Post, 28 Mar 1928).
A month earlier in December 1926, Pope Pius XI issued an order to elementary schools in Italy requiring all children to enroll in the Fascist Youth Organization, as the Vatican and Mussolini groomed the boys for war. As early as the age eight, the boys were trained in the use of firearms, and more importantly, brainwashed in an intense Vatican propaganda program to hate children in Slavic countries (Gregoire, p. 63). Slavs are generally defined as an ethnic and linguistic body of peoples living in Eastern Europe: East Slavs – Russians, Ukrainians, and Belarusians usually associated with the Eastern Orthodox Church; West Slavs – chiefly Poles, Czechs, Slovaks etc. usually associated with the Roman Catholic Church.
[In the U.S. about two months after the U.S. officially entered World War II, 8,000 Catholic Scouts gathered in Chicago to receive awards, to pledge allegiance to the flag, and the flags blessed by the bishop. A day later in New York City, Archbishop Spellman urged the 5,000 Catholic Scouts gathered to help keep America free and strong, both on "the battlefields and the home fronts" as some number of U.S.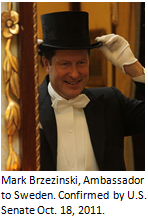 Catholic Scouts graduates went to war against Italy's Catholic Scouts that became the Fascist Youth. More blessings after WWII ("8,000 Catholic Scouts to Hold Rallies Today." Chicago Daily Tribune, 08 Feb 1942; "Catholic Scouts Hear Spellman." NYT, 9 Feb, 1942;  "Pope Blesses Catholic Scouts." NYT, 10 Aug 1950).
Nazi Obersturmfuehrer (First Lieutenant) Kurt Gerstein was the "chief disinfection officer" and Zyklon B buyer in the hygiene department of the Waffen SS. Gerstein became a dissident and warned the Vatican and  Sweden, but was met with disbelief and indifference. Gerstein was found hanged in his cell on July 25, 1945 in the end days of World War II ("How Auschwitz Got Its Zyklon B." Jerusalem Post [Jerusalem],10 Feb 1989].
For some reason, nearly 20 years after agreeing to release the Vatican archives during the Holocaust era, the Vatican under Pope John Paul II to Pope Benedict XVI to the current Pope Francis has yet to do so. ("Vatican Accused of Withholding Nazi-era Archives." Xinhua, Dec 2, 1998; "Pope Benedict 'Vatican to Open Pre-World War II Archives'." DW [Germany], Jul 2, 2006;  "Open the Vatican's Holocaust-Era Archives." Washington Post, Sept 17, 2015).
Three years before Pope Pius XI's declaration, in 1924 an impoverished Albino Luciani was twelve years old when across the Atlantic Ocean, George Herbert Walker Bush was born to Prescott S. Bush, who would become a director of the newly formed Nazi conduit, Union Banking Corporation (7 Federal Register No. 220 (1942), Saturday, 7 Nov 1942, p. 9097; " In and Out of Banks." WSJ, Sept 11, 1924; Part I Leave the EU).
Who was Albino Luciani and what happened when Luciani and Prescott Bush's son, CIA Director George H.W. Bush, Henry Kissinger et al., crossed paths? Luciani thought the Vatican should serve Jesus Christ.
Super-Duper "Democracy and Freedom" World War III, BREXIT, and the 'So-Called' Fourth Reich
In the end days of World War II, "In anticipation of Allied victory, thousands of Farben's secrets went underground with other German resources to lay the foundation for World War III." (United States Congress. Senate Hearings before a Subcommittee of the Committee on Military Affairs. Elimination of German Resources for War. "Part 7 I.G. Farben Material Submitted by the War Department," p.943. Report pursuant to S. Res. 107 and 146 [78th Congress and 79th Congress], December 1945. Washington: Government Printing Office, 1945.)
A year before World War II ended, high-level Nazi officials, industrialists and bankers held a secret meeting on August 10, 1944 at the Hotel Maison Rouge in Strasbourg to develop plans to protect German economic assets, by that time, in the inevitable Allied victory. Among those present were  representatives from the New York-London-financed I.G. Farben, Georg von Schnitzler; Gustav Krupp von Bohlen und Halbach, steel magnate Fritz Thyssen; banker Kurt von Schroeder; Deutsche Bank and the Dresdner Bank. Large portions of assets were transferred into secret bank accounts and business in friendly or neutral countries, dummy firms, foreign "front men".  (Bale, Jeffrey M. (1994). The "Black" Terrorist International: Neo-Fascist Paramilitary Networks and the "Strategy of Tension" in Italy, 1968-1974. Ph.D. Dissertation, UCLA, p. 53-55; "The SS (Schutzstaffel): Organization of Former SS Members (ODESSA)." Jewish Virtual Library https://www.jewishvirtuallibrary.org/jsource/Holocaust/odessa.html).
ODESSA: Nazi SS, Vatican, New York-London (Federal Reserve) Bankers-CIA
ODESSA, which stands for "Organization Der Ehemaligen SS-Angehörigen," was set up by members of the Nazi SS in 1944 before the end of World War II to protect and secure their future in the event of defeat.
Along the border regions of the Alps, clandestine Nazi SS escape organizations maintained an elaborate network "safehouses" every fifty or so miles, network of monasteries. A number of the escape and evasion operations supposedly organized by these Nazi networks were in fact carried out secretly by the Catholic Church, the International Red Cross, and various Allied intelligence agencies, ideally suited to provide "humanitarian assistance" to refugees. (Bale, p. 65, 80-81).
High-ranking Vatican officials, including Pope Pius XII (1939-1958), played a major role in helping the war criminals (Bale, p. 81). His predecessor, Pope Pius XI (1922-39), had Germany's Catholic Centre Party coalition cast its deciding block of votes for Hitler, followed by being the first foreign state to recognize Hitler's Nazi government, and a few years earlier, took millions in cash from Italy's fascist Premier Mussolini in return for papal recognition of the Italian fascist regime.
High-profile Nazi fugitives were provided with false papers, sheltered in safehouses, and then led over those pathways until, they were passed along to networks run by the Vatican or Allied intelligence (Bale, p. 65). The Vatican's Roman Catholic priests, especially Franciscans, helped ODESSA move fugitives from one monastery to the next until they reached Rome.(Jewish Virtual Library on ODESSA, https://www.jewishvirtuallibrary.org/jsource/Holocaust/odessa.html.)
Among the wanted Nazis who made their escapes along these routes were Nazi SS Dr. Josef Mengele, who conducted the "scientific" experiments on prisoners at Auschwitz, and SS Hauptsturmfuhrer Klaus Barbie, the Gestapo "butcher" of Lyon (both of whom became prized assets of Rockefeller-Rothschild's CIA Director Allen Dulles and Henry Kissinger). Once in Italy, under the protection of the Vatican's refugee bureaus, it was relatively easy for these high-profile criminals to escape overseas (Bale, p. 65-66; Uki Goni. (2002). The Real Odessa: Smuggling the Nazis to Peron's Argentina; Carroll, Rory and Uki Goni. "The Hunt for Doctor Death." The Guardian [London (UK)] 08 Jan 2008).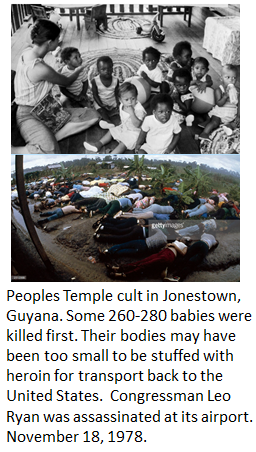 [Preview upcoming (time-permitting): Under the tutelage of the CIA's prize "moderate" ODESSA Nazi SS Dr. Josef Mengele in Belo Horizonte, Brazil, the CIA's operative Jim Jones "crazed" cult leader would put to use their expertise on mind control and medical experimentation on 1,200 black Americans  who thought they were starting their life anew in Jonestown, Guyana. Zbigniew Brzezinski would help to ensure the bodies remained unidentifiable.
ODESSA "moderate" CIA-Nazi Klaus Barbie became a drug trafficker and executioner of Catholic priests "liberation theologists" who were helping Latin America's poor to fight against the rape and pillage of their nations by the CIA (Rockefeller-Rothschild-Kissinger-Brzezinski et al.) and CIA-sponsored South American military dictatorships. Klaus Barbie was part of Operation Condor in the 1970s and 1980s, a secret alliance between between the CIA and these military 'juntas' brutal disappearance – murder – of those who challenged them ("Kissinger May Face Extradition to Chile." The Guardian [UK], June 11, 2002).
A few years before his death, Argentina's military dictator, Jorge Rafael Videla, admitted in an interview with El Sur ("The South") in 2010 that he kept the country's Catholic hierarchy informed about his regime's policy of "disappearing" political opponents, and that Catholic leaders offered advice on how to "manage" the policy. ("Exdictador Argentino Videla Asegura Que La Iglesia Sabía De Desapariciones." Agencia EFE [Madrid], 22 Jul 2012. Google translation, "Former Argentine Dictator Videla said the Church Knew of Disappearances"). The Spanish Agencia EFE or EFE News Service is the fourth largest news agency in the world.
This involved the Rothschild Bank, Banco Ambrosiano, a bank that worked closely with the Vatican and also used with the Treasury's Exchange Stabilization Fund (ESF) to destabilize Poland and Soviet Union. Archbishop Jorge Mario Bergoglio of Buenos Aires, Argentina at the time has since been elevated Pope Francis as Latin American is being subjected to Condor II.]
In 2012, German prosecutors were granted access to secret files in Brazil and Chile. The documents showed about 5,000 of the 9,000 Nazi war criminals went to Argentina, with others going to Brazil, Paraguay and Uruguay. Argentine President General Juan Peron sold 10,000 blank Argentine passports to ODESSA, some of whom went on to serve in Perón's intelligence agency. ("Secret Files Reveal 9,000 Nazi War Criminals Fled to South America After WWII." Daily Mail [UK], Mar 19, 2012).
Investigators pored over details of Brazil's Arquivo Historico records, the repository for all immigration documents in Rio de Janiero, on the 'rat lines' – the escape routes out of Europe after WW2 that allowed an estimated 800 Nazis to escape on passports provided by the Vatican.
The records showed 20,000 Germans settled in Brazil alone between 1945 and 1959. Most entered on a passport of the International Red Cross. Some 800 higher functionaries of the SS and Nazi state entered Argentina alone on such passports. The contact point for many was German Bishop Alois Hudal, priest-confessor to the German Catholic community in Rome. (Ibid, "Secret files Reveal 9,000 Nazis.."; "Argentina, a Haven for Nazis, Balks at Opening Its Files." NYT,  09 Mar 2003)
Nearly 70 years later, in 2014, the Federal Bureau of Investigation (FBI) released 700 declassified documents on its search for Adolf Hitler after World World II. FBI Records: The Vault https://vault.fbi.gov/adolf-hitler; "Secret FBI Files 'Reveal Hitler DID Fake Death' After WW2 Then Flew to TENERIFE." Daily Express [UK], Jan 8, 2016; "Are these classified FBI files proof ADOLF HITLER escaped by SUBMARINE to Argentina?" Daily Express [UK], Apr 15, 2014; History Channel Documentary "Hunting Hitler" in November 2015.)
The FBI can still ask the CIA and Vatican.
Hitler's New York-London financiers, also knowing World War II would end in the inevitable Allied victory, gathered at Bretton Woods a month earlier in July 1944 to hatch a new international monetary system, the World Bank and International Monetary Fund (IMF), the U.S. dollar made the world reserve currency. The war would soon end.
Knowing along with the Nazis they financed that the war would end, a year later, on August 6 and 9, 1945 the former president of the New York Federal Reserve, George L. Harrison gathered at the White House as the atomic bombs were dropped on Hiroshima and Nagasaki, vaporizing over 210,000 Japanese (BBC On this Day), most of whom were women and children as the men were at war. George L. Harrison was part of the New York-London financiers that built the Nazi Reich and and later served as special assistant to Rockefeller's War Secretary Henry L. Stimson, who dropped the atomic bombs. (Part IV Leave the European Union).
Since the principals already knew the war would end in the inevitable Allied victory, the atomic bombing exercise on Japan was for the full view of the Soviet Union. Two months after Nagasaki, the U.S. Joint Chiefs of Staff commissioned a study of an atomic attack on the Soviet Union using 20 to 30 atomic bombs.
Operation Unthinkable
Just in 1998, Top Secret papers discovered by a Daily Telegraph reporter revealed months before the end of World War II, British Prime Minister Winston Churchill ordered contingency plans drawn wherein Britain, the United States and defeated Germany would launch a surprise attack on July 1, 1945 against the Soviets who had just helped the British and U.S. to defeat the Nazi Third Reich. The plan was called Operation Unthinkable that would lead to "the elimination of Russia."
"The overall or political object is to impose upon Russia the will of the United States and British Empire," stated Churchill's War Cabinet in the secret papers. It was the first time the secret papers had been read by anyone other than the principals, according to the eminent historian who wrote the official history of the Cabinet Office in wartime.  ("Churchill's Plan for Third World War against Stalin." Daily Telegraph, 01 Oct 1998).
(DOCUMENT "Operation Unthinkable: 'Russia: Threat to Western Civilization.'" British War Cabinet, Joint Planning Staff [TOP SECRET Draft and Final Reports: 22 May, 8 June, and 11 July 1945], Public Record Office, CAB 120/691/109040/001. First six pages available at the UK National Archives, http://www.nationalarchives.gov.uk/education/coldwar/archive/G2/g20901.htm or complete copy at https://web.archive.org/web/20101116152301/http://www.history.neu.edu/PRO2/  and copy here;
"Churchill Planned Invasion of Russia: 'Unthinkable' Plan Would Have Enlisted 100,000 Germans to Battle Stalin." Ottawa Citizen, 2 Oct 1998; "Churchill Set for Russian War." The Globe and Mail [Toronto], 02 Oct 1998; "Churchill's Backup Plan: A War Against Soviet Union." Chicago Tribune, 01 Oct 1998; "Churchill Planned War with Soviets in Mid-'45 Contingency Idea Had Envisioned Deploying 100,000 Just-Defeated German Soldiers." Chicago Tribune, 02 Oct 1998; "In '45, Britain Devised a Plan to Fight Soviets. 'Operation Unthinkable' Even Contemplated the Use of 100,000 Defeated German Soldiers." Philadelphia Inquirer, 4 Oct 1998.)
[After nearly 18 years since the Daily Telegraph first reported on the top-secret papers of Operation Unthinkable, the term still does not appear in articles among America's top three newspapers by circulation: the Wall Street Journal, New York Times, USA Today, or even the Washington Post. The Wall Street Journal had its first article on May 15, 2015 entitled "Waging Peace: Churchill Requested Plans for a British-American Attack on Russia Code-Named Operation Unthinkable".]
The planning was carried out at the very highest level of the British Government and military, discussed by the Chiefs of Staff which envisioned re-arming 100,000 just-defeated German soldiers along with 500,000 British and American soldiers to attack the Soviet Red Army. The report was handed to Prime Minister Churchill on May 22, 1945 by his Chief of Staff, Lt. Gen. Hastings Ismay, just 14 days after Germany's surrender ("Germany's Act of Military Surrender: History Is Made: A Schoolhouse in France Is the Scene of the Signing of Germany's Unconditional Surrender." NYT, 09 May 1945).
The blood had barely dried on nearly 1 million British and U.S. military servicemen, and 9 million Soviet military servicemen – nearly 27 million if Soviet civilians are included – died fighting the so-called Nazi Third Reich financed by Hitler's New York-London bankers et al. ("Nine Million Soviet Servicemen Died in WWII." TASS [Russian News Agency], 30 Apr 2016).
Prime Minister Churchill forewent Operation Unthinkable on the advice of his Chiefs of Staff that Soviet forces outnumbered their forces in a "total war". Instead, the plan was to drop atomic bombs on major cities in Russia.
The first number of Soviet targets to be destroyed in December 1945 was 20 to 30 atomic bombs on 20 cities, six months after WWII; the "SIZZLE" plan drops 133 atomic bombs on 70 cities in December 1948; and the "SAC Basic War Plan" has 5,450 nukes for 3,261 Soviet targets by 1957 (Kaku, Michio and Daniel Axelrod. (1987). To Win a Nuclear War: The Pentagon's Secret War Plans, Forward, p. x – Google). That was just the First Era.
In 1953, President Eisenhower chaired a secret meeting on whether to drop atomic bombs on Korea and China (Ibid., p. 1). President Eisenhower appointed Nelson Rockefeller as his special advisor on Cold War strategies against the Soviet Union and member of the National Security Council, John Foster Dulles as Secretary of State (State Department) and Allen Dulles as Director of the Central Intelligence Agency, all of whom decades earlier had built up the Nazi Reich. ("Nelson Rockefeller Aide in Cold War Strategy. Appointed by Eisenhower as Special Adviser on How to Win Allies and Friends." Los Angeles Times, 17 Dec 1954; Leave the European Union series).
Authors Kaku and Axelrod, both physicist professors, obtained recently declassified Top Secret documents from the Pentagon under the Freedom of Information Act. The declassified documents reveal the aggressiveness of U.S. leaders on many occasions to use atomic bombs, abstaining not because millions would die, but because total victory was not assured; in the early years, not enough B-29 bomber planes to drop the nukes ("Appalling Stories About The Big One to Win a Nuclear War: The Pentagon's Secret War Plans." The Globe and Mail [Toronto] 09 May 1987).
Rather than serve as a deterrent, the U.S. leadership used atomic bombs with regularity to coerce and threaten weaker nations, especially peasant armies in the Third World unable to defend themselves (Kaku & Axelrod, p. 4). The Soviet atomic bomb test on August 29, 1949 created a pause in Nelson Rockefeller et al.'s mission to win allies and friends.
That is because World War II was a build-up of the Nazi Third Reich in Germany by Hitler's New York-London financiers et al. to put in conflict with then-Soviet Union (Russia), in the method of the Hegelian dialectic (Professor Antony Sutton's America's Secret Establishment first published in 1983; Part IV Leave the European Union). This dialectic of Hitler's financiers can be understood more pragmatically as creating through destruction the path to global fascism, the totalitarian state or global communism, what is politely referred to today as globalism.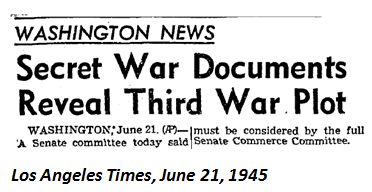 At the end of World War II, the U.S. Senate Kilgore Committee on War Mobilization and U.S. commanders  warned that the American individuals and industrialists who participated and collaborated with the Nazi Third Reich had begun to rebuild the Nazi war machine for a third world war… a Fourth Reich in the European Union ("I.G. Farben Linked to U.S. Companies." NYT, Dec. 11, 1945; "Secret War Documents Reveal Third War Plot." Los Angeles Times, June 21, 1945; "I.G. Farben Cartel Again Gets Help in U.S., Kilgore Charges." Washington Post, June 9, 1947; Part II-III Leave the European Union; "Revealed: The Secret Report that Shows How the Nazis planned a Fourth Reich… in the EU." Daily Mail Online[UK], May 9, 2009).
At World War II-end, top Nazi officials were returned to government posts (Bower, Tom. 1981. Blind Eye to Murder: Britain, America and the Purging of Nazi Germany – A Pledge Betrayed. Pub: Andre Deutsch; Part IV Leave the European Union) as top Nazi scientists were brought to the United States under Operation Paperclip and high ranking Nazi SS absorbed into CIA intelligence. Protégé Henry Kissinger took, among others, cream of the crop Nazis SS Klaus Barbie "Butcher of Lyon," Nazi SS General Reinhard Gehlen (a Protestant), and the CIA's most prized asset Auschwitz's "Angel of Death",  Dr. Josef Mengele, but more later in Jonestown, Guyana.]
The formation of the European Union would be revealed 60 years later in the year 2000 as a CIA-Nazi SS covert operation behind the American Committee for a United Europe (ACUE) to round up war-torn nations into the European Union and NATO and to push for the creation of the European monetary union and suppress debate until the "adoption of such proposals would become virtually inescapable" in a declassified letter dated 1965 ("Euro-Federalists Financed By U.S. Spy Chiefs." The Telegraph[UK], Sept. 19, 2000; Aldrich, Richard. "OSS, CIA and European Unity." Diplomacy & Statecraft, 1997 web; "The European Union Always Was a CIA Project, as Brexiteers Discover." The Telegraph [UK], Apr 27, 2016).
The ACUE was directed by CIA[OSS] William Donovan and Allen Dulles as they protected and funded Nazi SS General Reinhard Gehlen with millions to hire 4,000 to 20,000 "ex"-Nazis to provide the CIA and Pentagon about 70 percent of its intelligence on Russia and Eastern Europe – much of the latter pulled into the European Union ("Wonderful Wizards of O.S.S." NYT, July 26, 1972; "Allen Dulles to be New Head of CIA." Washington Post, Jan. 9, 1953; "Reinhard Gehlen Dies, Spy for Hitler…" Washington Post, June 10, 1979; NYT, June 9, 1979).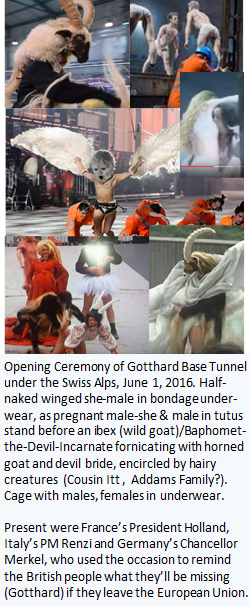 For the first time in nearly a century since the New York-London et al. financiers unleashed Hitler upon Europe to destroy Europe (and the Soviet Union) in order to form the European Union and NATO to protect Europe, the British people are about to have their say.
The "Brexit" Leave-the-European Union advocates offer no movie stars nor a Pope, nor over a dozen NATO and defense chiefs, nor over 300 preeminent historian and economic academia across Britain and Europe, nor global banks, but something the "In" crowd considers a "petty" "theoretical" idea that might bring nuclear war and economic catastrophe, and condemn Britain to "irrelevance":  national sovereignty.
("Brexit will spell END of EU and bring 'DESTRUCTION of Western civilisation', says eurocrat." Daily Express [UK], Jun 13, 2016; "Lessons From History for the Brexiters." The Guardian, May 24, 2016; "Vote to Leave EU Would 'Condemn Britain To Irrelevance', Say Historians." The Guardian, May 25, 2016; "Prominent UK Economists Think Brexit to Have Negative Effect on GDP – Poll." Sputnik, May 29, 2016; "Global Banks Bankroll Battle to Keep Britain in the EU." RT, May 12, 2016; "Ex-NATO and U.S. Defense Chiefs Warn UK Against EU Exit." Reuters, May 10, 2016; "Brexit Could Lead to Recession, says Bank of England." Guardian, May 12, 2016; "Britain Must Stay in the EU to Protect Itself from ISIL, Former Military Chiefs Say." The Telegraph, Feb 23, 2016 "ISIS Fighters Must Be Allowed Back Into UK, Says Ex-MI6 Chief." The Guardian, 7 Sept 2014; "UK Will Not Ban Muslim Brotherhood, says David Cameron." BBC, Dec 17, 2015
Opening Ceremony of the Gotthard Base Tunnel, June 1, 2016, the longest and deepest tunnel in the world constructed over 17 years at a cost of 12 billion Swiss francs. Short version, https://www.youtube.com/watch?v=VT9bwNXbBGY; Long 6+ hour version, https://www.youtube.com/watch?v=I4NU0Tok1T4).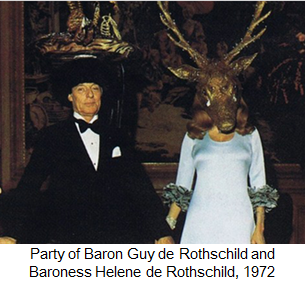 No other than Jacob Rothschild, of the Rothschilds and their agents after financing the Nazi Third Reich that unleashed World War II, rounded up nations soaked in the blood of 60-80 million human lives into the European Union, and created the Euro Monetary Union with the Rockefellers, Dr. Hermann J. Abs, Paul Volcker et al. writes: "All the Evidence Shows that Brexit Would be a Disaster" (The Times [UK], Jun 15, 2016; Leave the European Union Part II-III).
Dr. Hermann J. Abs, who held 40 directorships on company boards including Deutsche Bank and I.G. Farben, was a central figure at the Hotel Maison Rouge meeting in 1944 where the Nazis planned for a Fourth Reich – the formation of a European Union – through covert CIA-Nazi SS operations  ("Revealed: The Secret Report that Shows How the Nazis planned a Fourth Reich… in the EU." Daily Mail Online[UK], May 9, 2009; Leave the European Union series Part II-III, Part I, Part IV).
"Leaving [the EU] now doesn't make any sense" said European Union President Donald Tusk (Donald Tusk on Twitter, June 16, 2016). A twitter reply:

Seven days ahead of the June 23rd  "Brexit" vote with polls showing a sizeable lead – by as much as 19-point lead – to "Exit" the Europe Union, British parliamentarian Jo Cox, an advocate of Britain staying "In" the EU, was shot and repeatedly stabbed by a man. Witnesses say he shouted "Britain First", a slogan associated with Brexit "Exit" advocates. There have been no reports yet of "Brexit" campaign stickers affixed on the knife and gun.
A sampling of headlines from Reuters, CNBC, Bloomberg reads, the 'murder puts the EU referendum in limbo,' 'may halt pro-Brexit momentum' 'silencing Brexit debate', as if that is what the murder is supposed to accomplish.
("Britain Mourns Murdered Lawmaker; EU Referendum in Limbo." Reuters, Jun 17, 2016; "Jo Cox's Tragic Death May Halt Pro-Brexit Momentum, Analysts Say." CNBC, Jun 16, 2016; "British Lawmaker Killed Ahead of Brexit Vote." PBS, Jun 16, 2015; "End of EU rule FINALLY in sight: Leave Camp Take 19-POINT Lead as Britons Flock to Brexit." Express [UK], Jun 13, 2016; U.K. Lawmaker Jo Cox Is Murdered, Silencing Brexit Debate." Bloomberg, Jun 16, 2016)
If there were a theme song for such an all-star "In" crowd, that might sound like the 1980s classic, "Please Don't Go" https://www.youtube.com/watch?v=w-l5FyA3pgo
There was a time nearly 400,000 Britons died fighting New York-London's-financed Nazi Third Reich in World War II; Hitler's City of London financiers were doing other things. Their dream was that by now, the people will have forgotten notions of sovereignty, and their cultural and national identity. Strobe Talbott, former President Clinton's Deputy Secretary of State and member of the Council on Foreign Relations created by Hitler's New York-London financiers, wrote in Time Magazine in 1992:
"Nationhood as we know it will be obsolete; all states will recognize a single, global authority…" ("America Abroad: The Birth of the Global Nation." July 20, 1992; See The European Union "Dream" Wasn't Even European & Leave the European Union series).
Not unlike Joseph Goebbels, Hitler's propaganda chief, who also said, "In 50 years' time nobody will think of nation states," as decades later, Euro-skepticism grows in the European Union.
Sovereignty has never been free and is not for the weak-hearted.
[Note on June 25, 2016: The British vote on June 23, 2016 to leave the European Union appears to be shaking the foundations of the European Union to Hitler's New York-London et al. bankers who orchestrated its formation nearly a century ago. One observes the significance of the Brexit vote and the dangers of sovereignty to the orchestrators by the intensity of the opposition to "Brexit" before and after the vote.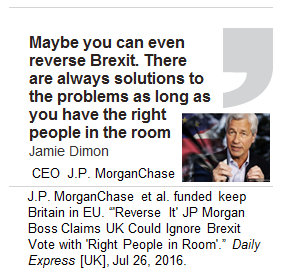 There are peculiar developments, as two days after the "Leave" vote,  Nigel Farage, the leading voice of Brexit has reportedly been frozen out of the Brexit negotiations ("Nigel Farage FROZEN Out of Brexit Negotiations in Plot Described as 'Lunacy'." Daily Express, June 25, 2016; Nigel Farage on Brexit, https://www.youtube.com/watch?v=sLCb1cGROAw), while Boris Johnson, cut from the same cloth as Prime Minister David Cameron* yet professed Brexit, appears to be promoted as successor. ("Live Updates: Britain Votes to Leave the European Union." Washington Post, June 2016; ; "Tories at War: Anna Soubry Accuses Boris Johnson of Supporting Brexit in Bid to Become PM." Daily Express, June 25, 2016).
*Jim Messina was the senior advisor to Prime Minister David Cameron's "surprising 2015 electoral victory" and the "mastermind behind President Obama's 2012 re-election", according to his website. It appears Messina and the kingmakers, in getting Cameron re-elected in exchange for holding an EU referendum while assuring the corporations he could secure a Remain vote, underestimated the British people ("David Cameron: I Can Secure Yes Vote in EU Referendum." Daily Express [UK], Nov 4, 2013; "In 'Brexit' Vote, David Cameron Faces Problem of His Own Making." NYT, June 21, 2016). In 2013, Messina became co-chair of the Super Pac backing Hillary Clinton's campaign for President (http://themessinagroup.com/team/jim-messina/).
Whether this is another avenue of a contingency plan, a petition to "Remain" in the EU has reportedly garnered over 2 million votes to re-referendum, presumably to overturn the votes casted by 17 million Britons to "Leave" the EU, ("Anti-Brexiters Swamp London As It Emerges Parliament Will Have to Consider Second Vote." Daily Express, June 25, 2016), which could give Members of Parliament fuel to reject the results of the referendum in which 72.2 percent the Britons voted.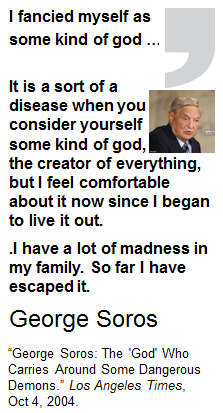 The Council on Foreign Relations is a non-profit think tank front for banker J.P. Morgan [Rothschild, Rockefeller et al.] associates (Quigley, p. 952) whose directors and officers include Henry Kissinger, Zbigniew Brzezinski, Paul Warburg, George H.W. Bush, Paul Volcker and their patron David Rockefeller, Dick Cheney, and George Soros, with the Rothschilds being all their patrons. The CFR was founded in 1927 by an agent of the Rothschild-Rockefeller nexus, Allen Dulles, whose collaboration financed what became the Nazi war machines and later became CIA director.  Other organizations such as the Trilateral Commission, Bilderberg, and Chatham House are part of this network. (http://www.cfr.org/about/history/cfr/appendix.html).
Professor Antony C. Sutton, author of Wall Street and the Rise of Hitler and America's Secret Establishment, surmised that 90 percent of CFR members (currently 4,900+)  can be dismissed as "academic hangers-on or social climbers" (YouTube) what former KGB subversion expert, Yuri Bezmenov calls "useful idiots" (See post Ideological Subversion). Quigley covers the London establishment in The Anglo-American Establishment. He observed similarly, "It is probably that most members of the outer circle were not conscious that they are being used by a secret society. More likely they knew it…but, felt it discreet to ask no questions." (Preface. Anglo-American written in 1949 but published in 1981, four years after Quigley's death).
Henry Kissinger explains the election of Barack Obama, whose campaign advisor was Zbigniew Brzezinski's son, Mark Brzezinski and Jim Messina, the "mastermind behind President Obama's 2012 re-election"and co-chair of the Super Pac backing Hillary Clinton's campaign for President with both Obama and Clinton under the tutelage of Rothschild-Rocekfellers' Henry Kissinger:
"[D]uring a moment of upheavals in many parts of the world simultaneously … His [Obama] task will be to develop an overall strategy for America in this period, when really, a new world order can be created. It's a great opportunity. It isn't just a crisis."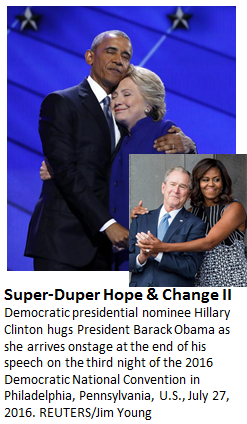 To create "a new world order", Kissinger assured an "inexperienced" Obama will have the guidance of an "extraordinarily-abled group of people in both the international and financial field" (CNBC YouTube, Jan 5, 2009), and equipped with a Nobel Peace Prize twelve days into office for Obama's "extraordinary efforts to strengthen international diplomacy and cooperation between peoples".  (See also Henry Kissinger "The Chance for a New World Order." NYT, Jan 9, 2009)
[Experienced black leaders then, such as Dr. Martin Luther King, receive letters from the FBI in 1964, urging King to kill himself as they feared his leadership. King would be assassinated. In the case of Nelson Mandela, imprisoned for 27 years, being branded by the CIA as a "dangerous communist" for fighting against apartheid, the socio-economic and political segregation of blacks from whites in South Africa. ("What an Uncensored Letter to M.L.K. Reveals." NYT, Nov. 11, 2014; "Nelson Mandela: CIA Tip-Off Led to 1962 Durban Arrest." BBC, May 15, 2016; "CIA Tip Led to Arrest of 'Dangerous Communist' Nelson Mandela…" RT, May 15, 2016; "C.I.A. Tie Reported in Mandela Arrest." NYT, Jun 10, 1990).]
Henry Kissinger also sends then-Secretary of State Hillary Clinton his foreign policy notes during his visits to heads of state. Clinton says, "He [Kissinger] checked in with me regularly, sharing astute observations about foreign leaders and sending me written reports on his travels."
Other than that, State Secretary Clinton says she often visits what she calls the "mothership" Council on Foreign Relations (CFR) in New York City, "but it is good to have an outpost of the Council right here down the street from the State Department… This will mean I won't have as far to go to be told what we should be doing." (Clinton at the CFR Mothership in 2009, https://www.youtube.com/watch?v=Ba9wxl1Dmas; http://www.cfr.org/about/membership/overview.html?co=C038201). New York City also has a white outhouse outpost.
Presidential contender Hillary Clinton is also the author of the book, It Takes a Village (1996), written by Barbara Feinman, a journalism professor at Georgetown University ("Meet Hillary Rodham Clinton, the Traditional First Lady." NYT, Apr 22, 1995). "I actually wrote the book," Mrs. Clinton said ("On Book Tour, First Lady Courts Public." NYT, Jan 18, 1996).

The Council on Foreign Relations "mothership" in New York City is the American branch of the London Royal Institute of International Affairs, also called Chatham House. The CFR "mothership" is where presidential contenders such as Hillary Clinton (D), Marc Rubio (R), Jeb Bush (R) congregate to read their foreign policies and where Donald Trump also draws foreign policy eminence. Ted Cruz's (R) wife, Heidi Cruz of Goldman Sachs, is already a CFR member.
Aboard the CFR Mothership enterprise is Klingon captain Goldman Sachs: along with Citigroup, J.P. Morgan& Chase (Rothschild, Rockefeller) are among Hillary Clinton's top five financiers of Hillary Clinton's career since 1989; and Donald Trump, whose campaign banker Steven Mnuchin is a former Goldman Sachs partner and alumni of billionaire George Soros – Rothschild's premier sovereignty dismantler – who joined Hank Paulson whose Fed printer's digital trillions flowed with the hundreds of billions in drug money feeding the nation's insolvent banks holding most of Americans' bank accounts. So far at over $7 million, the George Soros Fund is Hillary Clinton's top money contributor in 2016.
("Trump Names Hedge Fund Manager as National Finance Chairman." Bloomberg, May 5, 2016; "Trump Picks Former Goldman Partner and Soros Employee as Finance Chairman." Zero Hedge, May 5, 2016; "Overnight Finance: Goldman Sachs Alums in Both Clinton, Trump Camps." The Hill, May 5, 2016; Financiers of Hillary Clinton's career since 1989 https://www.opensecrets.org/politicians/contrib.php?cid=N00000019&cycle=Career and in 2016 https://www.opensecrets.org/pres16/contrib.php?id=N00000019). "Behind Donald Trump, a Son-In-Law Who Is Also an Adviser." Daily Mail Online, Apr 4, 2016; "Trump and Clinton Share Delaware Tax 'Loophole' Address With 285,000 Firms." The Guardian, Apr 25, 2016; "Hillary Clinton and Donald Trump Share a Delaware Tax Loophole Address." Gawker, Apr 25, 2016; "Drug Money Saved Banks in Global Crisis, Claims UN Advisor." The Guardian, Dec 12, 2009).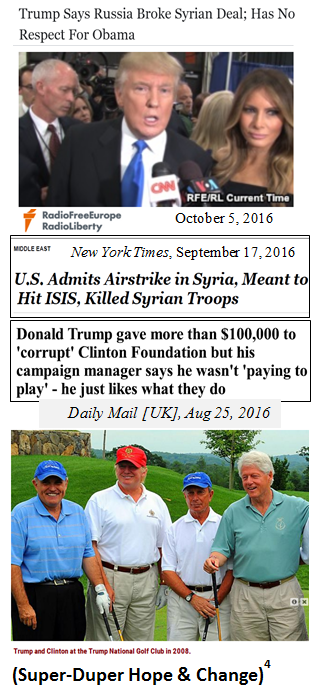 Donald Trump, as presumptive Republican nominee shares Hillary Clinton's foreign policy tutor, his eminence Henry Kissinger, whom the Washington Post forgets to mention is also the Democrats' foreign-policy eminence. ("Donald Trump to Meet With Henry Kissinger, GOP's Foreign-Policy Eminence." Washington Post, May 16, 2016; "Trump Questions Need for NATO, Outlines Noninterventionist Foreign Policy." Washington Post, Mar 21, 2016; "Trump Names Foreign Policy Team Members." Politico, Mar 21, 2016; "Touting Isolationism, Trump Employs a String of Neoconservative Advisors." Sputnik, Mar 22, 2016).
Clinton is corrupt and incompetent, says Trump. Hillary Clinton retorts, Trump is corrupt and incompetent.
Curiously, the media establishment has reportedly given $2 billion worth of free media to Donald Trump, who is heralded 24/7 on CNN, FOX et al. as a "ridiculed" "anti-establishment" candidate ("$2 Billion Worth of Free Media for Donald Trump." NYT, Mar 15, 2016). With a $2 billion gift from the establishment, Donald Trump can indeed self-finance his campaign. What are the chances the Mothership beamed down Donald Trump (R) as the Hope and Change replacement to their Obama (D), who was the Hope and Change gift from their George W. Bush (R) offerings. For some strange reason, Left or Right leads to The Black Hole.
---
 Equal Pay for Equal Work: The "Beautiful Society of 'Equality and Social Justice'"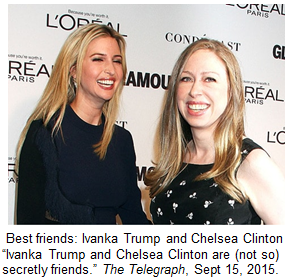 As Bill and Hillary Clinton's daughter, Chelsea Clinton serves as vice chair of the Clinton Foundation that cashed Donald Trump's $100,000 reputed "pay to play" "donation", Chelsea's best friend, Ivanka Trump, is given center stage at Trump's national nomination convention to deliver the "equal pay for equal work" agenda.
"Equal pay for equal work" to reduce "gender inequality" sounds nice. The not-so-nice underlying ideology is to eliminate the individual – individual differences in ability and motivation towards collectivism or national socialism. If there is some sensitivity over the term national socialism, in Germany this was called Nationalsozialistische Deutsche Arbeiterpartei (NSDAP), which is translated as the National Socialist German Labour Party, or better known as the Nazi Party. The individual no longer develops one's personal talents and aspirations, but develops as an obedient "cog in the wheel" to serve the state.
[Some two decades ago, I was in another graduate program where universal health care (now known as Obamacare), 'equal pay for equal work', overpopulation, and global warming were, in the words of former Soviet KGB subversion expert Yuri Bezmenov, Marxism-Leninism ideology being "pumped into the soft heads" of American students. For about seven years, a member of the Council on Foreign Relations served as dean of the reportedly top 10 graduate school when I returned to teach briefly (Not sure why he gave me the evil eye- I was oblivious then). The dean is a board director of the National Democratic Institute (NDI), a division of the National Endowment for Democracy, which has been behind the "freedom and democracy" "color revolution" "Umbrella" uprisings in Hong Kong to the chagrin of China, et al.
The well-meaning graduate students tend to disdain Wall Street and big corporates/multinationals, not knowing that these financiers (bankers, military industrial complex shareholders of each other) direct their education, but a member of the financier-founded and funded-CFR should know. From my observation, it is likely that most Ph.D. graduates in economics do not know that the Federal Reserve Bank is privately owned by these financiers.
The Economist magazine, which is owned by the Rothschilds and Agnelli, is correct when it states, "To get published in the AER [American Economic Review] is a dream for any economist" ("The Productivity of PhDs: Lazy Graduate Students?" Nov 12, 2014). The AER is the premier academic journal of its professional American Economic Association (AEA) formed in 1885. Economic Professor Antony Sutton (Establishment, p. 94) noted the AEA (and medicine, AMA) was taken into the harem of the Rothschild, Rockefellers et al. before they establish their private Federal Reserve Bank. The AEA and its journals are directed by economic Ph.D.s associated with the Federal Reserve, all of which act as a "sieve" to ensure conformity in economic thought and thus, academic tenure (professorship).
A glance at the American Economic Association board of directors shows its legal counsel is Freshfields Bruckhaus Deringer LLP, the Rothschilds' law firm since their centuries-old days as lead financiers of the Trans-Atlantic African slave trade. (https://www.aeaweb.org/AboutAEA/board.php, Dec 2015).]
If people understood what this "beautiful society of 'equality and social justice'" means in practice, obviously, they will revolt," says former KGB subversion expert Bezmenov, explaining the Communist [Fascist/Globalist] International "Rules of Revolution."
About 70 percent of the budget of some big universities is funded by the bankers-military industrial complex, so the professors are "paid for… so they're bought into the system," according to former CIA John Stockwell. "A myth has to be maintained to make this thing run" on the establishment's (financiers) offerings of  the "A-team" (Republicans) and "B-team" (Democrats) to "placate" the American people, who even after 200 years are not allowed a direct vote for the U.S. president.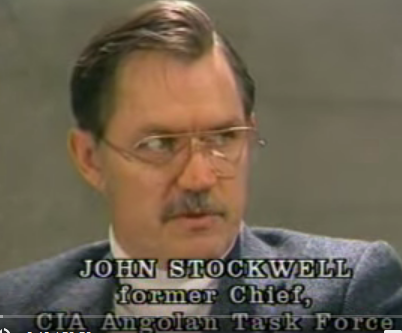 John Stockwell served as the chief of the CIA Angola Task Force, whose mercenary forces from Brazil were trained in the jungles of Guyana. (Alternative Views at the University of Austin Texas conducted a series of interviews with John Stockwell, including https://www.youtube.com/watch?v=ZYKlwI_oDQM, Dec. 10, 1988). The mercenaries were recruited by a young CIA operative operating in Belo Horizonte, Brazil, in the 1960s named Jim Jones (Meiers 2nd Holocaust, p.45).  Jonestown, Guyana would become the site for the CIA's Reverend Jim Jones, an understudy of ODESSA Nazi Dr. Josef Mengele, to carry out their MK-ULTRA mind control and medical experimentation on a group of black Americans.
Recruited into the CIA at the age of 27, John Stockwell believed, "We were the good guys. We were going to save the world from communism" ("Penitent Voice from the CIA Front Lines." Washington Post, May 11, 1978) until he learned that was not the case.
---
They sure know what to say, for they well know their sins. ("EU Referendum Scorecard: Trump Backs Brexit…" Reuters, Apr 6, 2016).
That leaves CFR "reject" presidential contender Bernie Sanders, whose label as a "socialist" draws the ire of many Americans believing they still live in a capitalist system that prints over $20 trillion (Euro-dollar swaps, 2011 GAO Report Federal Reserve Audit) for the still insolvent largest banks as over $1 trillion in student debt that was printed to lend to the young'uns hangs around the necks of Americans; average student debt loads doubled in the past 10 years. ("Congratulations, Class of 2015. You're the Most Indebted Ever." WSJ, May 8, 2015; "The Fed's $16 Trillion Bailouts Under-Reported." Forbes, Sep 20, 2011).
Bernie Sanders is "a big, big fan" of Pope Francis, though. ("Democrat Sanders, 'Big Fan of Pope,' to Attend Vatican Conference." Reuters, Apr 8, 2016). The Voodoo question left is whether Sanders joins the Mothership in backing Clinton or runs independently.]
Just in 2014, the FBI declassified documents revealing its hunt for Adolf Hitler years after Hitler reportedly died in the end days of World War II. Had they known at the time who built the Nazi Reich, the FBI would ask Hitler's bankers: the Rothschilds, Rockefellers et al. and their Nazi SS recruiters Henry Kissinger and his mentors, Assistant Secretary for War John J. McCloy and OSS[CIA] intelligence supervisor Allen Dulles who financed what became the Nazi Reich war machines and  high ranking Nazis post-WWII to continue their "World  Movement for Democracy". On the whereabouts of Hitler, the FBI and CIA could still ask the Vatican, CIA, Kissinger, Brzezinski et al.
But, some things no longer take 50 years to surface.
From Heil mein Furher! to Allahu Akbar!

"That land over there is yours. You'll go back to it one day, because your fight will prevail and you'll have your homes and your mosques back again. Because your cause is right and God is on your side!" [Applause] U.S. National Security Advisor Zbigniew Brzezinski rallying the Afghan Mujahideen in Pakistan in 1979 to rise up against the Soviet forces in Afghanistan.
After invoking God, Brzezinski may have forgotten to mention that the Mujahideen terror being fanned by the CIA was a trap to lure the Soviets to intervene in Afghanistan and be casted as imperialists. (CNN/BBC 2012 Cold War Documentary, Episode 20 Soldiers of God excerpt https://www.youtube.com/watch?v=A9RCFZnWGE0;  Full Episode 20 at https://www.youtube.com/watch?v=7KA9kifcLVE; "What if Putin is Telling the Truth?" New Eastern Outlook, May 15, 2015; "'Agents of Destruction': How CIA Helped Create Islamist Frankenstein." Sputnik, Mar 19, 2016.
See also Zbigniew Brzezinski, "The CIA's Intervention in Afghanistan." Le Nouvel Observateur,  15-21 January 1998. Translated by Jean Martineau; reprint http://www.globalresearch.ca/articles/BRZ110A.html; Coll, Steve. "Anatomy of a Victory: CIA Covert Afghan War: $2 Billion Reversed Tide for Rebels [Part 1]." Washington Post, Jul 19, 1992; "In CIA's Covert Afghan War, Where to Draw the Line was Key [Part 2]." Washington Post, Jul 20, 1992).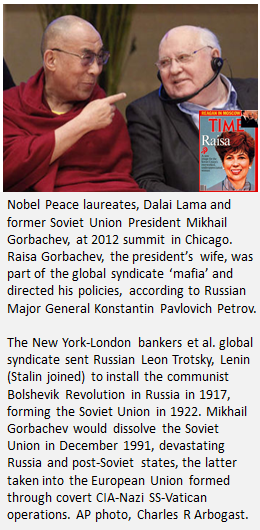 [Brzezinski's same song was sung to the Tibetans, whose spiritual leader, the Dalai Lama, was fed by the Central Intelligence Agency. In 1954, the CIA brought the Dalai Lama's troops – the fierce Khamba horsemen – to the U.S. for special paramilitary training at Camp Hale, Colorado. The Tibetans were led to believe they could reclaim their homeland from China, when in reality, the CIA was using the Tibetans to "harass" China in CIA-planned up-risings. The Tibetan troops fled to India and by the late 1960s, the aging Khamba horsemen became "useless" to the CIA (Marchetti & Marks, p.114-117; "Bare More Payoffs by CIA: List of Foreign Leaders." Chicago Tribune, Dec 19, 1977).
(Authors Victor Marchetti, former special assistant to the CIA Deputy Director, and John Marks, former State Department officer. The publication of their book, CIA and the Cult of Intelligence in 1974 led to the formation of Senator  Frank's Church Committee.)
The Dalai Lama has since become an icon of the National Endowment for Democracy, which Russia designated as an "undesirable" foreign agent in 2015. In 2016, China banned TV content on reincarnation ("TV Series Ordered to Exclude Same-Sex Romance, Reincarnation, Extramarital Affair Contents." Shanghai Daily, Mar 3, 2016), perhaps in case the next Dalai Lama is possessed by the spirits of the CIA.
What did Brzezinski have to do with Jonestown, Guyana, the CIA's Dr. Josef Mengele of Auschwitz and his understudy, CIA operative Jim Jones?]
The Saudi-CIA recruit Brzezinski sent to Afghanistan was named Osama bin Laden, head of the international terrorist network called Al-Qaida (also spelled Qaeda). The roots of ISIS/ISIL is a creation of the CIA covert operation in the 1950s following World War II under the Eisenhower administration that brought the leadership of a secret death cult, the Muslim Brotherhood which had been exterminating Jews with the Nazis, from Egypt into Saudi Arabia. With Saudi oil money, this morphed into a worldwide network into Afghanistan, Pakistan, et al. Al Qaeda was created from this network of the CIA and Saudi Arabia in the 1980s called the Mujahideen. (Engdahl's The Lost Hegemon, Interview https://www.youtube.com/watch?v=ukHpYWkgfyo, Transcript)
[This is the Osama bin Laden's Al-Qaida that blew up nearly 3,000 people in the United States on 9/11 a decade earlier. ("DoD Confirms Deaths of ISIL Leader, Al-Qaida Operative." U.S. Department of Defense, Sept 22, 2015; "Bin Laden Liquidates Holdings with Carlyle Group [Bush Sr. a director]." NYT, Oct 25, 2001; "The Relatives: Bin Laden Family, With Deep Western Ties…" NYT, Oct 28, 2001)
Reminiscent of Hitler's Reichstag "tools", the U.S. Navy seal team that "found" Osama bin Laden exploded in a helicopter. ("22 Osama-unit Navy SEALs Killed as Taliban Rocket Shoots Down Helicopter Over Afghanistan." New York Post, Aug 7, 2011).]
ISIS/ISIL (Islamic State of Iraq and the Levant also known as Daesh) and Al-Nusrah terrorists and terrorist organizations are identified as "Al-Qaida Associated Groups" by the United Nations in 2015. (United Nations. "Unanimously Adopting Resolution 2199 (2015), Security Council Condemns Trade with Al-Qaida Associated Groups." Feb 12, 2015 (copy); United Nations 1267/1989 Sanctions List, Nov 12, 2015 (copy); "Special Report. The Salafist Movement: Al-Qaida's New Front." PBS Frontline, Jan 25, 2005).
"The Nazi movement, in its simplest analysis, was an aggregation of gangsters, neurotics, mercenaries, psychopaths…" wrote Professor Quigley, consultant to the U.S. Department of Defense and to NASA when Nazi scientists were secretly brought to the U.S. under Operation Paperclip to start the space program (p. 443).
With longer beards, a black flag, and a deeper tan, the New York-London et al. banker-financed Nazi movement sounds a lot like the "caliphate" of the CIA-MI6 (New York-London et al. bankers)-financed ISIS/ISIL/Daesh/Al-Nusrah/Taliban/Al-Qaida jihad terrorists.
A sampling of Al-Qaida's ISIS/ISIL/Taliban/Al Nusra/Daesh et al. jihadi terrorists on the United Nations 1267/1989 Sanctions List in November 2015:
Dubbed ISIL's "kidnapper-in-chief" is jihadist Amr al Absi (QDi.361), who multi-tasks as Al-Qaeda council member in Iraq and ISIL media leader in Syria. ISIS earned $20 million from kidnapping ransoms in 2014. ("Attacking ISIL's Financial Foundation." U.S. Treasury, Oct 23, 2014)
Jihadist Adel Khaliq (QDi.255) provides financial, material and logistical support to Al-Qaida, the Libyan Islamic Fighting Group (LIFG) and collects money for the Taliban.
Jihadist Abdul Mohsen (QDi.324), financier to Al-Qaeda and leader of al-Nusrah.
Al Rashid Trust (QDe.005) organization, which finances both Al-Qaida and the Taliban.
Kidnappings are not as lucrative as looted oil, though. U.S. Undersecretary David S. Cohen says, "ISIL was selling oil at substantially discounted prices to a variety of middlemen, including some from Turkey, who then transported the oil to be resold…[S]ome of the oil emanating from territory where ISIL operates has been sold to Kurds in Iraq, and then resold into Turkey… .ISIL has earned approximately $1 million a day from oil sales." (Ibid, Attacking ISIL's Financial Foundation).
Oil experts also estimate that every day, ISIS reaps $1 million selling Iraq oil and $2 million selling Syrian oil in its occupied areas at $30 a barrel in the black market ($100 standard market at the time), bought through Turkey from Syria, says one expert ("ISIS Makes Up to $3 Million a Day Selling Oil, Say Analysts." ABC News, Aug 2, 2014; "Russian Intel Spots 12,000 Oil Tankers & Trucks on Turkey-Iraq Border – General Staff." RT, Dec 25, 2015).
As Syrian government forces with Russian bombing cut off ISIS jihad et al. funding, cash-strapped ISIS/Al-Qaeda et al. are reportedly killing their own fighters to sell the organs. ("Cash-strapped ISIS Killing Injured Fighters to Sell Organs: Reports."  The Times of India, Apr 20, 2016; "The Price of Loyalty: Daesh Mercenaries Desert Due to Wage Cuts." Sputnik, 26 Jan 2016; "Archive of Islamic State Administrative Documents." Aymenn Jawad Al-Tamimi, 11 Jan 2016; "Syrian Forces Sever Main Daesh Route Into Turkey." Sputnik, June 13, 2016). Sell the organs to whom?
In the meanwhile, a CIA-armed militia called Knights of Righteousness was run out of the town of Marea by Pentagon-backed Syrian Democratic Forces.  ("CIA-Armed Militias are Shooting at Pentagon Ones in Syria." Chicago Tribune, Mar 26, 2016; "In Syria, Militias Armed by the Pentagon Fight Those Armed by the CIA." Los Angeles Times, Mar 27, 2016; "US-Backed Militia Groups Now Fighting Each Other In Syria." The Telegraph, Feb 20, 2016; United States Central Command Press Release; "CIA and Pentagon Bicker While Russia Wipes Out U.S.-Backed Rebels." Daily Beast, June 9, 2016; "America is in a Proxy War with Itself in Syria." BuzzFeed, Feb 20, 2016).
Such jihad terrorists as of 2012, were receiving arms transfers from the United States, according to a secret U.S. Defense Intelligence Agency memo. The U.S. coordinates arms transfers to the Salafist, the Muslim Brotherhood and Al-Qaida in Iraq who are "the major forces driving the insurgency in Syria." (Mehdi Hasan Interviews Lt. General Michael T Flynn, "Who is to Blame for the Rise of ISIL?" Al Jazeera's Head to Head, Jul 29, 2015, YouTube https://www.youtube.com/watch?v=SG3j8OYKgn4; De-classified 2012 Defense Intelligence Agency's Document, web;  "Ex-US Intelligence Chief on Islamic State's Rise: 'We Were Too Dumb'." Spiegel Online, Nov 28, 2015).
On Keeping Safe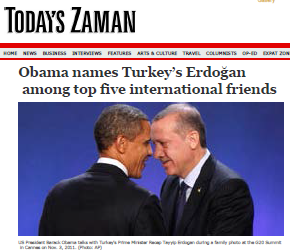 The U.S. State Department explains the humanitarian steps being taken to warn all ISIS or moderate ISIS terrorists to keep safe before a U.S. airstrike, and to abandon their trucks filled with looted oil making its way to BFF (Best Friends Forever) Turkey:
"This is our first strike against tanker trucks, and to minimize risks to civilians [on the road to Turkey to sell looted oil], we conducted a leaflet drop prior to the strike…  
'Warning: airstrikes are coming. Oil trucks will be destroyed. Get away from your oil trucks immediately. Do not risk your life…And so, these are the leaflets that we dropped — about 45 minutes before the airstrikes actually began." (Department of Defense Press Briefing by Col. Warren via DVIDS from Baghdad, Iraq. Press Operations Operation Inherent Resolve Spokesman Colonel Steve Warren." Transcript, Nov 18, 2015).
"We flatly reject any notion that the Turks are somehow working with ISIL. Preposterous. And really very, kind of ridiculous… .completely untrue," said Colonel Steve Warren ("News Transcript: Department of Defense Press Briefing by Col. Warren via Teleconference from Baghdad, Iraq." Dec 2, 2015).
Besides, "Oil Smuggled into Turkey Not Enough to be Profitable", says an anonymous U.S. State Department official (Reuters, Dec 4, 2015).
In 2012, the  MI6-CIA operated a "rat line" to transfer arms from the Libyan stockpiles to the Syrian "rebels" (Al-Qaeda/ISIS), after CIA-MI6 operations overthrew Libya's Gaddafi government. Under Secretary of State Hillary Clinton, the CIA was smuggling arms by its consulate in Benghazi, Libya to Syria; whether Americans at the consulate were aware of such operation, the consulate was left undefended and four were killed under fire.
(Hersh, Seymour. "The Red Line and the Rat Line." London Review of Books, 14 Apr 2014; "CIA 'Running Arms Smuggling Team in Benghazi [to ISIS in Syria] When Consulate Was Attacked'." The Telegraph, Aug 2, 2014; "Libya's 'Torturer-in-Chief' [Koussa] Offered Asylum in Britain in Return for Help Toppling Gaddafi." Daily Mail [UK], Apr 3, 2011; "Libya Defector Moussa Koussa Was an MI6[CIA] Double Agent." Daily Express[UK], Apr 3, 2011).
Besides the ISIS budget from kidnappings, looting oil, harvesting organs, the Saudi contribution to the CIA-MI6 program to arm and train Syrian "rebels" [ISIS] is an estimated several billion dollars. Fighting along the "opposition rebels," including al-Nusra and ISIS, are U.S. fighters, the British special forces, and an Israeli colonel found leading the ISIS terrorists in Iraq.
("U.S. Training Helped Mold Top Islamic State Military Commander." McClatchy D.C., Sept 15, 2015; "Terror Trial Collapses After Fears of Deep Embarrassment to Security Services." The Guardian, Jun 1, 2015; "U.S. Relies Heavily on Saudi Money to Support Syrian Rebels." NYT, Jan 26, 2016; "Syrian Rebels Decry Russian Airstrikes." The Guardian, Oct 11, 2015; "Initial Class of Syrian Opposition Forces Begin Training." May 7, 2015; "Congress Likely to Cut Failed [$500 million] Pentagon Program to Train Syrian Rebels." Los Angeles Times, Oct 5, 2015; "US, Israeli Advisors Arrested in Iraq's Offensive on ISIL: Report." Tasnim News Agency, Mar 7, 2015.)
To complete the Allahu Akbar!, the New York Times reports Al Qaeda turns to Syria to challenge ISIS, and President Obama sends more U.S. forces to Afghanistan to fight the Taliban insurgency, as "Al Qaeda Leader Pledges Allegiance to New Taliban Leader," reports Reuters (Reuters, June 11, 2016; "Al Qaeda Turns to Syria, With a Plan to Challenge ISIS." NYT, May 15, 2016; "Exclusive: Obama Approves Broader Role for U.S. Forces in Afghanistan." Reuters, June 9, 2016).
There must be a creative bureau at the NSA/CIA-MI6 for coming up with terror names. The NSA was one of the main beneficiaries of the doubling of the intelligence budget from the events of 9/11 ("Portrait of the NSA: No Detail Too Small in Quest for Total Surveillance." The Guardian, Nov 2, 2013).
[to be continued….]
From Hitler's Reichstag in 1933 to "The 28 Pages" of September 11, 2001
From the days when the Rockefellers' Standard Oils and Socony-Vacuum ("Rockefeller Family Oil Ownership…" Wall Street Journal, Dec. 10, 1928; "Standard (Cal) Oil Cal Wins Oil Rights in Saudi Arabia." Chicago Daily Tribune, Aug 8, 1939) were granted Saudi oil concessions that fueled Rothschild-Rockefellers' et al. war machines of both the Nazis and the United States, and the transition from the U.S. gold dollar to U.S. petro-dollar in 1971 (with the Saudi pricing and settlement of oil in U.S. dollars)…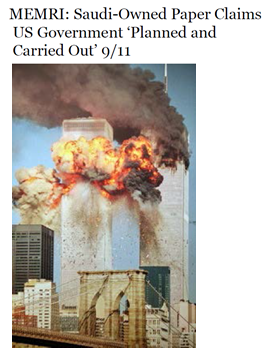 Nearly 16 years since the terrorist attacks on September 11, the Congress and White House are poised to release the 28 classified pages from 9/11 that reportedly show Saudi Arabia financed the 9/11 terrorists. The Saudis warn of economic fallout if Congress releases the 28 pages. (If the Saudis were thinking about liquidating their substantial U.S. Treasury holdings, the Saudis must have forgotten the Federal Reserve and Treasury are exceptional printers and painters of 'markets'. The gold nugget, though, is another matter).
('60 Minutes': Classified '28 pages' may Shed Light on Saudi Ties to Terrorism." The Hill, Apr 10, 2016; "Saudi Arabia Warns of Economic Fallout if Congress Passes 9/11 Bill." NYT, Apr 15, 2016; "FBI Agent: The CIA Could Have Stopped 9/11." Newsweek, 19 Jun 2015; "CIA Director: '28 Pages' Contain Inaccurate Information." The Hill, May 1, 2016;  "Obama Under Pressure to Release Secret Pages of 9/11 Report 'Showing Saudi Arabia Financed Attacks'." The Telegraph, June 5, 2015; "Saudi Arabia's Secret Holdings of U.S. Debt Are Suddenly a Big Deal." Bloomberg, Jan 22, 2016).
One supposes the Saudis could always name their accomplices. And indeed, they did.
On April 28, 2016, the London-based Al-Hayat owned by Saudi Prince Khalid bin Sultan – a member of the Saudi royal family – published an article that was translated as "US Planned, Carried Out 9-11 Attacks – But Blames Others For Them." The Middle East Media Research Institute (MEMRI), May 19, 2016; "MEMRI: Saudi-Owned Paper Claims US Government 'Planned and Carried Out' 9/11." Examiner, May 21, 2016).
[Saudi Arabia's involvement in 9/11 "was deliberately covered up at the highest levels of our government… Investigations were throttled. Co-conspirators were let off the hook," wrote the journalist based on interviews with the Joint Terrorism Task Forces in Washington D.C. and San Diego, and detectives who investigated several 9/11 leads, "virtually every road led back to the Saudi Embassy in Washington, D.C., as well as the Saudi Consulate in Los Angeles." ("How U.S. Covered Up Saudi Role in 9/11." New York Post, April 17, 2016)
Those sources say the 28 pages missing from the 9/11 report show "incontrovertible evidence" gathered from both CIA and FBI case files of official Saudi financing for at least two of the Saudi hijackers who settled in San Diego. One leak from these pages was a transfer of some $130,000 from then-Saudi Ambassador Prince Bandar's family checking account to one of the hijackers' Saudi handlers in San Diego. (Ibid., NY Post).]
"I think the 28 pages will be published and I support their publication and everyone will see the evidence that the Saudi government had nothing to do with it," CIA Director Brennan said in an interview with Saudi-owned Arabiya TV ("CIA Chief Expects Release of 9/11 Documents to Clear Saudi Arabia." Reuters, June 11, 2016). The 9/11 Commission also found no evidence the Saudis financed the attacks ("28 Pages, No Smoking Gun: 9/11 Commission Chairmen." USA Today, Apr 27, 2016 ).
[to be continued…]
Preview Section II:
…As space time is distorted near a black hole, there is one John M. Poindexter, the head of the National Security Council during the two terms of President Ronald Reagan, who appointed Antonin Scalia to the Supreme Court in 1986. National Security Advisor John Poindexter with his aide, Lieutenant Colonel Oliver North, were found guilty of obstruction and conspiracy on covert arms sales to Iran and diverting the funds to buy weapons for U.S.-backed Contra rebels to destabilize the Nicaraguan government.
("The Iran-Contra Affair 20 Years On: Documents Spotlight Role of Reagan, Top Aides. Pentagon Nominee Robert Gates…" National Security Archive at George Washington University, Nov 24, 2006; "Poindexter Wins Iran-Contra Case in Appeals Court [appointed by Reagan]." NYT, Nov 16, 1991; "Supreme Court Roundup; Iran-Contra Appeal Refused by Court." NYT, Dec 8, 1992; "Chronology: The Iran-Contra Affair-The Making of a Scandal, 1983-1988." Digital National Security Archive (DNSA)).
The arms dealer who sold arms to the CIA[MI6 et al.]-created ISIS 'terrorists' that bloodied Paris in November 2015, also sold arms to the CIA-backed Contras 'rebels' destabilizing the Nicaraguan government during the 1980s Iran-Contra scandal.
The 1980s was about the time when then-Vice President George H.W. Bush and Poindexter's aide, Lt. Col. Oliver North, were seen at one of the sex parties thrown by pedophile Lawrence "Larry" King Jr. (not the talk show host), whose pilfered $40 million from a credit union turned up in a bank where a board member was Warren Buffet, whose then-wife aided King's rise. King was running guns and money into Nicaragua, as King's handler, the CIA oversaw the cocaine operation in Los Angeles,
… while in South America, one of Henry Kissinger's CIA "moderate" Nazi recruits, the "Butcher of Lyon" Nazi SS Klaus Barbie – who escaped to Latin America with Adolf Hitler and other high ranking Nazis with passports secretly provided by the Vatican and International American Red Cross – became drug trafficker and executioner of Catholic priests under Pope John Paul II, one of whose appointees, then-Archbishop Jorge Mario Bergoglio of Buenos Aires, Argentina sent priests to be tortured and parishioners disappeared,
… during a period the American public was told was the march of "freedom and democracy" against "communism" in Latin America, what was known to the people brutalized there as a "Revolution of the Poor" against the rape and pillage of their nations by Hitler's New York-London et al. bankers.
Note: The rape and pillage of Latin America would be Latin America's fault though, for not heeding the shared view of IBM CEO Thomas Watson and Adolf Hitler, whose IBM tabulating system managed the extermination and body count at the Nazi death camps, that there would be peace on earth if nations would just give up their natural resources (Black, p.213) to Hitler's New York-London banker missionaries for "freedom and democracy." ("Hitler Can Be Stopped Only By Force Greater Than His Own, Says J.P. Warburg[Hitler's banker] Says." NYT, June 11, 1940; "Missionaries for Democracy…" NYT, Jun 1, 1986).
No less than Joseph Goebbels would throw the grandest fete Nazi Berlin had ever seen in homage to comrade Watson, as Hitler's Minister of Economics Hjalmar Schacht did the honors, complete with the Reich jingle (Black, p.133-134):
 ♫♪ "We're big, but bigger we will be…
.new fields we're sure to conquer too.
For the ever onward IBM." ♫♪
Just as Archbishop Karol Józef Wojtyla of Kraków, Poland was elected Pope John Paul II in time to communion with the CIA-Brzezinski-Kissinger et al. that funded the Polish Solidarność (Solidarity) via the Rothschild-created U.S. Treasury Exchange Stabilization Fund and Vatican's Rothschild-run Banco Ambrosiano to destabilize Poland and the Soviet Union, Nicaragua and Latin America et al.,
…"The Dung of the Devil"  Pope John Paul II's appointee, Argentinian Archbishop Jorge Mario Bergoglio would be elected Pope Francis, a first pope from South America in time to tour South America rallying the youth against the unfettered pursuit of money as the "dung of the devil" and to "make a mess…" "which gives us solidarity" evoking the spirits of the CIA-funded Polish Solidarność, as mass protests erupt to impeach Brazil's President Dilma Rousseff.
"Coup-mongering," says Brazil's President Rousseff who is leading MERCOSUR, the South American trade bloc that unites Brazil, Argentina, Bolivia, Brazil, Paraguay, Uruguay and Venezuela toward cooperation with the BRICS (Brazil, Russia, India, China, South Africa) and facing mounting impeachment pressures as her mentor, Brazil's former President Luis Inacio Lula da Silva, eyeing a return to the presidential election in 2018, is arrested. ("Lula and the BRICS in a Fight to the Death." RT, Mar 8, 2016; "Lula Arrest in Brazil Graft Probe Raises Risk of Rousseff's Fall." Reuters, Mar 4, 2016)…
On April 1, 2016, Reuters puts forth an ode to Brazil's Vice President Michel Temer as a man of  "poetry, quiet power, restrained calculator" to become president. As Reuters is overcome with Temer's poetry, the "constitutional scholar" since becoming acting-President Temer has been banned from running for public office, although the suspension of Rousseff's presidency has made running for office unnecessary. ("Brazil's Temer: Poetry, Quiet Power, Restrained Calculator." Reuters, Apr 1, 2016; "2 Men in Line for Brazilian Presidency Accused of Corruption." Associated Press, May 10, 2016).
A few months earlier, Temer wrote an "875-word break-up letter" to Rousseff in December 2015 concluding, "I know, madam, that you do not trust me…nor will you trust us tomorrow." That might be the case because Temer was revealed to be an intelligence informant to the U.S. National Security Council and the military the day after Rousseff's presidency is suspended for 180 days and Temer comes to power. ("WikiLeaks Reveals Interim Brazilian President as US Intelligence Informant." Sputnik, May 13, 2016).
By the seventh day, Temer orders the military to surround Rousseff's residence as Brazil's Supreme Court mulls impeachment motion against Temer, and Temer considers taking Brazil out of international organizations including MERCOSUR.
("Temer Orders Military to Surround Residence of Dilma Rousseff." TeleSUR, May 19, 2016; "Brazil's Supreme Court to Mull Impeachment Motion Against Temer." TeleSUR, May 17, 2016; "Brazil Leak: Corrupt Leaders Seek Protection with Coup." TeleSUR, May 23, 2016; "More Temer Cuts as Brazil Plans to Quit International Bodies." TeleSUR, June 16, 2016)
Against the  "dung of the devil," the Vatican in 2011 called for a global "supranational authority" with "universal jurisdiction" above nations what the Vatican's banker called a global "criminal system" ("Vatican Calls for Global Authority on Economy, Raps 'Idolatry of the Market'." Reuters, Oct 24, 2011 Update; Vatican Encyclical, "Towards Reforming the International Financial and Monetary Systems in the Context of Global Public Authority," Oct. 24, 2011 http://www.vatican.va/roman_curia/pontifical_councils/justpeace/documents/rc_pc_justpeace_doc_20111024_nota_en.html).
It is a global "criminal system" in which key intelligence agencies and moneyed interests collude against their nations to bring about this "supranational" state, using U.S. military men as "dumb, stupid animals" to be used as pawns for foreign policy, says Vatican collaborator, Henry Kissinger.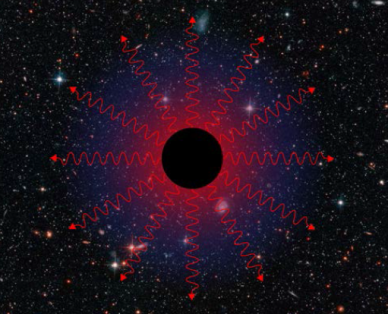 How do black holes converge? And why? The gravity of black holes is such that it overwhelms all other forces in the Universe. Once inside, nothing can escape.
But "black holes have a bit of an image problem," Time magazine reports. It is not easy, but there is an exception to the death grip of a black hole: a propulsion of energy forces that emit glows of light around the event horizon ("How to Escape from a Black Hole." Time, Oct 4, 2012). As the event horizon glows, "the energy carried away by the glow decreases the black hole's mass until it is completely gone." ("Do Black Holes Live Forever?" Black Hole Encyclopedia at HubbleSite.org). Physicist Stephen Hawking et al.  describe the phenomenon as hairy black holes ("Soft Hair on Black Holes" (2016) reviewed at "Viewpoint: Black Holes Have Soft Quantum Hair." http://physics.aps.org/articles/v9/62)
Preview II. The Little Boys of the CIA-MI6: AIDS to National Security & Peace on Earth "New World Order"
In or on July 26th [1984] I went to Sacramento, Ca. King flew me out on a private plane from Eppley Airfield [in Omaha] to Denver where we picked up Nicholas, a boy who was about 12 or 13.
Nicholas and I were driven to a area that had big trees, …about an hour to get there [Bohemian Grove in California]. There was a cage with a boy in it who was not wearing anything. Nicholas and I were given these tarzan things to put around us…
They told me to f— the boy and stuff. At first I said no and they held a gun to my balls and said do it… And Nicholas had anal sex and stuff with him. We were told to f— him and stuff and beat on him… .We were told to put our d—s in his mouth and stuff and sit on the boys penis and stuff and they filmed it… .[A] man came in and kicked us and stuff in the balls and picked us up and threw us. He grabbed the boy and  started f—ing him and stuff.
The boy was bleeding from his rectum and the men tossed him and me and stuff and put the boy right next to me and grabbed a gun and blew the boys head off.
The boys blood was all over me and I started yelling and crying… .They then forced me to f— the dead boy up his ass and also Nicholas they put a gun to our heads to make us do it. His blood was all over us. 
.Everything including when the men put the boy in the trunk was filmed… .[Later] They had the film and they played it… .They made Nicholas and I screw each other and one of the men put the dead boy's penis in mine and Nicolas' mouth. I didn't want to write this because the man force me to bite the boy's penis and balls off.
This is an excerpt from the diary of Paul Bonacci, an involuntary asset of the U.S. Central Intelligence Agency MK-ULTRA secret mind control program on orders from his CIA handler, Lawrence "Larry" E. King, Jr. The director of the snuff film was the notorious Hunter Thompson. (DeCamp, John W. The Franklin Cover-Up: Child Abuse, Satanism, and Murder in Nebraska. 2nd Edition, 2nd Printing January 2001, p. 103-105; "FBI Admits to Destroying Their File on Journalist Hunter S. Thompson." RT, Oct 10, 2012). The attorney for Paul Bonacci is former Senator John DeCamp, a state senator of Nebraska for 16 years.
The trip to California where the boy was ritually murdered was accompanied by CIA "Monarch" [MK-ULTRA] contact, Mark Johnson of Denver, Colorado. (DeCamp, p. 330).
[Bohemian Grove is where some 2,000 of the richest and most powerful males  partake in the annual two-week ritual known as the "Summer Encampment". ("Bohemian Grove Where Big Shots Go to Camp." NYT, Aug 14, 1977).
"Members run about naked in the woods" ("Gergen to Quit Club, White House Reports." NYT, Jun 11, 1993), whose needs are tended to by 600 to 800 local mostly high school boys and college-aged males. In 2006, there were over 3,000 middle-aged males on a 17-year waiting list will to pay some $10,000 (1998 rate) to join. ("Country's Power Brokers 'Camp' Despite Protests." McClatchy-Tribune News Service [Washington] 29 July 2006).
Some attendees: George H.W. Bush Sr. and  son George W. Bush Jr., Ronald Reagan, Richard Nixon, Colin Powell, George Schultz, Henry Kissinger, Donald Rumsfeld, Stephen David Bechtel, Leonard Firestone and David Rockefeller. ("Weighty Guests Arrive for Annual Bohemian Grove." McClatchy – Tribune Business News, 14 July 2010; "Men Behaving Jauntily." Washington Post, 04 Aug 1998)]
Bonacci was part of the CIA secret research on control of human behavior from 1943 to mid-1950s. The CIA secretly funded experiments at 80 institutions, including 44 colleges or universities, hospitals, prisons and pharmaceutical companies. MK-ULTRA is the umbrella project that covers Monarch, Bluebird, later Artichoke, and MK-DELTA. With each program, "virtually no avenue of human behavior control" was left unexplored from interrogation techniques to drugs from LSD to germ warfare. The CIA records indicated the program was halted in 1973 ("C.I.A Says It Found More Secret Papers on Behavior Control: Senate Panel.." NYT, Sept 3, 1977).
The torture and conditioning of child victims of 'Monarch', better known as part of MK-ULTRA, are run by the government and military in cooperation with Satanic cults. These are multi-generation groups that donate their children. Children are traumatized by repeated Satanic sexual and physical torture, violence, drugging, and electrocutions that their mind breaks or "splits" into multiple personalities to cope during which time the CIA programs these personalities for prostitution or pornography, for acting, to be assassins or drug mules (DeCamp, p. 323, 328-329; "Probing the Enigma of Multiple Personality." NYT, Jun 28, 1998).
Such CIA projects to create involuntary assassins were supposed to have ended in 1973 ("C.I.A. Documents Tell of 1954 Project to Create Involuntary Assassins: No Evidence of Attempt." NYT, Feb 9, 1978).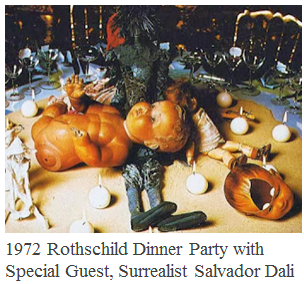 Beginning about 1970 since he was about three years old, Bonacci was taken to a sex ring at Offutt Air Force Base and sexually abused and plunged into Satanism. At Offutt and later at other military installations, this ring "broke" Bonacci by torture as profound as the Nazis inflicted on their captives as they trained "re-programmed" him in the military arts, including assassination. Bonacci said heavy drugging and sexual degradation was involved. Key figures in the power structure of Omaha, Nebraska were part of  the Satanic military ring (DeCamp, p. 326-327).
"The killers in the Nazi camps were themselves trained and organized by psychiatrists and eugenicists, operating from the 'T4' bureau. These psychiatrists had long been the pets of white supremacist British and American financier networks," DeCamp noted ( p. 331).
At Offutt Airbase, Paul Bonacci was told that what he and other children were being subjected to was in the aid of national security. Offutt Air Force Base near Omaha, Nebraska, is the headquarters of the United States Strategic Command, home to the U.S. Air Force's reconnaissance and command-and-control operations and thousands of intelligence personnel. Its E-4B aircraft provide transport and command and control for the President, the Secretary of Defense, and Secretary of State. (DeCamp, p. 327-328; Deposition of Paul A. Bonacci https://www.youtube.com/watch?v=W1qnZwgQCB0; Global Security.org).
Bonacci named Gary Ackerman, a congressman, as one of the individuals in charge of the Monarch program (Deposition of Paul A. Bonacci, https://www.youtube.com/watch?v=W1qnZwgQCB0). [Correction: Not the director of Unconventional Weapons and Technology Division at Maryland. Ackerman et al. wrote an interesting article (abstract), "An Army of One: Assessing CBRN [Chemical, Biological, Radiological, Nuclear] Pursuit and Use by Lone Wolves and Autonomous Cell." Terrorism and Political Violence, 20 Dec 2013 web. The authors find that "lone rangers" ("lone" gunman, jihadi et al.) or autonomous cells and their CBRN actions tend to receive better media coverage than formal terrorist organizations.]
Bonacci's CIA handlers told him the purpose of his work is to take control of the United States.  When asked by Judge Urbom why he was forced by CIA handler King to do these things, Bonacci explained:
"If they wanted to get something passed through the legislature, he would put some people that were against it in a compromising position. By using us boys and girls…" (U.S. District Court Testimony, Feb 5, 1999, pp. 146-151; Court Transcript here or at http://tedgunderson.info/index_htm_files/97302292-Paul-Bonacci-Court-Transcripts-from-Larry-King-Lawsuit.pdf).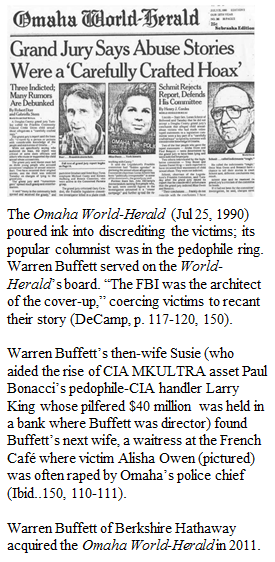 Bonacci testified to being flown to Massachusetts for sex with U.S. Congressman Barney Frank in the basement of Frank's Boston home, and spoke of his contempt for Barney Frank (Court Transcript Feb 5, 1999, p. 126). Judge Urbom promptly halted the testimony to be resumed after lunch. The matter on Congressman Barney Frank did not resume.
Congressman Barney Frank (D-MA) would become the chairman of the powerful House Financial Services Committee from 2007 to 2011. Back in 2011, I spoke with Lawranne Stewart, who was Barney Frank's senior legal counsel, for assistance with the Senate Judiciary inquiry into my firing by the Congressional Budget Office (CBO) (See Welcome to Economics Voodoo!). For some reason, the conversation about my work on the collapse of mortgage markets-bonds-and banks was conducted in rather hushed tones.
At the time, I was not aware Congressman Barney's legal counsel Stewart had helped to write the Clinton-era legislation that paved the way for the derivatives explosion during 43rd President George W. Bush years. In the mid-1990s, Federal Reserve Chairman Alan Greenspan* with Lawrence "Larry" Summers and U.S. Treasury Secretary Robert Rubin blocked Brooksley Born, the head of the CFTC, from regulating derivatives that later resulted in the 2008 collapse of the financial system and economy for which some $23 trillion has been printed for the Federal Reserve's bank shareholders and BFFs (GAO Audit).
[*Alan Greenspan KBE (Knight of the British Empire) voiced concerns recently that "crazies" will undermine the U.S. system. For a moment there, one thinks Greenspan experienced a fleeting moment of self-reflection. ("Greenspan Worries That 'Crazies' Will Undermine the U.S. System." Bloomberg, Sept 14, 2016).  But "crazies" does not seem to be the right term.
After setting the housing market on fire with derivatives, Greenspan's BFFs Robert Rubin, CFR chairman and former director of Citigroup and Goldman Sachs board member, founded the Hamilton Project at the Brookings Institution to promote economic collapse growth, this time, health care with President Obama's former chief advisor Larry Summers (who gifted Harvard's endowment fund with a $2 billion loss for pushing derivatives) on the Advisory Council, and CBO Director Douglas Elmendorf (Harvard Ph.D.econ), whose CBO numbers enabled the passage of Obamacare. (See posts Welcome to Economics Voodoo! and Quantitative Easing & The Federal Reserve's Love Affair..)
Many Americans still believe the people behind Obamacare care about their health and the poor. MIT Professor Jonathan Gruber who helped craft such a law and was a consultant to Obamacare, said its passage requires "the stupidity of the American voter." (Gruber may have been unaware of a very special, restricted access computer at CBO under the direction of MIT-Harvard Ph.D.-trained economists-finance that generated estimates on Obamacare. Perhaps it was not mere stupidity.) Some of that "stupidity" has been educated by the MIT, Princeton, Yale, Harvard et al. professors whose hollowed hallways are stained lined with Buffett, Gates, Koch et al. money that steer curriculum and direction of research. ("MIT Professor Apologizes For Remark on Voters." Boston Globe, Dec 9, 2014]
Lawranne Stewart, before serving as Barney Frank's legal counsel, was U.S. Treasury Undersecretary Gary Gensler's top lieutenant from 1999 to 2001and helped to write legislation known as the Commodity Futures Modernization Act ["Enron loophole"] ("How Wall Street Bought Barney Frank." AlterNet, Dec 21, 2009).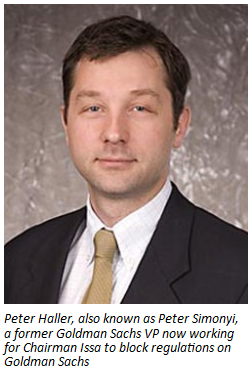 Then, there was also a meeting with the legal counsel of Congressman Darrell Issa (R-CA), chairman of the House Oversight and Government Reform Committee. Issa's reported net worth of nearly a half billion dollars makes him the richest member of Congress.
I was unaware at the time Congressman Issa hired Peter Haller, better known as Goldman Sachs VP Peter Simonyi, as a top aide to block regulation of Goldman Sachs. Simonyi changed his last name to Haller and went on to advance Goldman Sachs interests. ("Exclusive: Goldman Sachs VP Changed His Name, Now Advances Goldman Lobbying Interests As Top Staffer to Darrell Issa." Think Progress, Aug 18, 2011; "Former Goldman VP: I Changed My Name Because I'm A Descendant of a Count." Business Insider, Aug 18, 2011;  "Millionaires' Club: For First Time, Most Lawmakers are Worth $1 Million-Plus." Open Secrets.Org, Jan 9, 2014). Please excuse the long run-on sentence in the next paragraph.

Perhaps Goldman Sachs vice president, Peter Haller/Simonyi, knows George Herbert Walker IV, the managing director of Goldman Sachs from 1992 until 2006. George Herbert Walker IV is the second cousin of President George Walker "W." Bush; their Walker/Bush grandfathers  financed the Nazi Reich with patrons J.P. Morgan[Rothschild, Rockefellers et al]. Cousin President Bush signed an executive order in 2006 to give intelligence czar, John Negroponte (whose brother Nicolas Negroponte runs the MIT Media Lab linked to internet prodigy Aaron Swartz who downloaded something from the lab and reportedly hanged himself in 2013 before he could testify) authority in the name of national security to suspend accounting disclosures from publicly traded companies (in the event of a systemic collapse…). Walker IV then became the global head of investment management at Lehman Brothers1 (where cousin Jeb Bush, President George W. Bush's brother, was a paid consultant in summer 2008) to see to its collapse in September 2008, some say killed to save Goldman Sachs at which time, Warren Buffett – whose then-wife was an early booster2 of MKULTRA Paul Bonacci's CIA-military intelligence handler, Larry King who pimped CIA-military intelligence asset Bonacci to Congressman Barney Frank (serviced by boy Bonacci in Frank's Boston basement, where Frank's aide was running a male prostitution brothel3, unbeknownst to Frank) and pilfered $40 million into FirstTier Bank where Buffet was board member4 – Buffet in 2008 pumped $5 billion into Goldman Sachs5 and "While Fighting to Block SEC Investigation of Goldman Sachs, Rep. Darrell Issa Bought Goldman Sachs Bonds"6 and had former Goldman Sachs VP Haller/Simonyi write his legislation with Congressman Barney Frank at the helm of the House Financial Services Committee as billionaire Warren Buffet (Issa et al.) quietly became the largest recipient of the taxpayer-funded $700 billion TAARP bailout7 and Buffet's Berkshire Hathaway became among the top Goldman Sachs holders8.
(1"Lehman Layoffs: Will They Include George Herbert Walker IV." HuffingtonPost, Sept 17, 2008; 2 Ibid. Decamp, p. 148-149; 3 "Rep. Frank Acknowledges Hiring Male Prostitute as Personal Aide." NYT, Aug 26, 1989; 4 Ibid. Decamp, p. 158-159; 5"Buffett to Invest $5 Billion in Goldman." WSJ, Sept 24, 2008; 6Think Progress, June 29, 2011; 7"Buffett, Champion of Bailout, Is also Leading Beneficiary." The Sacramento Bee in McClatchy DC, Apr 5, 2009; "Buffet's Betrayal." Reuters, Aug 4, 2009; 8 "Berkshire to Pay Nothing to Be Among Top Goldman Sachs Holders." Bloomberg, Mar 26, 2013).
The American people are out some $23 trillion. Federal Reserve Chairman Alan Greenspan and his Wall Street Federal Reserve shareholder BFFs have no idea what happened. But Dr. Michael Burry, head of Scion Capital who was featured in the movie, The Big Short, knew when he began to find evidence of systemic fraud in the housing market in 2003.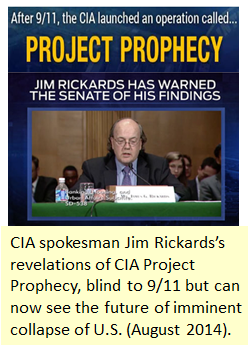 Burry offered to testify before Congress about his findings but was instead audited several times and his home raided by the FBI. Burry's problem was that he assumed they did not already know, and he did not seek prophecy advice from Jim Richards. (Burry, Michael. "I Saw the Crisis Coming. Why Didn't the Fed." NYT, Apr 3, 2010).
One must credit the financiers for their knowledge of Bible prophecies. The interesting Rabbi Jonathan Cahn is author of the popular book, The Harbinger, and his film, Isaiah 9:10 Judgment, in which he explains the "harbingers" or biblical signs of God's pending judgment on America.
In Isaiah 9:10, Rabbi Cahn proclaims that America was "breached" on September 11, 2001 when airplanes flew into the two World Trade Towers in New York City as a 'harbinger' of  God's will.
Fearing God's wrath that afternoon, a third building – a secret CIA and emergency control center, 7 World Trade Center – collapsed into itself like the World Trade Twin Towers, taking with it many secret documents. Professor Leroy Hulsey, chair of the Department of Civil and Environmental Engineering and one of the nation's leading forensic engineers determined the collapse could not be due to an inferno fire, of God's wrath in prophecy terms. (https://www.youtube.com/watch?v=_7IVCSpalbA&feature=youtu.be; "A Nation Challenged: The Intelligence Agency; Secret C.I.A. Site in New York Was Destroyed on Sept. 11." NYT, Nov 4, 2001).
Rabbi Cahn warns that the collapse of the financial system in 2008 portends an increasingly urgent and ominous harbinger of God's wrath. The Rabbi shows clips of U.S. congressmen and New York officials, incredibly, reading scripture that coincidentally cites exactly the biblical harbingers. If that were not bible prophecy, it is as if one is being given a look into the depths of planning and coordination that went into 9/11.
After 9/11, the CIA with its "Five Eyes" of global and domestic surveillance that were miraculously blind (unless busy directing traffic), but could now see the future launched "Project Prophecy," revealed Jim Rickards in 2014. Rickards is a financial warfare advisor to both the Pentagon and CIA. Rickards was tasked by the CIA to investigate potential insider trading that took place before the terrorist attacks. After 15 years, find anything?
CIA Jim Rickards spends quite a bit of time advancing the IMF Strategic Drawing Rights (SDR), a basket case of insolvent digital-paper currencies, offerings to the world as an alternative to the indebted U.S. dollar as world reserve currency. [In CFR (Rockefeller-Rothschild et al.) writings, the road to the 'new world order of universal peace and prosperity for mankind' would be difficult if they could not print themselves trillions ($23 trillion most recently) in paper-digital 'money' (i.e., SDR basket case) to exchange for real, hard assets, a nation's wealth for the benefit of mankind. It was written more elegantly, but that's the gist of it. More later.)
Rickards says the CIA and intelligence community fear that the U.S. debt and the real 23 percent unemployment rate foretell of doom for America, perhaps after seeing a vision at John Williams's statistical calculations at Shadow Government Statistics, www.shadowstats.com. Unlike Burry, CIA Rickards managed to warn the Senate of his findings without being audited and his home raided by the FBI.
Get Jim Rickards's CIA Project Prophecy 2.0 Action Plan today! Right here or watch Rickard's 2014 interview on Money Morning (https://www.youtube.com/watch?v=Le73sWDlhz4), transcript at http://jimrickardspredictions.com/transcript.php.
DeCamp notes that in 1972, "Oracle of Omaha" Warren Buffett "executed a maneuver around Boys Town, which is not fully understood to this day." Buffett's Sun newspaper ran exposés targeting Boys Town for having too large an endowment, which at $460 million made it one of the largest charities in the country. Buffett's exposés led to a major purge of personnel at Boys Town. Warren Buffett is believed to play a significant role in Boys Town today (DeCamp, p. 148).
In 2016, about 300 acres of Boys Town farmland – called the "finest parcel" of development ground in Nebraska and surrounding states was sold to Applied Underwriters, a subsidiary of Warren Buffett's Berkshire Hathaway.  ("Coveted Farm And Boys Town Property, Long Surrounded By Development, Are Site of Omaha's Next Big Mixed-Use Project." Omaha World-Herald, Apr 14, 2016; "Applied Underwriters Buys Boys Town, Demarco Property." ABC KETV7.com [Omaha, NE], May 4, 2016; "Applied Underwriters, Part of Berkshire Hathaway, Is Company Planning to Develop Boys Town Farmland Near 144th, West Dodge." Omaha World-Herald, May 5, 2016).
Another 380-acre parcel of Boys Town farmland was sold in 1994 to First National Nebraska Inc., the parent company of First National Bank of Omaha which holds the account of Boys Town. ("Boys Town Ag Land In Bank Firm's Plans." Omaha World-Herald [Omaha, Neb] 15 Jan 1994; "First National Calls Officie Park 'Premier Project'." Omaha World-Herald, Sept 12, 1994)
In exchange for Boys Towns "finest parcels" of land meant to care for orphaned children, Boys Town holds nearly two-thirds of its $1 billion assets, or some $657 million in stocks and related financial fumes propped up by Federal Reserve "injections of cocaine and heroin" funds (December 2013 Form 990 filing, Boys Town p.107,  http://990s.foundationcenter.org/990_pdf_archive/470/470376606/470376606_201312_990.pdf; Former Dallas Federal Reserve President Richard Fisher, https://www.youtube.com/watch?v=qTRfBrXfVOg). Which stocks and funds?
Warren Buffett said, "I knew that King was a phony…. It was like he had a big sign on his head that said, 'PHONY, PHONY, PHONY'". At least what was not phony was some $40 million Larry King pilfered from the Franklin Credit Union and deposited at the bank where Buffett would serve as director.  According to a former Omaha city employee, when Bonacci's pedophile CIA handler Larry King was crowned "Queen" at The Max gay bar, Warren Buffett was his escort (DeCamp, p. 150).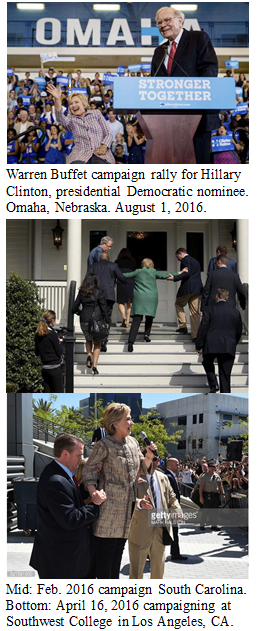 It appears Hillary Clinton is Warren Buffett's next betrothed dance partner. In the event of  becoming U.S. president, Hillary Clinton promises to "dance in the streets of Omaha" with Warren Buffett, who introduced the presidential Democratic nominee to Omaha. ("At Omaha Rally, Hillary Clinton Echoes Convention Promises on Economy and Education." Omaha World-Herald, Aug, 2016; "Clinton: Warren Buffett and I Would 'Dance in the Streets of Omaha' with 2nd District Win." Omaha World-Herald, Aug 1, 2016).
[Given Clinton's recent collapse at the 9/11 Memorial, it would be unusual if Clinton's financiers have been unaware of her health condition. One supposes there could be an Apprentice as a plan B. ("Hillary Clinton Took 6 Months to 'Get Over' Concussion, Bill Says of Timeline." ABC News, May 14, 2014; "Dr Drew's show cancelled after he claims Hillary Clinton is suffering from BRAIN DAMAGE." Daily Mail[UK], Aug 29, 2016; Collapse at 9/11 Memorial, https://www.youtube.com/watch?v=11-EAzsGxgQ; "The Legitimate Concerns About Hillary's Concussion." New York Post, May 19, 2014.
It is the dénouement to what can only be called, The Greatest Truman Show on earth.]
A few months earlier, Lynn Forester de Rothschild hosted an intimate $100,000 per head fundraising event for Hillary Clinton ("Hillary Clinton Holds $100,000-a-Head Fundraisers." WSJ, May 13, 2016). Warren Buffett's daughter, Susan Buffett, raised $1.5 million for Hillary Clinton in a private home fundraising dinner. ("Susie Buffett's Private Event Raises More Than $1.5 Million For Clinton." Omaha World-Herald, Aug 2, 2016).
Years earlier, "phony" CIA handler Larry King fundraised for Warren Buffett's son, Howard G. Buffet, who ran for county commissioner (DeCamp, p. 150).
Following the path of service and philanthropy is Buffett's grandson, Howard W. Buffett (son of Howard G.), who spent a year and a half in the Obama administration as a staffer in the White House Office of Social Innovation and Civic Participation.
Howard W. Buffett, a soil expert, then oversaw the Department of Defense's agricultural development in Iraq and Afghanistan. ("Warren Buffett: A Wealthy Philanthropist with Some Bad Ideas." Capital Research Center, Nov 2, 2011; "Warren Buffett's Grandson on the Buffett Rule, and How President Obama Almost Ruined His Marriage Proposal." New York Magazine, Sept 21, 2011).
Afghanistan's agricultural development appears to be a resounding success. Afghanistan's freed opium fields flourished following the U.S. invasion of Afghanistan in 2001. While patrolling for terrorists lurking in the opium fields, some 36,000 U.S.-NATO soldiers were reported to have committed 70,000 drug offenses in Afghanistan between 2006 and 2011 as heroin use somehow skyrockets in the United States and NATO countries.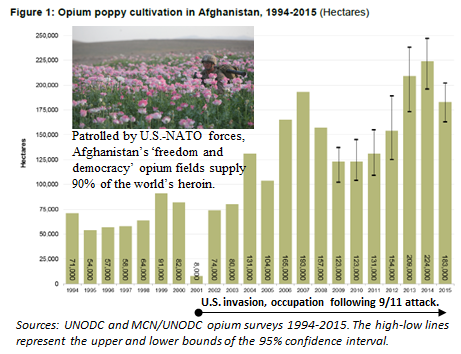 [Source: United Nations Office on Drugs and Crime Afghanistan Opium Survey 2015: Cultivation and Production, https://www.unodc.org/documents/crop-monitoring/Afghanistan/_Afghan_opium_survey_2015_web.pdf; http://www.nato.int/cps/en/natohq/topics_69366.htm; "Army Probes Drug Use By Soldiers in Afghanistan." New York Daily News, Apr 21, 2012; "As Heroin Use Grows in U.S., Poppy Crops Thrive in Afghanistan." NBC News, Jul 7, 2015; "Afghanistan 'Looking at a Record High' Opium Crop." CBS News, Apr 13, 2013; "Heroin Use Skyrockets in U.S." U.S. News & World Report, Jul 7, 2015; Army pictures of U.S.-NATO troops patrolling Afghanistan opium fields, https://publicintelligence.net/usnato-troops-patrolling-opium-poppy-fields-in-afghanistan/; "US Marines Posed with Banner of Nazi SS." The Telegraph [UK], Feb 9, 2012].
Furthermore, NATO forces seem to be safer with the Taliban in Afghanistan's opium fields. In NATO countries, the number of people who die of heroin overdoses every year (more than 10,000) is five times higher than the total number of NATO troops that have been killed in Afghanistan in the past eight years. ("UNODC Reveals Devastating Impact of Afghan Opium." United Nations Office on Drugs and Crime, 21 October 2009).
The United Nations notes an anomaly that while 90% of the world's opium, the raw ingredient for heroin, comes from Afghanistan, less than 2% is seized there  (UN Report  Addiction, Crime and Urgency: The Transnational Threat of Afghan Opium, p. 1-2. https://www.unodc.org/documents/data-and-analysis/Afghanistan/Afghan_Opium_Trade_2009_web.pdf) under the watchful eyes of U.S.-NATO forces. When did a country in the Middle East, Afghanistan, become part of the North Atlantic alliance?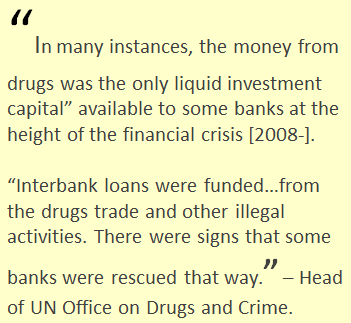 The UN report notes, "There  is  something  basically  wrong  with  global  counter-narcotics."
In 2009, Antonio Maria Costa, an Italian economist who then led the United Nations Office on Drugs and Crime reported, "in many instances, the money from drugs was the only liquid investment capital" available to some banks at the height of the crisis.
"Interbank loans were funded by money that originated from the drugs trade and other illegal activities," he said. "There were signs that some banks were rescued that way." The United Nations estimated that $1.6 trillion was laundered globally in 2009, of which about $580 billion was related to drug trafficking and other forms of organized crime." ("Where the Mob Keeps Its Money." NYT, Aug 25, 2012).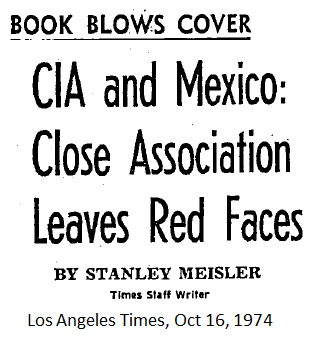 From opium-heroin to cocaine, during the 2008 systemic collapse, Wells Fargo, with Warren Buffet its biggest shareholder, acquired Wachovia when Wells Fargo became a beneficiary of $25 billion in U.S. taxpayers' money. (The American people have no idea they were such philanthropists.) Wachovia had laundered $378.4 billion in Mexican cocaine money from 2004 to 2007, but Bank of America and Citibank are also choice destinations for drug cartel money laundering. Wells Fargo was named primary dealer for U.S. debt by the New York Federal Reserve in 2016.
[Source: "How a Big US Bank Laundered Billions From Mexico's Murderous Drug Gangs." The Guardian [UK], Apr 3, 2011; "Fed Lets Buffett Increase Stake in Wells Fargo." Washington Post, Aug 9, 1991; "Banks Financing Mexico Drug Gangs Admitted in Wells Fargo Deal." Bloomberg, Jun 29, 2010; "Wells Fargo Set to Settle Money-Laundering Case." Independent, 16 March 2010; "Buffett Applies to Fed to Build Wells Fargo Stake Beyond 10%." Bloomberg, Jul 1, 2016; "Buffett Wins Fed Approval to Boost Wells Fargo Stake." Washington Post  09 Aug 1991; Bloomberg Report Drug Money Laundering Through Bank of America and Wells Fargo-Wachovia, https://www.youtube.com/watch?v=nAgf9u_Uxbs;  "FBI Says Cartel Used Bank of America to Launder Money." Bloomberg, Jul 9, 2012; "Wells Fargo Named Primary Dealer for U.S. Debt by New York Fed." Bloomberg, Apr 18, 2016].
For insight into why "there is something basically wrong with  global  counter-narcotics" as noted by the United Nations:
In August 1986, Vice President George H.W. Bush and Attorney General Meese announced the formation of Operation Alliance, a concentrated drug enforcement effort in the "war on drugs" and requested the use of four E-2C radar surveillance planes along the Southwest border of the United States. (National Narcotics Leadership Act of 1987. Hearing before the Committee on the Judiciary. 100th Congress, First Session on S. 789: A Bill to Provide the Framework Necessary to Pursue a Coordinated and Effective National and International Narcotics Control Policy. Senate Committee on the Judiciary. Hearing ID# HRG-1987-SJS-0012 May 14, 1987. p. 39).
The Bush request for four E-2C radar surveillance planes along the Southwest border of the United States would presumably be used to catch drug running operations in the "war on drugs", except the CIA was conducting the drug smuggling operations.
On November 25, 1986, the Iran-Contra scandal broke when President Ronald Reagan admitted that funds derived from covert arms deals with Iran had been diverted to buy weapons for the U.S.-backed Contra rebels in Nicaragua. But arms deals were not the only source CIA financing to destabilize the Nicaraguan and other governments.
About this time, a white young boy was giving oral sex to Vice President George H.W. Bush Sr. (Yale Skull & Bones), and on another occasion, Bush was serviced by a black boy, Paul Bonacci told former FBI Ted Gunderson what he witnessed (Interview in 1993, https://www.youtube.com/watch?v=uW2U5L17lDQ). Bonacci told investigators he was in one of the private White House tours for young male prostitutes conducted by Washington lobbyist Craig Spence (a D.C. co-pimp with CIA handler Larry King), a story the Washington Times broke on June 29, 1989; former Pentagon and U.S. intelligence officers said the Soviet KGB was behind it. Boston police found Spence's body, dressed in a tux in his bed, which had been pushed against the door of his hotel room at the Ritz-Carlton. ("Homosexual Prostitution Inquiry Ensnares VIPs with Reagan, Bush"; "Craig Spence, Figure in DC Sex Case, Found Dead in Boston." Washington Post, Nov 12, 1989).
[Consider across the country on the East Coast in Virginia, the story of Katherine Pollard Griggs. Katherine Griggs is the former wife of 11 years to U.S. Marine Corps Col. George Raymond Griggs, who came forward in an interview in 1995 with her story of abuse and the culture of sexual perversion being cultivated at the  highest levels of the U.S. military and government. Her former husband Colonel Griggs, a Princeton graduate, was the head of special operations under Admiral Kelso, Marine Corps Chief of Staff and head of NATO's Psychological Operations.
(Col. Griggs has company in Sir Peter Hayman, who was the former deputy director of MI6, a member of the British Paedophile Information Exchange and held NATO posts.)
According to Katherine Griggs, the secret all-male societies such "Skull and Bones" at Yale University or "Cap and Gown" at Princeton select boys with certain profiles, either "rising stars" from well-to-do families, or those with weak fathers, no fathers, or are poor (perhaps more pliable, greater capacity for brutality and degeneracy to compensate for sense of inadequacy). The induction ceremony involves getting the college boys into a drunken stupor, as the Yale, Princeton et al. special ones engages in anal and oral sex with the new initiate inside coffins ("sarcophagus"). The "drunken stupor" in order to engage in homosexual sex suggests being led into something counter to their nature that is cultivated, fed over time and kept hidden.
The boys are nurtured and turned into vices: "Sex is used to control, intimidate and groom boys into this type of military service from a young age." U.S. presidents and vice presidents, secretaries of defense, intelligence etc. have been groomed by these societies as they place each other into academia, industry and the highest offices (Sutton), where they have control over the nation's global and domestic surveillance and intelligence agencies, etc.
(Professor Antony Sutton wrote what he considered his magnum opus, America's Secret Establishment: An Introduction to the Order of Skull and Bones, when Charlotte Thomson Iserbyt, the daughter of a Skull and Bones member gave Sutton a 24-hour loan of the Order's membership books going back to 1833. The Order's names and dates allowed Sutton to piece together  the power structure that connected his research from Wall Street and the Rise of Hitler (1976) to his three-volume series, Western Technology and Soviet Economic Development. Iserbyt, a former Senior Policy Advisor in the U.S. Department of Education under the Reagan-Bush administration, became a whistleblower, in brief, The Deliberate Dumbing Down of America (1999), which has been made free at http://deliberatedumbingdown.com/MomsPDFs/DDDoA.sml.pdf.)
Katherine Griggs observes from 11 years with her husband that the U.S. military is run by sexual deviants, heavy on the homosexual side. The chosen ones – by such logic, the most degenerate ones – are promoted to drug-running upon leaving the military. Ms. Griggs mentions Paul Wolfowitz, Donald Rumsfeld, George H. Bush, Dick Cheney, and Henry Kissinger, who said U.S. military men are "dumb, stupid animals" to be used as pawns for foreign policy (Woodward & Bernstein. (1976). The Final Days, p.194) as he gleefully sent Agent Orange and bombs raining down on Cambodia and Viet Nam.
"They've gotten rid of the good folks," Katherine Griggs said.
Katherine Griggs said she turned to CIA Director William Colby for help. This is the same Colby who was secretly hired by the Nebraska legislative committee to look into the plane explosion-death of the committee's investigator in connection to the Bonacci case. (Interview video series in 1995 https://www.youtube.com/watch?v=IKzHxrX3Hv0 (4th).
A few days before CIA Director Colby disappeared and his body found floating in a Maryland river, Colby spoke with Michael Meiers, who would write The Second Holocaust: How the AIDS Epidemic Was Created in a CIA Black Operation (2014 – more of a summary of 35 years of research), with the more detailed treatment in Was Jonestown a CIA Medical Experiment? A Review of the Evidence (1988). The U.S. media blamed the Soviets for Jonestown…The facts are bizarre but one can not get away from Nazis and fascists.
The other source of CIA financing was crack-cocaine. Ten years later, over August 18-20, 1996, journalist Gary Webb published his "Dark Alliance" series in San Jose Mercury News on the CIA role in the explosion of crack-cocaine being pumped into black neighborhoods in Los Angeles during the 1980s decade. The cocaine money was used to purchased arms for the CIA-created Contra "freedom fighters" to overthrow the Nicaraguan government (and other governments).
Of particular significance, Webb underscored that crack cocaine was virtually unobtainable in the poor black neighborhoods of Los Angeles before "members of the CIA's army," including using the Blood and Crypts gang as their distribution channel, began supplying crack cocaine at rock-bottom prices to the black poor in the 1980s. ("The CIA, the Drug Dealers, and the Tragedy of Gary Webb." The Telegraph [UK], Mar 21, 2015). Blacks, particularly around Oakland, California, and San Francisco for its homosexuals, would be the choice subjects for the Reverend Jim Jones.
The nation's leading newspapers from the Washington Post to New York Times savagely attacked Webb's work as unsubstantiated, destroying his career. A CIA Directorate of Intelligence staffer wrote that Webb's story "posed a genuine public relations crisis for the Agency" (CIA FOIA Release Jul 29, 2014, http://www.foia.cia.gov/sites/default/files/DOC_0001372115.pdf).
Webb died with two bullets to his head, reported to be suicide. ("Gary Webb Was No Journalism Hero, Despite What 'Kill The Messenger' Says." Washington Post, Oct 27, 2014; "Resurrecting a Disgraced Reporter 'Kill the Messenger' Recalls a Reporter Wrongly Disgraced." NYT, Oct 2, 2014).
Years before Webb's revelations and even before the Iran-Contra affair, William Robert "Tosh" Plumlee, a CIA contract pilot, in 1983 revealed to then-Senator Gary Hart (D-Colo.) everything he knew about the phony drug-interdiction program and how it had been used by the CIA as cover for the agency's secret—and illegal—shipment of arms for the Nicaraguan Contras. Planes would routinely transport cocaine back to the U.S. after dropping off arms for the Nicaraguan rebels. ("Cocaine Airways." OC Weekly, Sept 14, 2006).
"We were transporting weapons and drugs on C-130s. I was flying drugs into this country and weapons back into Mexico. We were working undercover to log and record the aircraft ID numbers and where the landing strips were…. But then Iran-Contra came along, and we started flying guns back and forth and drugs into the southwest U.S.," said CIA contract pilot Plumlee (Ibid., "Cocaine Airways"). The logic follows, then, that the Bush request for four E-2C radar surveillance planes along the Southwest border of the United States was to secure the CIA drug-running operations.
Then-Senator John Kerry investigated these accusations of CIA drug smuggling and sealed Plumlee's testimony, which remains classified until 2020, as the crack and cocaine epidemic ravaged  poor blacks in Los Angeles for how many generations and spread across the country.  (Letter from Gary Hart to Senator John Kerry, now U.S. Secretary of State, Feb. 14, 1991, http://narcosphere.narconews.com/userfiles/70/sengaryhart.pdf; "U.S. Government Helped Rise of Mexican Drug Cartel: Report. Mexican Newspaper Reveals Secret Arrangement between DEA and Sinaloa Cartel." Time, Jan. 14, 2014; "Key Figures in CIA-Crack Cocaine Scandal Begin to Come Forward." Huffington Post, Oct 10, 2014.)
At a Congressional hearing in February 2012, Jennifer Shasky Calvery, a Justice Department official in charge of monitoring money laundering, testified:
"We are talking about groups, some of which have billions of dollars at their disposal. They have money to engage in corruption on a global scale and at the highest levels of government…. Perhaps, most alarmingly, they develop alliances with foreign intelligence services and terrorist organizations operating against U.S. interests…Money is what motivates, and it is what empowers these groups" (p. 5)… [B]anks in the U.S. are used to funnel massive amounts of illicit funds (p.11)."
(Hearings on Combating Transnational Organized Crime: International Money Laundering as a Threat to Our Financial Systems before the Subcommittee on Crime, Terrorism, and Homeland Security; Committee on the Judiciary. HRG-2012-HJH-0006, 112th Congress, 2nd Session. February 8, 2012.)
In addition to pimping Bonacci and the other boys and girls to rich, influential closet pedophiles and drug running, CIA handler Larry King was a top contributor to a Contra "support committee", the Citizens for America (CFA) (DeCamp, p. 323). When CIA handler Larry King encountered any issues, King called President Ronald Reagan directly, testified King's photographer, Russell Nelson  (Ibid., Bonacci vs. King, United States District Court for the District of Nebraska, February 5, 1999, Transcript 4:91CV3037, p. 46), to which
THE COURT said: "What? I didn't understand." (Ibid., p.46).
British MI5 Intelligence: Blackmailing the VIP Pedophile Members of Parliament
The CIA MKULTRA's Paul Bonacci-pedophile ring to blackmail and control members of Congress parallels a story unfolding across the Atlantic of the child sex ring used by British MI5 intelligence to blackmail and control members of the British parliament.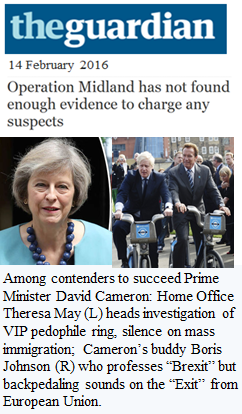 One VIP who was investigated for allegations of pedophile child abuse was Lord Leon Brittan. Brittan was former Home Secretary – the office to which British MI5 intelligence reports – a Cabinet minister in Margaret Thatcher's second administration, Trade Advisor to Prime Minister David Cameron, and Vice President of the European Commission.
Lord Leon Brittan of Spennithorne was also an executive member of the Rothschild-Rockefeller Trilateral Commission with Zbigniew Brzezinski, Henry Kissinger, Paul Volcker et al. (http://trilateral.org/page/12/executive-committee).
("Whitehall Child Sex Inquiry: the 114 Files 'Lost'." The Telegraph, Jul 5, 2014; "David Cameron Hired Lord Brittan as £500 a Day Trade Adviser." The Telegraph, Jul 7, 2014; "Simon Danczuk: I Was Warned Not to Challenge Leon Brittan Over Paedophile Dossier." The Telegraph, Jul 6, 2014 "Leon Brittan 'Interviewed by Police over Historical Rape Allegation'." The Telegraph, Jul 6, 2014.)
Former Home Secretary Lord Brittan was against banning the British Paedophile Information Exchange, a group formally disbanded since 1984 that campaigned to legalize sex with toddlers as young as four years old. The PIE members hotline rang inside the Home Office. ("Leon Brittan Was 'Against Banning Paedophile Rights Group'." The Telegraph, Jun 4, 2015; "Leon Brittan was Given Second Paedophile Dossier." The Telegraph, Jul 7, 2014; "Lobbying by Paedophile Campaign Revealed." The Guardian, Feb 26, 2014).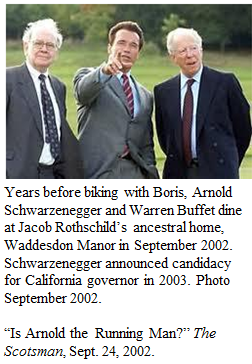 Sir Peter Hayman, the former deputy director of British MI6 foreign intelligence, was a member of the Paedophile Information Exchange. An 'establishment' cover-up emerged as early as 1981 of Sir Peter Hayman's involvement in child pornography. In  the 1950s, Sir Peter served on the British delegation to NATO and as far back as 1949, was personal assistant to the chief staff officer to the ministry of defense. From 1964-1966, Sir Peter Hayman was Foreign Office minister and deputy commandant in the British military government of West Berlin and in the 1970s, high commissioner to Canada. ("Sex Scandal Rocks Britain". Edmonton Journal, 19 Mar 1981; "Westminster 'Paedophile Ring': Now Where Does the Investigation Go?" The Telegraph, 15 Nov 2014).
Earlier this year, Tom O'Carroll, the former chairman of the Paedophile Information Exchange was suspended from the Labour Party. ("Lobbying By Paedophile Campaign Revealed." The Guardian, Feb 26, 2014; "Former Chairman of the Paedophile Information Exchange Has Labour Party Membership Suspended." The Telegraph, Feb 16, 2016).
Home Office Secretary Theresa May, who oversees the British MI5  Security Service and heads the investigation, cannot seem to find sufficient evidence of the VIP pedophile ring to prosecute. It might not be helpful if the Home Office and MI5 are destroying evidence, losing or not being able to find 'potentially relevant files'. Perhaps a financial trail might exist since the Home Office gave sizeable grants to the Paedophile Information Exchange.
("Civil Servant Mark Sedwill Admits Home Office 'Probably' Destroyed Paedophile Dossiers." Belfast Telegraph, 09 Jul 2014; "May Dodges Questions About MI5 Failure to Act on MP Paedophile Fears." The Guardian, Jul 23, 2015; "Fears of Child Sex Abuse 'Cover-Up' as Theresa May Rejects Calls for Super Inquiry." Daily Express, Nov 7, 2012; "Huge Sums of TAXPAYER'S Cash 'Handed to Vile Child-Sex Pervert Group' By Home Office Officials." Daily Mirror, Mar 1, 2014; "Revealed: Whitehall Official Who Blocked Objections to Fund PIE." Exaro, Mar 1, 2014).
Perhaps Home Secretary Theresa May, a "Remain EU" advocate and contender for Prime Minister, might ask to borrow the CIA or KGB's files on Britain's VIP parliamentarian pedophiles. ("Westminster Child Abuse Scandal: KGB and CIA Kept Secret Dossiers on Britain's VIP Paedophiles." The Mirror [UK], Jan 31, 2015).
More on the British MI5 Intelligence and the Pedophile Ring
[In 1981, one of three senior care workers at Kincora jailed for abusing boys was William McGrath, believed to have been a British MI5 intelligence agent. ("MI5 'Used Sexual Abuse of Kincora Children to Blackmail Politician Paedophiles'." Irish Times [Belfast] and Independent [UK], May 31, 2016; "Exclusive: Secret Service Infiltrated Paedophile Group to 'Blackmail Establishment'." Daily Express [UK], June 29, 2014; "MI5 'Blackmailed Pedophile Politicians' Over Belfast Boys' Home Abuse, Inquiry Hears." RT [Russia], May 31, 2016; "Kincora: MI5 'Must Hand Over Files On Abuse At East Belfast Boys' Home'." Belfast Telegraph, 10 Jul 2014).
"Leaked Docs Prove MI5 Covered Up for Pedophiles Among Thatcher Government." Sputnik, Jul 23, 2015; "MI5 'Blocked Exposure of Kincora Sex Abuse Scandal'." Belfast Telegraph, 16 Apr 1996; "Historic Child Abuse Files Missing." Belfast Telegraph, 05 Jul 2014; "Civil Servant Mark Sedwill Admits Home Office 'Probably' Destroyed Paedophile Dossiers." Belfast Telegraph, 09 Jul 2014; "Bishop names Enoch Powell In Paedophile Ring, Satanic Worship Scandal." Belfast Telegraph, 30 Mar 2015;
 "Nick Clegg: 'Claims Scotland Yard Covered Up Boy's Murder…" The Telegraph, Nov 19, 2014; "Murder link to Margaret Thatcher Aide Accused of Raping Teenage Boy." The Telegraph, Jan 5, 2015; "Metropolitan Police Detective's Fears of Westminster Paedophile 'Cover-Up'." The Telegraph, 19 Nov 2014; "Tory MP 'Murdered' Boy at Orgy, Abuse Victim Claims." The Telegraph [UK], 16 Nov 2014;
"Westminster Paedophile Ring: Top Tory MP 'Murdered Girl at Vile Orgy' Claims New Witness." Mirror [UK], Jan 10, 2015; "No Evidence that Home Office Funded Paedophile Group, Review Finds." The Guardian, Jul 7, 2014; "Groups Linked to Paedophile Network Given State Grants." The Times [UK], Jul 8, 2014; "Operation Midland: Who Are the Nine People Accused of Being Part of A 'VIP Paedophile Ring'?" The Telegraph, Oct 12, 2015; "'Powerful Elite' of at Least 20 Establishment Figures May Have Been Part of Paedophile Ring That Abused Children for Decades." Daily Mail [UK], Jul 8, 2014);
"VIP Paedophile Ring 'Abused Teenage Boy INSIDE Buckingham Palace and Balmoral Castle'." The Mirror [UK] Nov 29, 2014.]
Bonacci traveled to Dresden in communist East Germany where "Monarch" personnel were frequently neo-Nazis, and the milieu of a special project of Lt. Col. Aquino, who was a West European adviser to the U.S. Chiefs of Staff (DeCamp, p.330). DeCamp notes the psychological experimentation done by the Nazis during World War II was imported to the U.S. under CIA Director Allen Dulles, who initiated the secret MKULTRA project.
[Part II-III Leave the European Union touched on MKULTRA and the untimely deaths of bioweapons researcher Dr. Frank Olson,  and CIA Director William Colby who exposed some CIA abuses. CIA Director Richard M. Helms had much of the CIA MKULTRA documents destroyed. ("Project MKULTRA, The CIA's Program of Research in Behavioral Modification." Joint Hearing Before the Select Committee on Intelligence and the Subcommittee on Health and Scientific Research of the Committee on Human Resources. United States Senate. 95th Congress, First Session, Aug 3, 1977). The MKULTRA committee in 1977 included future Vice President Joseph "Joe" Biden, being whispered for the U.S. presidency in 2016.
CIA Director Richard McGarrah Helms, the grandson of Rockefellers' Gates W. McGarrah, was in the Office of Strategic Services [CIA] intelligence operations plotting the positions of German submarines in the western Atlantic. The question is whether Helms spotted six of his grandfather's former employer, the Rockefellers' Standard Oil tankers (now Exxon Mobil) being manned by Nazi officers to the Nazi submarine refueling base in the Canary Islands. The report was later killed on orders from Washington D.C, where Nelson Rockefeller headed an intelligence bureau. In 1966, Richard Helms became CIA director and continued the secret Nazi mind control program, MK-ULTRA. ("Richard Helms, Ex-C.I.A. Chief, Dies at 89." NYT, Oct 24, 2002; See Leave the European Union, Part I; "Drug Tests by CIA Held More Extensive than Reported in '75." NYT, Jul 16, 1977).
Helm's grandfather, Gates W. McGarrah, was chairman of Rockefellers' Chase National Bank, then became chairman of the Federal Reserve in 1928 and three years later, the first president of the Bank for International Settlements ("McGarrah In New Post…" NYT, May 3, 1927; "G.W. McGarrah: NY Banker Dies." WSJ, Nov. 6, 1940), which served as a conduit for payment transfers between the New York-London et al. bankers and the Nazi Reich to finance the war, declassified BIS documents would reveal some 75 years later. ("Bank of England [with BIS] Helped the Nazis to Sell Plundered Gold." The Telegraph, July 30, 2013 web; "The Nazis' British Bankers." The Independent, Mar 30, 1997; See Leave the European Union, Part I).]
The case of Paul Bonacci and the CIA MKULTRA-pedophilia ring surfaced when some $40 million went missing from the Franklin Community Federal Credit Union in Omaha, Nebraska. The manager of the Franklin Credit Union was Lawrence "Larry" King Jr. (not the talk show host), a black rising star in the Republican Party. When Bonacci's CIA handler, Larry King was arrested, King was about to go to a breakfast party in Omaha for his buddy, Vice President George H.W. Bush Sr. (DeCamp, p. 323).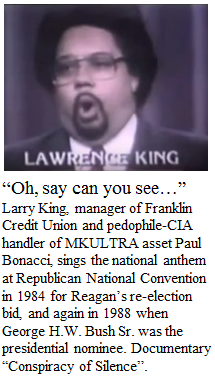 On Friday, November 4, 1988, four days before George Bush Sr. was elected President, agents of the Federal Bureau of Investigation, the Internal Revenue Service, and the National Credit Union Administration (NCUA) descended on the Franklin Community Credit Union and shut the doors (DeCamp, p. 53).
On January 29, 1991, 41st President George Bush Sr. explained in an address before a joint session of the Congress on the State of the Union :
"What is at stake is more than one small country. It is a big idea – a New World Order – where diverse nations are drawn together in common cause to achieve the universal aspirations of mankind: peace and security, freedom and the rule of law. Such is a world worthy of our struggle and worthy of our children's future." (Transcript: http://www.presidency.ucsb.edu/ws/?pid=19253)
Despite intense pressure (threats) to abandon the investigation, the Nebraska State Legislature Special Committee hired Gary Caradori to investigate allegations of a child sex ring, which involved the highest levels of the monied interests and politicians.
[Among the reports to the Nebraska Legislative committee was 10-year old Loretta. Loretta's initiation into Satanism began by sexually servicing a group of ten men in their 30s. She was then forced to watch them saw off a baby girl's head and the eyes cut out. After another female toddler was sacrificed, the body parts were ground up and she was forced to drink the remains (DeCamp., p. 21-24). During the rituals, cult members wore clothes "which had upside down crosses… the leader always wore a long black cape with gold rings shaped like a skeleton head…" The ritual sacrifice to satan is to gain power.]
On July 11, 1990 the small single-engine plane piloted by Caradori exploded in mid-air over Aurora, Illinois, along with his 8-year old son and the photographic evidence of pedophiles sexually abusing children and exposing them to satanic rituals, given to him by CIA handler King's photographer. Within less than 24 hours, the FBI was in Omaha to subpoena Caradori's records before the dead bodies of Caradori and his son made it home. Records of Caradori's hotel stay and phone calls in Chicago vanished (DeCamp, p. 2-4). "The FBI was the architect of the cover-up," said DeCamp. (Gary Caradori's interviews with the pedophilia victims (YouTube): Paul Bonacci, Troy Boner, Alisha Owen; https://www.indybay.org/newsitems/2003/02/06/15709461.php).
DeCamp's close friend, former CIA Director William "Bill" Colby (from 1973-1975), was hired in secret by Nebraska's Legislative Investigative Committee to look into Caradori's single-engine plane crash (DeCamp, Forward, p. x).
In 1991, Colby advised his friend, John DeCamp: "What you have to understand, John, is that there are forces and events too big, too powerful, with so much at stake for other people or institutions… .[I]t has not killed you up to this point. I am telling you, get out of this before it does." (DeCamp, Forward, p. x).
On April 27, 1996, Colby reportedly drowned in a tributary of the Potomac River in Maryland. Colby's body was found floating on the Potomac River in Maryland on May 6 but had no signs of being in the water for nine days. Colby was about to testify in a re-opened case into the death of Dr. Frank Olson,a bio-weapons director at Fort Detrick, Maryland. ("Colby's Body Found Along River Shore: Ex-CIA Director Guided Spy Agency In Turbulent Time." Washington Post, May 7, 1996; "The Olson File: A Secret That Could Destroy the CIA." Mail on Sunday [London (UK)], 23 Aug 1998).
The Case of Dr. Frank Olson and Universal Aspirations of National Security, Peace on Earth "New World Order"
For reportedly not wanting to conduct CIA MKULTRA experiments that would have put the Fort Detrick researchers on Nuremburg trials, Dr. Frank Olson fell out of a building with a hole hammered to his head. ("Lawsuit says Cold War Scientist Working on MK-ULTRA was Pushed from Window by CIA." Daily Mail [UK], Nov 29, 2012; "What Did the C.I.A. Do to Eric Olson's Father?" NYT, Apr 1, 2001).
In 1975, after granting an interview to Seymour Hersh, Dr. Frank Olson's family announced in a press conference a lawsuit against the government for  Olson's wrongful death in 1953. (Ibid., "What Did the CIA Do to His Father?")
A day after the announcement, President Ford's White House Deputy Chief of Staff  Dick Cheney wrote in a declassified memo, dated July 11, 1975, "In any trial, it may become apparent that we are concealing evidence for national security reasons…"
To avert a trial, Rumsfeld and his Deputy of Staff Dick Cheney arranged for President Ford to meet with the Olson family. ("Scientist Was Killed to Stop Him Revealing Death Secrets; So Did Cheney and Rumsfeld Cover up Assassination?" Sunday Express [London], 25 Aug 2002; "A Father Lost; Since 1953, Eric Olson Has Heard More Than One Explanation For His Father's Mysterious Death…." The Sun [Baltimore, MD] 01 Aug 2004). President Ford's Secretary of State and National Security Advisor was Henry Kissinger.
In 1976, Olson's family accepted an apology from President Ford and $750,000 to stop their lawsuit. Shortly after Olson's daughter received her portion of the money, she, her husband and their 2-year old son, all died in a plane crash (Ibid., "What Did the CIA Do to His Father?").  In 1976, George H.W. Bush was CIA director.
But a few days before he died, Colby spoke with another author. It had to do with Jonestown, Guyana and a Congressman Leo Ryan who was advancing legislation to de-fang the U.S. Central Intelligence Agency.
[Bernie Sanders once supported abolishing the CIA. In a 1989 C-SPAN interview, Sanders said that every "revolution for the poor people" in Latin or Central America had been "overthrown by the CIA" ("Sanders Once Urged Abolishing CIA." Politico, Feb 22, 2016). But Sanders's stance on the CIA would expose Americans to terrorists! declares Hillary Clinton. (Ibid Politico).
For some reason, presidential contender "socialist" Bernie Sanders does not get much free airtime on Fox/CNN et al., and where Henry Kissinger beckons Hillary Clinton and Donald Trump before his eminence, Salon reports, "Sanders proudly declaring 'Kissinger is not my friend'" (Feb 12, 2016).
But more later on the Rothschilds-Rockefellers-Vatican-Kissinger et al. and their Nazi SS Klaus Barbie-turned drug dealer and executioner of Catholic priests fighting with the poor in Latin America…]
[to be continued…]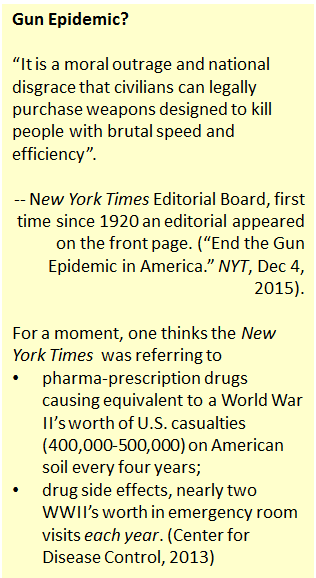 On Epidemics
A few days ago in Orlando, Florida, a reported "worst mass shooting in U.S. history" killed 49 gay men – Latinos mostly, blacks – with ISIS claiming responsibility. ("Orlando Nightclub Shooting: Mayor Declares State of Emergency." BBC, Jun 12, 2016; "ISIS Claims Responsibility for Florida Gay Club Massacre." Daily Mail[UK], Jun 12 ,2016; "Islamic State Linked to Worst Mass Shooting in U.S. History." USA Today, Jun 12, 2016; "Latino Community Hit Hard in Orlando Shootings, Most Victims Were Hispanic." NBC News, Jun 13, 2016).
"It is a moral outrage and national disgrace that civilians can legally purchase weapons designed to kill people with brutal speed and efficiency" opines the Editorial Board of the New York Times, the first time since 1920 that an editorial appeared on the front page. ("End the Gun Epidemic in America." NYT, Dec 4, 2015).
For a moment, one thinks the New York Times editors were talking about the epidemic deaths from big pharmaceuticals and  prescription drugs. Each year, the number of people killed from taking a drug as prescribed by doctors is three times higher than the body count from firearms: over 100,000 deaths from prescription drugs each year vs. 33,600 deaths by firearms in 2013 – that includes firearms used in self-defense – according to 2013 figures from the Center for Disease Control (http://www.cdc.gov/nchs/fastats/injury.htm).
Allergic reactions to prescription drugs and accidental overdose from some of the most commonly used medicines — from insulin to a common antibiotic — sent more than 700,000 Americans to emergency rooms each year, a landmark government study shows. And that's a conservative estimate. ("Bad Drug Reactions Send 700,000 to ER Yearly." Associated Press in NBC News, Oct 17, 2006 http://www.nbcnews.com/id/15305033/; "Adverse Drug Reactions Result in 250,000 UK Admissions a Year." British Medical Journal 2006.)
With such pharma-shaped medical education, some estimated 210,000 to 440,000 Americans die each year from medical errors. ("How Many Die From Medical Mistakes in U.S. Hospitals?" ProPublica, Sep 19, 2013; "Medical Error—The Third Leading Cause of Death in the US." British Medical Journal, May 3, 2016)
That is equivalent to more than a World War II's worth of U.S. casualties on American soil every two years from pharmaceutical drugs and medical mistakes, not to mention pharmaceutical side effects. Pharmaceuticals, whose shareholders are the largest banks, Wall Street interests et al., drive medical school education (Sutton Establishment).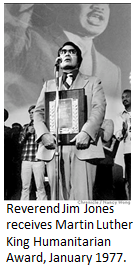 The editor of the world's most respected medical journal, Lancet, writes:
"Much of the scientific literature, perhaps half, may simply be untrue…flagrant conflicts of interest, together with an obsession for pursuing fashionable trends of dubious importance, science has taken a turn towards darkness."
("Shocking Report from Medical Insiders." New Eastern Outlook, Jun 16, 2016; http://www.thelancet.com/pdfs/journals/lancet/PIIS0140-6736%2815%2960696-1.pdf)
Alas, Orlando was not the worst mass shooting in U.S. history, although spirits of "Hitler's Reichstag" hover, as reportedly 49 dead bodies of gay men have become the vaunted special bearer of human rights. Cries for gun control follow.
Homeland Security thought "maybe finally schoolchildren murdered in a classroom [at Sandy Hook] … maybe finally this will be the tipping point" to gun control. ("In Wake of Mass Shooting, UN Rights Chief Urges US to Consider Robust Gun Control." United Nations, June 14, 2016; "Jeh Johnson: Gun Control is Now a Matter of Homeland Security." CBS News, June 14, 2016; "With Gun Epidemic Raging, Obama Finally Bypasses Congress." Los Angeles Times, Jan 5, 2016).

What's next, transgender multi-racial Jews holding their three-parent babies at a rainbow parade gunned down by a dual-reverse-gendered ISIS/Al-Qaida eunuch?
No, the worst mass shooting in U.S. history would be some 913 mostly black Americans – many chosen for their homosexual "specialness" from San Francisco, and many former prostitutes, drug addicts  – transported to the jungles of Jonestown, Guyana for what they thought would be a new start, but to their dying breaths did not know they served as the aids to a CIA-MKULTRA medical experiment.
Granted, one could argue whether it was the potassium cyanide, a form of the Nazi Zyklon B gas used by the Nazis to exterminate homosexuals and other "undesirables", or the bullets that awaited them for resisting. For many, it would be the bullets. So yes, guns can be dangerous.
Oh, I am a "Nigger Lover," ranted their reportedly crazed 'religious' cult leader, Reverend Jim Jones, to his congregation as Jones had his black followers threatened and harassed with Nazi and Ku Klux Klan intimidations, and vandalizing his own building with painted swastikas and "Nigger Lover".
Jim Jones was a CIA operative and an understudy of the CIA's most prized asset, Nazi "Angel of Death" Dr. Josef Mengele. More on that in a few moments, but for the full story, one could inquire with U.S. Senate Intelligence Committee member, U.S. Senator Dianne Feinstein (D), for whom Jim Jones rigged the votes to put in power.]
Preview III. The Little Boys of the Vatican. E.T. Come Home. Jesus is Not Coming Back.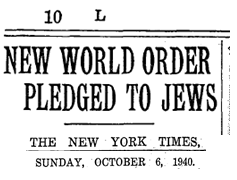 In a letter dated November 2, 1917, British Foreign Secretary Lord Arthur J. Balfour expressed support to Lord Walter Rothschild for the creation of the state of Israel in Palestine. Known as the Balfour Declaration, the letter represents the first political recognition of Zionism. (Israel Ministry of Foreign Affairs, Balfour Declaration of 1917 at http://www.mfa.gov.il/mfa/foreignpolicy/peace/guide/pages/the balfour declaration.aspx; "Coalition Stability and Belief Change: Advocacy Coalitions in U.S. Foreign Policy and the Creation of Israel, 1922-44." Policy Studies Journal, Aug 2011)
[Zionism is generally defined as a nationalistic, political movement for a "Jewish" state that would be protected by its own Israel Defense Forces (IDF). The intelligence agency of the IDF is the Mossad, analogous to the Central Intelligence Agency of Wall Street origins whose CIA blueprint came from British MI6 intelligence, where Victor Rothschild was an agent ("Rothschild as the Fifth Man [for the Soviets]." The Independent [UK], Oct. 23, 1994).
According to Neturei Karta, an international Jewish organization, the Zionism movement in the past century created the State of Israel, but Zionism falsely seeks to represent the entire Jewish people who have existed for thousands of years.
"The Zionist state employs a set of chief rabbis and uses religious parties to ornament their state with a clerical image" and "have deceived many well meaning Jewish people via terror, trickery and false propaganda… the use of a nearly universally subservient media. Whoever attempts to criticize them puts his livelihood and, at times, his very life in danger."  ("What Is the Neturei Karta?" http://www.nkusa.org/AboutUs/index.cfm)
Russian Major General Konstantin Pavlovich Petrov, head of the Russian Academy of Management who lectures on the nature of the supranational "global mafia", says "Judaism is their instrument." Zionism's "essential goal was and is to change the nature of the Jewish people from that of a religious entity to a political movement." (https://www.youtube.com/watch?v=otyIQ5bCLS0&list=PLEpD0QTry-lpfJYaZvqNJ7cNViMHbLfOb&index=4)]
While the Balfour Declaration of 1917 was the first political recognition, the Rothschilds had ideas about restoring the Temple and the City of Jerusalem some 40 years earlier, as reported in 1878 ("House of Rothschild: The Paris Branch of Family. Money Kings of the World. Fortune Too Large to Be Calculated." Chicago Daily Tribune, Apr 8, 1878).
In 1917 as official plans were put in motion for the creation of the state of Israel, the Rothschilds with their agents-protégés Warburgs, Bush, J.P. Morgan, Swiss bankers and Rockefellers et al. began building the German war machine for Hitler, the same year they sent Russian Leon Trotsky-Vladimir Lenin, joined by Joseph Stalin, to "carry forward" the Bolshevik revolution in 1917 in Russia and installed communism in what would become the Soviet Union in 1922. At that time, Lenin installed Max May of Guaranty Trust (J.P. Morgan[Rothschild], Rockefeller) as the first vice president of the Soviet Union's first commercial bank, Ruskombank or Russian Commercial Bank of Moscow, and made Guaranty Trust its U.S. agent. (Leave the European Union series Part I, Part II-III, Part IV).
By 1929, Stalin became Soviet leader. J.P. Morgan[Rothschilds], Harriman, Rockellers et al. would be positioned inside the Soviet Union for over decade by the time the United States recognized the Soviet Union in 1933 (Sutton Wall Street and the Bolshevik Revolution; Leave the European Union Part II-III series; "Russian Bank Seeks Connections Here: Max May…." NYT, Jan. 12, 1923; "Mrs. Max May." NYT, Jan 8, 1934; United States Recognizes Soviet…" NYT, Nov. 18, 1933).
And by 1933, funded Adolf Hitler's rise to power as the face of the Nazi Third Reich. (Ibid. Leave the European Union series; Sutton's Hitler)
By 1945, some six million Jews, homosexuals and other "defectives" were worked and gassed to death across Europe by the Zyklon B gas provided by Hitler's New York-London bankers' Nazi I.G. Farben and the atrocities surpassing that of Auschwitz at Unit 731 in Manchuria.
The State of Israel came into existence in May 1948 with a population of 806,000. In three years, the population nearly doubled in 1951 to 1.6 million people through immigration, half of whom came from Europe after World War II seeking refuge from both the fascism installed in Germany and communism installed in the Soviet Union by the Rothschild-Rockefeller et al. financiers (Ibid., Leave the European Union series). Whatever the ideological minutiae, the pragmatics of fascism and communism are not good for the people.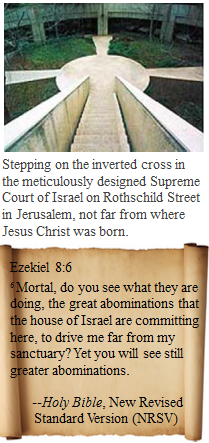 In 1966 James de Rothschild gave Israel the Knesset, the building for Israel's national parliament in Jerusalem, and further up Rothschild Street, his wife, Dorothy de Rothschild, gave the Supreme Court of Israel building; both as gifts to the people of Israel ("Dorothy de Rothschild, 93, Supporter of Israel." NYT, Dec 13, 1988; "Architecture View; A Public Work That Ennobles As It Serves." NYT, Aug. 13, 1995).  About 20 minutes away in a straight line from the Supreme Court of Israel is Rockefeller Garden.
Mrs. James de Rothschild said of the Knesset, "[T]he destruction of the Temple was once the signal for our dispersal, so may this new Knesset be the symbol of our abiding reunion." ("New Knesset Dedicated in Israel: 1st Permanent Home for the Parliament Built in Jerusalem." NYT,  Aug 31, 1966; "Stone of Knesset Laid: Work on Israeli Parliament Building to Start in March." NYT, Oct 15, 1958).
[For a Confucius moment where "signs and symbols rule the world, not rules and law," see "Sinister Sites – Israel Supreme Court" at Vigilant Citizen (Jun 24, 2009) for an interesting read on the occult symbolism of Israel's Supreme Court not far from Bethlehem, recognized by Christians as the birthplace of Jesus Christ.]
Some 150 years ago an article in the Chicago Tribune noted in 1865, the Pope in want of more money to maintain the Vatican army, increasingly pledged church properties to the Rothschilds in return for loans that year after year, the Vatican could not repay. "[T]he day is not far distant when…[the Rothschilds] will have all the available property of the Church in their possession." ("The House of Rothschild: Its Origin and History – 'The Red Shield' – The Power and Wealth of the Rothschilds – Their Operations with American Bonds – The Rothschilds and the Pope." Chicago Tribune, June 2, 1867).
When the Vatican and Catholicism entered into communion with the Rothschilds et al. is a question, though the Vatican bank is where one finds Nazi financier Dr. Hermann J. Abs, the Rothschilds and their agents CIA, Henry Kissinger, Zbigniew Brzezinski et al., as Paul Bonacci and other pedophile victims served as their drug mules…
… and the poor boy Albino Luciano would one day seek to open up the Vatican records.
Preview (June 28)….
Monsignor Hupp, the former executive director of Boys Town Nebraska where the CIA's MKULTRA Paul Bonacci was sent to recruit boys for the pedophile ring, went to the Catholic hierarchy and the FBI with evidence of the abuse. Monsignor Hupp was removed from his post; the FBI did nothing (DeCamp, p. 284).
That is because some two decades before on March 16, 1962, Pope John XXIII approved a secret Vatican document marked "CONFIDENTIAL" called 'Crimine solicitationies'. ("From the Supreme and Holy Congregation of the Holy Office: For All Patriarchs, Bishops and Other Ciocesan Ordinaries 'Even of the Oriental Rite'. Instruction: On the Manner of Proceeding in Cases of Solicitation." The Vatican Press, 1962. http://image.guardian.co.uk/sys-files/Observer/documents/2003/08/16/Criminales.pdf or copy Vatican Criminales)
The secret 1962 Vatican document, which was verified authentic by the Roman Catholic Church, was made public by The Guardian in 2003 ("Vatican Told Bishops to Cover Up Sex Abuse." The Guardian, Aug 16, 2003).

The 1962 secret Vatican document was sent to every bishop in the world with instructions ordering the bishops to pursue cases of sexual abuse,
 "in the most secretive way… restrained by a perpetual silence, each and everyone… is to observe the strictest ++7++ secret… regarded as a secret of the Holy Office… under the penalty of excommunication" (1962 Vatican 'Crimine solicitationies', p.3 underline in document) .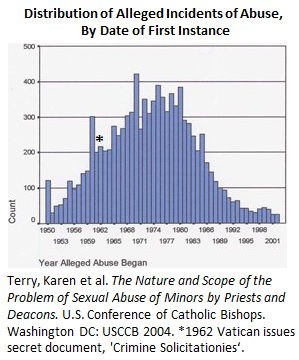 In particular, the Vatican ordered bishops to report in the "minutest detail" cases of pedophilia abuse involving bestiality (sex between a person and an animal) (Ibid., Vatican 'Crimine solicitationies', p. 16).
Other than that, remove priests who speak up, require the children and their families to take an oath of secrecy at the time of making the complaint to Church officials (Ibid., p. 16), and for the next 40 years, circulate pedophile priests from parish to parish, devastating the lives of 10,667 children, nearly all boys, and their families (Ibid., Terry et al.)
The 1962 document is "to be diligently stored in the secret archives of the Curia as strictly confidential. Nor is it to be published nor added to with any commentaries." In 2001, Cardinal Joseph Ratzinger, Pope John Paul II's enforcer of religious doctrine for nearly 30 years,  issued a confidential letter reminding the bishops that the 1962 instruction was still in force (Ibid., "Vatican Told Bishops to Cover Up Sex Abuse.").
The question must be asked: was the homosexual pedophilia abuse of little boys cultivated by the Vatican over four decades to damage, if not to destroy, the Church and faith in God.
Just last year in 2015, USA Today reports pedophile priests are being circulated to poor communities in South America. In one investigation, despite allegations and criminal investigations against several pedophilia priests, the Catholic Church allowed the priests "to slip off to parts of the world where they would face less scrutiny from prosecutors and the media." ("U.S. Priests Accused of Sex Abuse Get Second Chance in South America." USA Today, Sept 15, 2015; "South America Has Become a Safe Haven for the Catholic Church's Alleged Child Molesters." Global Post, Sept 17, 2015).
"We can't understand it," parishioner Jack Lynch told the newspaper. "It seems they are going out of their way to protect him, and for years. We suspect a scandal behind the scandal." ("Exclusive: Bronx Priest Stole More than $1M From Two NYC Churches, Used the Cash on Wild S&M Romance with Beefy Boyfriend: Lawsuit." NY Daily News, Dec 11, 2015; Complaint Doc web, Dec 10, 2015 – Parishioners vs. Father Peter Miqueli, Cardinal Timothy Dolan, Archdiocese of New York, Copy here).
The pedophilia scandal has cost the Church $4 billion to settle lawsuit damages from the sexual abuse. The financial repercussions have forced the closures of churches across the nation. Gone are the many churches that are a support for families and communities and provides services to the poor. ("Archdiocese of Boston Uses Parish Funds to Repay Sexual Abuse Settlement Costs." Boston Catholic Insider, Aug 5, 2014; "NCR research: Costs of Sex Abuse Crisis to US Church Underestimated." National Catholic Reporter, Nov 2, 2015; "Archdiocese Moves Toward Large-Scale Parish Closings." Politico, Apr 28, 2014; "Catholic Faithful Face Church Closures." CNN, Mar 25, 2009).
The question must be asked again: is the homosexual pedophilia abuse of little boys being cultivated by the Vatican to destroy the Church and the innocence, but ultimately, to destroy God.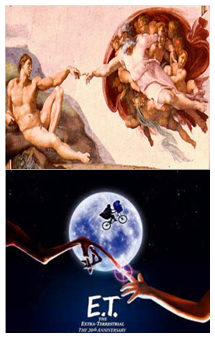 Preview  This is where extraterrestrials (E.T.), Rothschild's et al. work on exo-planets with the Vatican's LUCIFER come in…
The time will soon come when the Christian faithful will not need to immediately "renounce his own faith in God simply on the basis of the reception of new, unexpected information of a religious character from extraterrestrial civilizations…"
The Maya saw this Black Hole coming long ago…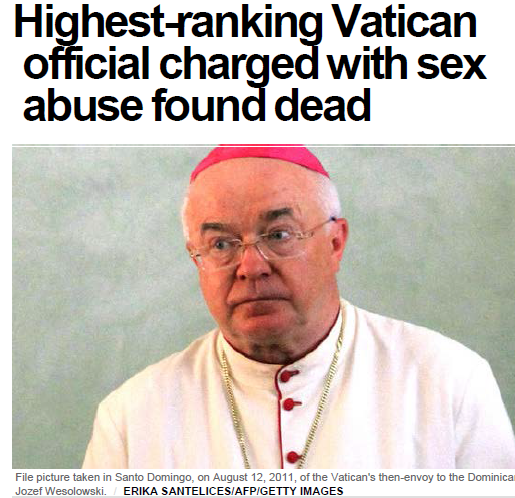 One, in particular, was Vatican Ambassador Archbishop Jozef Wesolowski, ordained as a priest and elevated bishop by his fellow Polish Pope John Paul II. Vatican Ambassador Wesolowski was also a prolific pedophile.
Noted for his "particular ability" with electronic instruments, Wesolowski's computer contained more than 100,000 files containing pornographic photos and videos, not including 45,000 deleted files. They show youngsters aged between 13 and 17 being humiliated for the camera, filmed naked and forced to have sexual relations with each other or with adults. The material showed a preference for males. A deacon was charged with procuring children for Wesolowski.
The Italian Corriere publication notes, "Wesołowski is suspected of belonging to an international network that extends well beyond what has emerged so far." ("Child Porn Found Former Nuncio's Computer." Corriere [Italy], Sept 26, 2014; "Vatican Delays Trial of Pope's Ex-Diplomat Accused of Child Porn, Pedophilia." Channel 6 WTVR, Jul 11, 2015).
Around black holes, what are the chances Vatican Ambassador Wesolowski's computer was linked to the pedophilia network at the Massachusetts Institute of Technology (MIT) Media Lab?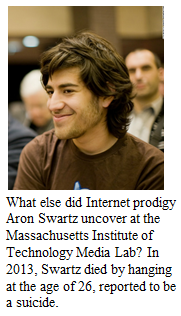 The MIT Media Lab is a spin-off of the MK-ULTRA mind control program and DARPA (Department of Defense's Defense Advanced Research Projects Agency) that is involved in child porn overseas pedophilia, writes a Japan Times Weekly former editor who is part of an international team of anti-pedophilia activists….
MIT Media Lab is run by Nicholas Negroponte, the brother of John Negroponte who is the first Director of the National Intelligence Agency….
---
Dear readers of Economics Voodoo,
It has been four years since I set out to create Economics Voodoo in late 2012. I had not anticipated in this endeavor that it would be an all-consuming four years of intensive research and writing. What started out as a piece on "Quantitative Easing 0-1-2-3∞ & The Federal Reserve's Love Affair with its Banks and Mortgage Bonds: Levitating The Black Hole" (on U.S. banks) and "The Federal Reserve Bank [ECB] is Naked"  led to the convergence of many black holes. In reality, they are part of the same Black Hole.
There are some who inquire about the source of my funding to support this work. I have not received funding nor been paid to do this work. How was I to know looking into Princeton-Yale-Harvard et al. Federal Reserve's levitated black hole of fraudulent mortgage bonds and banks that one finds satanic worshipers, Nazis, fascists, Hitler's financiers, drug traffickers, and pedophiles (paedophiles), though there is a good amount of overlap.
The website expires and is slated to go off-line on today, September 21, 2016, but has been extended to December 21, 2016 to accommodate updating a couple more sections.  If there is an interest in keeping an archive of the website on-line, please send an e-mail or see the donation page.
Lan Pham
---