When Did QE Stop?
To much frenzied media coverage, the Federal Reserve Bank announced a third round of quantitative easing "QE 3∞" on September 13, 2012. The Federal Reserve will essentially print unlimited quantities of dollars to purchase agency mortgage bonds and maintain nominal interest rates targeted at 0% ("ZIRP") to keep borrowing costs reasonable for its member banks, among others.
"QE 3∞" in 2012 is the unlimited version of "QE 1" in 2009 following the banking and financial system crisis in September 2008. What does this mean?
QE is simply the printing of dollars in paper or digital form by the quasi-private Federal Reserve Bank, as the Federal Reserve does not have this money. In QE 1 (web), the Federal Reserve Bank printed $1.25 trillion to purchase agency mortgage-backed securities (MBSs). Agency MBSs are mortgage bonds (akin to a mutual fund filled with mortgages, peoples' homes) issued and guaranteed or held by the quasi-private Fannie Mae and Freddie Mac.
On a practical level this means the Federal Reserve Bank printed $1.25 trillion with a computer stroke and became the owner or recipient of homeowners' mortgage payments.  The Federal Reserve will do this on an unlimited basis in QE 3 going forward, as it states 'to foster maximum employment and price stability'.
What is it about the Federal Reserve Bank's love affair with mortgage bonds that the media and the Federal Reserve will not speak of?
 I.  QE0: Insolvency of the Largest Banks in the Federal Reserve System
Let's pause for a moment. The most significant QE was not even called QE. It was the suspension of the Financial Accounting Standards Board's (FASB) mark-to-market accounting rule 157 in April 2009. The rule required banks to value assets on their balance sheets at current market price or fair value, but since 2009, became what the banks hope it is worth or what they paid for it.
Doing so helps insolvent banks avoid the appearance of insolvency by not having to write-down the amount of losses on assets, such as mortgage bonds, assuming there is a willing buyer (There isn't really). Private sector financing for the housing market through demand for private label MBSs, which are mortgage bonds backed by mostly subprime mortgages reincarnated as prime issued and sold by the largest banks, collapsed since fall 2008.
Let's give this FASB suspension of mark-to-market accounting event a name, QE0 , to mark the point of no return in April 2009 about six months after the banking and financial collapse in September 2008.
Following the collapse, lawmakers in the U.S. House of Representatives lined up to threaten FASB in a series of hearings to suspend mark-to-market accounting, as Representative Michael E. Capuano (D-Mass.) warned FASB's chairman in March 2009: "Do not make us tell you what you have to do." (Transcript of the U.S. House of Representatives Mark-to-Market Hearing, March 12, 2009). The American Bankers Association, Citigroup, and the Bank of New York Mellon Corp., the world's largest custodian of financial assets, also pressured for the rule change (web).
[On a side note:  MIT finance professor-CBO chief economist revised my memo to say that assets may already fully reflect market values. After I was fired I learned that MIT Professor Deborah Lucas called by the U.S. President to CBO in 2009 (web) has a CBO economist sit on FASB. This CBO economist and CBO Director Elmendorf are part of the Hamilton Project at the Brookings Institution. Robert Rubin is the project's founder and Dr. Lawrence Summers, once chief advisor to the U.S. President, sits on its Advisory Council to promote economic growth and health care. Former Federal Reserve Bank Chairman Alan Greenspan, Robert Rubin, and Lawrence Summers were instrumental in the proliferation of derivatives in the late 1990s. ]
Let's look at a few simple charts. What does QE0 FASB look like for the largest banks?
Voodoo Assets and Liabilities Chart 1: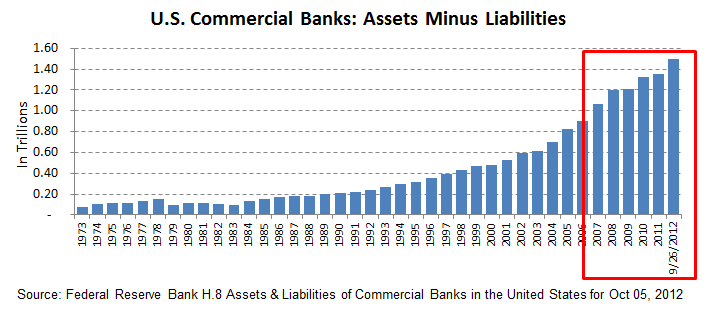 Bank assets net of liabilities or net worth look incredible during a time when home prices dropped 25% to 65% (e.g. Arizona, Nevada, California, Florida) nationwide, the labor force participation rate set back 30 years coupled with an unprecedented rise in foreclosures, whose mortgages back $7 trillion or so mortgage bonds of the largest banks and Fannie Mae and Freddie Mac that failed in fall 2008. (The LFPR is another basic, standard measure of the employment picture that is less prone to voodoo adjustments. The LFPR is the number of people in the workforce between 16-65 years old divided by the total 16-65 year old population count. It excludes the military and the institutionalized population, i.e. people in prison.)
Let's take this further for a bird's eye proxy view of how voodoo the numbers may be. The Federal Reserve Bank data shows the residual "equity" or net worth of banks after all liabilities are paid to be a positive $1.5 trillion in its latest release as shown in the chart. Suppose we compare the banks' numbers to the market or public consensus of the banks' equity value. This would be the market capitalization, a measure heavily dependent on the market price of the bank stock that is almost always higher than the equity value. The largest handful of banks hold about three-quarters of the nation's banking assets, but let's expand that to the10 largest banks.
The Federal Reserve Bank reports a positive $1.5 trillion in residual banks equity or positive net worth – the largest banks account for most of this – but the market consensus (market capitalization) indicates that figure to be about $800 billion or roughly 50% lower. This percentage falls in the ballpark of asset overvaluation or understatement of liabilities found among banks that have been allowed to fail.
The 'market consensus' market capitalization figure is assisted by a levitated stock market (ex. 401k(s)/retirement plans) that rose after the FASB mark-to-market rule was suspended and remains in place since April 2009. It is unclear if the system can withstand a return to reality-based accounting, as a few hundred billion dollars or trillion dollar difference will be rather modest compared what happens when over $1,000 trillion in notional derivatives are set off.This notional money does not exist until it becomes real when banks and financial institutions fail. (There is a small fraction of derivatives that is used to hedge or mitigate risk with real assets and capital behind them.) For reference, world GDP was about $70 trillion in 2011.
What does QE0 FASB look like for the Equities-Stock Market?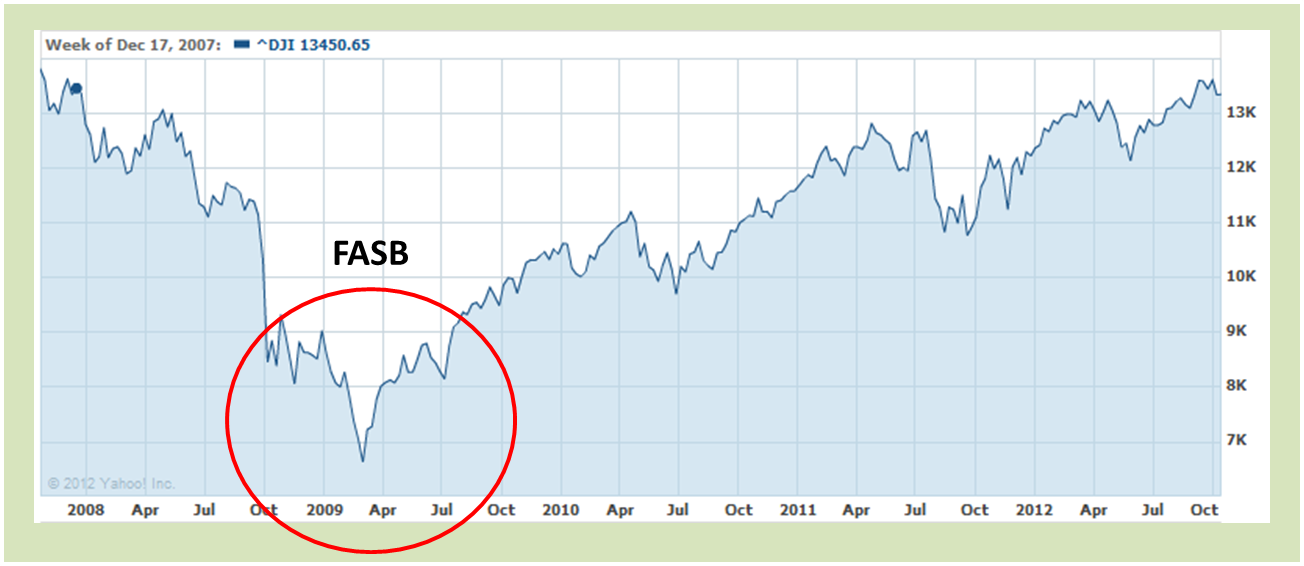 In future posts, we will look at how these derivatives and other mechanisms are used to suspend free market forces; a finite factor is time. But there is more to the Federal Reserve's love affair with mortgage bonds, because the crater left by insolvency has to be filled.
II. Who Has Been Hoarding U.S. Treasuries
The chart below shows a simple year to year change in the largest banks' holdings of U.S. Treasuries and other securities. Since the banking and financial crisis in 2008, the largest banks added incrementally more U.S. Treasuries holdings to their balance sheets in four years than the past 20 years combined.  This serves the dual purpose of helping to capitalize the banks and as the few remaining buyers of U.S. Treasuries as the Federal Reserve "monetizes" or prints dollars to make up the rest. If the past four years is any indication, 2013 looks to be a bigger year as the few seeking safety in U.S. Treasuries may be found at the largest banks.
Voodoo Parking Lot Chart 2: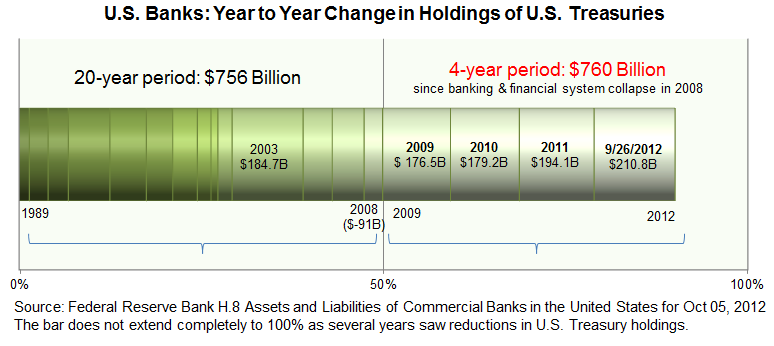 From a different perspective, if we look broadly to the currency composition of foreign central banks (IMF COFER), relative holdings of U.S. dollars and U.S. Treasuries to total foreign exchange reserves have dropped by nearly 40% from the height in 2000 of 56% to 34% in 2012.  The often-cited 62% of central bank foreign exchange holdings being in U.S. dollars overlooks nearly half of currency holdings that are unreported, the growth of which has been driven by emerging and developing economies – presumably led by China.
Emerging and developing economies have grown to account for about two-thirds of the world's central bank holdings of foreign exchange reserves as their relative holdings of U.S. dollars have quietly gone in the opposite direction… and some portion quietly into accumulating gold. Increasingly, bi-lateral trade agreements among other nations exclude the use of the U.S. dollar as payment for international trade, once the domain of the U.S. dollar as the world reserve currency. Other countries see what is unfolding in this country but it is unclear if the American public sees it.
The Federal Reserve Bank is printing trillions of dollars (and euros through currency swaps) to levitate its member banks and the financial system in concert with the suspension of accounting rules after the systemic collapse of derivatives built around the housing market. Why mortgage bonds from Fannie Mae and Freddie Mac?
III. The Front End and Back End of Quantitative Easing – Fannie Mae, Freddie Mac, MERS, and the Federal Reserve's Largest Member Banks
We return to the center of the banking and financial system collapse in 2008. On the front end, Fannie Mae and Freddie Mac guarantee the equivalent of one-third of U.S. GDP in mortgages, making them perhaps the largest financial institutions in the world. During the crisis in September 2008, Fannie Mae and Freddie Mac were taken under conservatorship by the U.S. Department of the Treasury, which stepped in to guarantee unlimited capital infusions to ensure the solvency of these agencies, lifting the $400 billion cap on December 24, 2009.
There are a few things happening on the back end to help understand the quasi-private Federal Reserve Bank's love affair with its member banks and its quasi-private kin Fannie Mae and Freddie Mac, which have a direct lifeline into the largest public Treasury on the planet.
Since the collapse in 2008 and remains today, Congress quietly raised Fannie Mae and Freddie Mac's loan purchase limits to allow the banks to transfer or offload their loans made in "high-cost" areas onto Fannie Mae, where house prices are three times the national median, rose the fastest and fell the hardest (e.g.,CA, AZ, FL). If there is an indication of the loan quality that banks offloaded, Fannie Mae from 2009 to 2011 repurchased in the ballpark of what could be gleaned from the data, $450 billion in delinquent mortgage returns (Fannie 2009, 2010, 2011; Freddie) from its guarantees on mortgages in its MBS trusts. The sales price to Fannie Mae likely reflects the price banks hope it is worth after the U.S. House of Representatives threatened unknown consequences to FASB. Perhaps that in itself says a lot about The Black Hole.
The "Straw Man" Problem Fannie Mae and Freddie Mac collaborated with the Federal Reserve's largest member banks – including Bank of America, Citigroup, JP Morgan Chase,Wells Fargo – to create their private title registry database called the Mortgage Electronic Registration System (MERS) in 1995. MERS was the mechanism that made possible the rapid securitization or packaging of home mortgages into mortgage bonds by its creators and other members. MERS was housed inside a mostly unknown, what some would describe as a shell company that supplanted public county property recordings for its creators to securitize the equivalent of about two-thirds of U.S. GDP's worth of mortgages in the privacy of their MERS title registry database. Once a mortgage was inside MERS, no further recordings are done and MERS's name is identified as the lender, as mortgages enter and exit, are pooled or packaged and mortgage bonds are sliced, sold and resold.
Back in 1995 the largest banks, Fannie Mae and Freddie Mac went to Covington and Burling, the former law firm of the U.S. Department of Justice's Attorney General, to obtain the legal framework for creating MERS.  In February 2012, the Justice Department's Attorney General-then partner at the law firm, negotiated the national foreclosure settlement on behalf of these same MERS founders. Both the law firm and the Justice Department declined to say if U.S. Attorney General had worked directly on MERS/MERSCORP.
The Washington State Supreme Court recently invalidated MERS while a decision is forthcoming from the Oregon State Supreme Court as the Oregon state legislature works to validate MERS.  This was preceded by efforts from both the U.S. House and Senate passing HR 3808 that would have made it more difficult for homeowners to challenge banks that used forged or defective documents to foreclose. More than half a dozen other state supreme courts have invalidated MERS as some others have upheld its legal standing to foreclose.
MERS and The Credit Event of 2008 The conservatorship of Fannie Mae and Freddie Mac under the U.S. Department of Treasury was defined by ISDA as a 'credit event' (a default) that triggered payment on the credit default swaps (insurance payoffs) on Fannie Mae and Freddie Mac, the largest CDS payout in history on the largest financial institutions in the world. Some net of $23 trillion in notional credit default swaps were settled end-2008 to 2009 as the U.S. Treasury (taxpayers) stepped in to provide unlimited funding to Fannie Mae and Freddie Mac and ensure payment on the CDSs.
ISDA stands for the International Swaps and Derivatives Association whose committee determines whether there is a credit event (default) on derivatives contracts, whether it be in the U.S. or Greece. Global voting members include Barclays, Credit Suisse, UBS, Deutsche Bank AG, Goldman Sachs, Morgan Stanley, JPMorgan Chase Bank, and Bank of America; the latter are co-founders of MERS and the largest sellers and issuers of mortgages and mortgage bonds after bond issuers Fannie Mae and Freddie Mac. Perhaps it may have been helpful to know the contents the mortgage bonds having created MERS as these entities wrapped $62 trillion in notional credit default swaps ("insurance") against their default and called their default in September 2008.
After the CDS payout collapsed the largest financial institutions, what emerged was called by the media as "sloppy mistakes" "errors" from the MERS securitization black box  that the Kansas State Supreme Court called MERS a "straw man". A New York State Supreme Court judge in January 2012 said , "It appears that every MERS mortgage is defective, a piece of crap." (Somehow that should not discourage the New York Attorney General from postponing "indefinitely" the lawsuit against MERS in February 2012. Court filing removed from NY AG website). Some indications of what was done in MERS:
An early hint of trouble may be seen in MERSCORP (MERS holding company) commissioning a legal opinion in 2004 on the validity of MERS electronic records from Covington and Burling, the Justice Department Attorney General's former law firm where he was partner. Voodoo Chart 2 shows a striking jump in banks' holdings of U.S. Treasuries in 2003. Fannie Mae was aware of foreclosure problems in 2006.
In the background, on May 5, 2006 U.S President Bush (copy) gave intelligence czar, John Negroponte, broad authority in the name of national security to exempt publicly traded companies from accounting and securities disclosure obligations. This was the first time presidential authority was delegated outside the Oval Office.
In mid-2010 MERS acknowledged its "securitization crisis" in a letter to the Securities Exchange Commission (SEC). By 2011, Fannie Mae acknowledged that legal "challenges to the MERS System could pose counterparty…, operational, reputational and legal risks for us." [Q1 2011 SEC Filing Form 10-Q, p.151.]
On April 13, 2011, the Federal Reserve Bank, the U.S. Department of Treasury and agencies entrusted with maintaining the stability and confidence in the nation's financial system – FDIC, Office of Thrift Supervision (OTS), and Federal Housing Finance Agency (Fannie Mae and Freddie Mac's regulator) – and MERSCORP (MERS's holding company) agreed to a Consent Order. The Federal Reserve et al agreed "MERS and MERSCORP neither admit nor deny… engaged in unsafe or unsound practices that expose them…to unacceptable operational, compliance, legal, and reputational risks." And essentially to hire a few employees and set up a management board to oversee the equivalent of two-thirds of U.S. GDP in mortgages in their private title registry.
On December 31, 2012, the U.S. Department of Treasury hands off the torch of unlimited taxpayer funding of Fannie Mae and Freddie Mac. The remaining buyer is the Federal Reserve stepping in to print unlimited quantities of dollars to gobble up Fannie Mae and Freddie Mac mortgage bonds and park U.S. Treasuries at the largest banks. Any MERS, non-mortgage or duplicated mortgages fall out may be an issue among friends as they pass into the Federal Reserve. Concerns about the Federal Reserve's holdings of trillions in agency mortgage bonds are taken care of by Fannie Mae and Freddie Mac, on behalf of taxpayers, that will insure against defaults.
That is why in looking at the big picture the problems are of such magnitude that it has gone beyond housing and is about the entire system that has to be suspended from the black hole on faith-based accounting and printing money. We will look at the mechanisms being used to suspend free-market forces and more broadly, what consequences they bring.