The banking and financial crisis emerging in September 2008 is often called a global financial crisis, but to be more precise the data point to a crisis of the Western central banks. I referenced euros previously, so this is the euros companion to Quantitative Easing 0-1-2-3∞ & The Federal Reserve's Love Affair with its Banks and Mortgage Bonds: Levitating The Black Hole. QE 0-1-2-3 is incomplete as concurrently the Federal Reserve Bank also entered into $10.06 Trillion in dollar 'loans' liquidity swaps with foreign central banks that we examine in Section I. Why QE $10T as we look at a few of Europe's largest banks in Section II, which leads us to the $1.25 Trillion naked reasons behind the Federal Reserve Bank's Quantitative Easing I purchase of phantom agency mortgage bonds  that we revisit more closely in Section III.
What the Federal Reserve Bank and its largest member banks, some European banks did with the $1.25 trillion Federal Reserve MBS purchase program in 2009 "QE 1" may leave some in disbelief. Consider an example from this MBS purchase program, the Federal Reserve gave a handful of banks $57.7 billion for a $600 million mortgage bond issued in 1980s . For a moment, recall that quantitative easing or 'QE' is the printing of dollars (or euros) in digital or paper form beyond the capacity to earn them through the production of goods and services. The banking and financial crisis in 2008 is often attributed to subprime mortgages, but it is not the mortgage loans per se, but the opaque $7 trillion or so mortgage derivative bonds (presumably containing mortgage loans) and $62 trillion in credit default swaps (CDS) 'insurance' derivatives built into the bonds and their insurers that make losses exponential.
I. Federal Reserve Bank & European Central Bank's $8.01 Trillion Dollar-Euro Swaps

At the height of the crisis in the United States, the Federal Reserve Bank extended $8 trillion of the $10 trillion in dollar liquidity swaps to the European Central Bank through the Federal Reserve Bank's creation of the Central Bank Liquidity Swap Lines [Data] as shown in the Voodoo Swaps Chart 1 below; swap agreements were with 14 foreign central banks. These dollar liquidity swaps in essence were loans, though not technically called loans, but merely a swap or an exchange of currencies between two central banks, neither central bank having $8.01 trillion U.S. dollars and about €6 trillion equivalent to do so.
In doing so, each central bank essentially helped the other to print dollars and euros. Another nearly $1 trillion in dollar swaps was with the Bank of England, equivalent to nearly half of the United Kingdom's GDP.  The Federal Reserve printed dollars equivalent to 70% of U.S. GDP in 2008.
TECHNICALLY, the Federal Reserve and the ECB did not swap $8.01 trillion dollars for euros at one time, as it would look somewhat problematic for the Federal Reserve Bank monetary system and the ECB because these trillions in dollars and euros do not exist. At the height of the banking-financial crisis from September to December in 2008 shown in the chart above, the Federal Reserve Bank and ECB entered into a series of DAILY, multiple dollars-for-euros swaps. A sample of these swaps is shown in Table 1 below.
From mid-September through December 2008 alone, Federal Reserve-ECB dollars-for-euros swaps amounted to $4 trillion. There were 2 to 3 separately negotiated swaps each day as the central bank computers of the Federal Reserve Bank and the ECB entered billions of U.S. dollars and euros that neither has to the other's account. The swaps appear to be $20-$50 billion a day at first glance, but on closer examination, the swaps were: $148 billion (Oct.9) and $130 billion (Oct. 10) – Columbus Holiday on Monday, Oct. 13 – and $138 billion (Oct. 14, Tues.) and $310 billion (Oct.15, Wed) – that's nearly half a trillion U.S. dollars in 2 days! When we look at the banks, we may see why.
These were not rollover swaps but individual swaps done in increments, perhaps to lessen the appearance of their size unless the swaps were permanent rollovers the Federal Reserve forgot to footnote (hold on to this thought). For reference months prior to this period, the Federal Reserve-ECB dollar swaps were typically $10 billion to $20 billion about every two weeks with 28 day maturities.
Daily Voodoo Table 1: Dollar-Euro Swaps between Federal Reserve Bank and European Central Bank (ECB)  [FRB cbls.xls]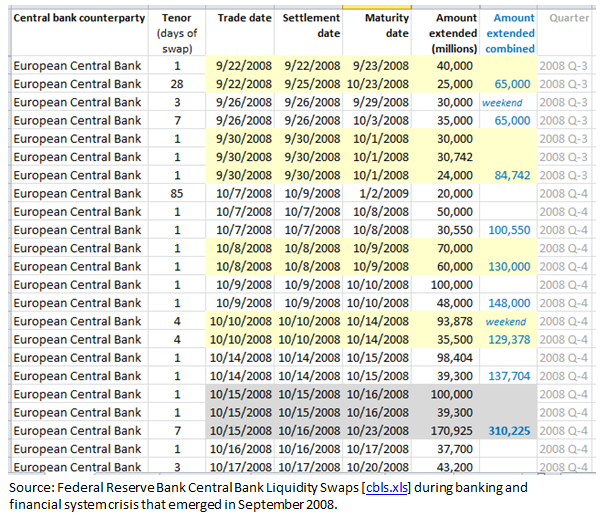 The Federal Reserve Bank stated that foreign central banks using the Central Bank Liquidity Swap Lines, "lends the dollars it obtained via the swap line to institutions in its jurisdiction". Two-thirds of these swaps had overnight maturities (1-4 days is considered overnight due to weekends, holidays).  This indicates that nearly everyday for 67 weekdays, the ECB loaned hundreds of billions to its banks and institutions that did something with these billions for a few daylight hours and returned them to the ECB to return to the Federal Reserve the next day to fulfill the swap agreement.
There is no footnote, as according to the Federal Reserve Bank, "All transactions were executed in full, in accordance with the terms of the swap arrangements." It is possible that the Federal Reserve and ECB were volleying back and forth the same couple hundred billion dollars every day for 67 weekdays (rest on weekends, holidays) and by the next morning, the ECB did not borrow anything and the Federal Reserve did not lend anything. This is based on the available information on the swap arrangements that the Federal Reserve made public as highlighted in the above sample.
II. The Largest Banks during the $8 Trillion Dollar-Euro Swap
Let's take a quick look at the assets side of the balance sheets of a few of the largest European banks – BNP Paribas, Deutsche Bank, RBS and HSBC – during a period coinciding with these QE 10T dollar-euro swaps… because it also leads us to what the Federal Reserve Bank really did with $1.25 trillion in Fannie Mae and Freddie Mac mortgage purchases in Section III.
The chart below shows selected assets that saw the most significant increases coinciding with the Federal Reserve Bank's $8.01 trillion dollar for euros swaps with the European Central Bank and $1 trillion with the Bank of England (BOE) – concentrated from mid-September 2008 into Q1 2009. In looking at a few balance sheets of the largest European banks consider whether two-thirds of the $3.62 trillion swaps in Q4 2008 were returned overnight in accordance with the Federal Reserve's swap data and its statement.
One of the most striking activities on the bank balance sheets came from transfers or reclassifications of "Trading Account Assets" into "Other Securities" and "Other Investments" and trillions that seem to come from nowhere.  The significance of Trading Assets classification, which are liquid equity or bond debt securities with the intent of not being held until maturity such as  mortgage bonds and derivatives, is that it is reported at fair market value or "marked-to-market" in the reporting period. In a reclassification to Other Investments, which could be trading assets but with the intent of holding them longer-term, i.e. more than a year or to maturity, gains or losses are not marked-to-market.
It helps to explain why trillions in assets were like projectiles on bank balance sheets during the crisis. For bank balance sheets to reflect market value would short-circuit the central bank computers of the Federal Reserve Bank, European Central Bank, and Bank of England. For instance,
BNP Paribas, France. What was €1.15 trillion in Trading Account Assets in 2008 was transferred out in 2009 and brought back in 2010 as €781.76 billion trading assets – nearly €370 billion lower ($500 billion decline; 1€ ≈ $1.34 Dec'10). It appears trading assets were reclassified to "Other Securities" in 2009 which saw a striking €700 billion jump ($1 trillion; 1€ ≈ $1.43 Dec'09) shown in the chart.  Such reclassifications are considered quite unusual, but likely saved BNP Paribas from implosion had those assets been at market value in 2009. In the United States, fair market value accounting has been suspended since April 2009. More in Quantitative Easing 0-1-2-3∞.
Perhaps as a primer to 2008, BNP Paribas stopped valuing several of its mortgage-related funds due to a "complete evaporation of liquidity" (no buyers) as it was difficult to value assets "fairly" and halted fund redemptions.
During the asset reclassification from 2008 to 2009, BNP Paribas added – with funds it did not have – €230 billion in Federal funds and Treasury securities presumably to help fill the €370 billion crater. Together, that's at least €600 billion ($860 billion) for BNP Paribas alone the Federal Reserve printed with the ECB through dollar-euro swaps.  In October 2008, France announced €360 billion ($500 billion, 1€ ≈ $1.40 Oct'08) to rescue its banks.
Royal Bank of Scotland (RBS), Bank of England. The assets side of RBS's balance sheet is quite the scene. In 2008 from out of nowhere on its balance sheet, RBS added £715 billion ($1.29 Trillion, 1£ ≈ $1.80 Sept'08) into the mysterious Other Investments as shown in the chart above. Similar to BNP Paribas above,  £133.3 billion ($240 billion) in Trading Assets from 2008 disappeared or was reclassified in 2009 and reappeared in 2010 as £118 billion in Trading Assets ($180 billion, 1£ ≈ $1.54).
Out of nowhere in 2009, RBS 'extended' £358 billion ($644 billion) in Foreign Loans and half of it disappeared the following year. A way this happens for the Federal Reserve's largest member banks is the Federal Reserve prints and lends ("gives") money to its banks at 0% interest to make loans or buy U.S. Treasuries, thereby becoming an asset on bank balance sheets. The Federal Reserve has a more sophisticated way to explain this process.
Moreover in 2008, RBS's £869 billion in Unspecified Loan/Other Assets plunged to £90.88 billion in 2009. That is, how does $1.56 trillion in assets come down to $164 billion?
It turns out derivatives were not reported on RBS's balance sheets. When derivatives were reported in 2008, RBS's trading assets went from £470.9 billion in 2007 to £1.038 trillion ($1.9 trillion) in 2008. RBS – one of the world's largest banks – experienced a bank run as billions were withdrawn on October 6, 2008. RBS failed and was rescued on October 7, 2008. A year later, RBS's cash position was increased from £12.4 billion to £52.26 billion. Together, that's north of $1 trillion just for RBS.
In late 2009, the Bank of England admitted to covertly providing £61.6 billion ($110 billion, 1£ ≈ $1.80) to RBS and HBOS/Bank of Scotland to the media's dismay that such a sum could be concealed from the public. (The BBC article cited Adam Posen, governor Mervyn King's colleague on the Bank of England's Monetary Policy Committee, that printing money should be "coming to an end". Coincidentally, Adam Posen and Jan Hatzius, Goldman Sachs' chief economist, both serve on the economic advisory panel of the U.S. Congressional Budget Office. CBO scores or produces cost estimates, i.e. the fate of Congress's bills and define it.)
Deutsche Bank (Germany).  €713 billion (nearly $1 trillion) surfaced into the mysterious "Other Investments" at the same time Deutsche Bank liquidated €200 billion in "Federal Funds" and "Other Securities", and €306 billion in "Trading Account Securities" which could include, say credit default swaps derivatives, mortgage bonds (MBSs), CDOs – that's over €500 billion (nearly $700 billion) liquidated when the market was illiquid from 2008 to 2009.
In October 2008, Germany announced €500 billion ($700 billion) to rescue its banks. For reference, that may be a modest sum as Citigroup alone in the U.S. received a $350 billion in November 2008 and $182 billion for AIG.
Yet, much of the $4 trillion swaps from Q3 to Q4 in 2008 and another $3.6 trillion swap agreements entered into in 2009 'disappeared' from these European banks' balance sheets in 2009, as if nothing happened – it just took the Federal Reserve's QE 10T + the ECB's €6T for nothing to happen. From Quantitative Easing 0-1-2-3∞, the Voodoo Assets and Liabilities Chart 1 of the Federal Reserve System's largest member banks in the United States showed total assets net of liabilities on bank balance sheets simply froze in time from 2008 and 2009 – it just took QE 0-1-2-3∞ for nothing to happen. To see what 401(k)/IRA/Roth/stocks, retirement and pension plans would look like in free markets, please take a look at the red circle in Voodoo FASB Chart 2 in Quantitative Easing 0-1-2-3∞.
The next question is, to whom did Deutsche Bank, RBS and BNP Paribas and other banks liquidate hundreds of billions in mortgage bonds (MBSs) and derivative positions with other Western financial institutions that were at various points of collapse as some $23 trillion in credit default swaps were settled from 2008 to 2009?
Much attention went to the $182 billion government rescue of the American International Group (AIG) on September 16, 2008, a week after the government takeover of Fannie Mae and Freddie Mac. AIG was reported to have a $2 trillion credit default swaps portfolio in 2008. AIG insured $441 billion of CDOs (collateralized debt obligations) that the rating agencies gave their highest 'triple A' ratings to their bank clients that underwrote CDOs the banks called "sh*tty" "pigs" and "crap" they sold to "muppets";  three-quarters of these CDS 'insurance' were held by European banks. In Britain, "muppets" is slang for "stupid people". The once-confidential "Schedule A – List of Derivative Transactions" (copy) lists part of AIG's payout identifying banks and CDOs. Treasury Secretary Timothy Geithner "ordered" AIG to pay the banks in full on the CDS contracts as AIG took back the CDOs.  The banks that collected this $62 billion: Goldman Sachs, Société Générale, Deutsche Bank, UBS, Barclays, Merrill Lynch/Bank of America, RBS and a few others.
(On standby from the JP Morgan Chases and Goldman Sachs is a derivatives market to save the 'muppets' from either global warming or cooling. The CBO had done extensive work on cap and trade, a derivatives market for trading emissions allowances with Britain's Bank of England and Goldman Sachs on CBO's advisory panel to perhaps help navigate the complex world of derivatives to perhaps save the planet… from the muppets?)
But usually when they want you to know a secret, the bigger $1.25 trillion jackpot/black hole is elsewhere. Let's take a closer look at the biggest credit event 'default' in financial history up to 2008, as saying of all time will require a revision in the not-too-distant future.
III. The Federal Reserve Bank is Naked: QE 1 $1.25+ Trillion Purchase of Phantom Mortgage Bonds … $1.4+ Trillion Credit Default Swaps
On Sunday, September 7, 2008 then-U.S. Treasury Secretary Henry Paulson of Goldman Sachs, took over the quasi-private housing agencies, Fannie Mae and Freddie Mac ("Agencies" or GSEs) and ensured unlimited capital infusions to these agencies – the largest financial institutions in the world holding or guaranteeing about $5 trillion in mortgage bonds equivalent to over a third of U.S. GDP.
On Monday morning, September 8, 2008, the ISDA determined "unanimously" the Agencies' conservatorship on September 7th  was a "credit event", a default triggering settlement on estimates exceeding $1.4 trillion to $1.6 trillion credit default swaps (CDS) on bonds referencing the Agencies. ISDA stands for the International Swaps and Derivatives Association whose global voting members are the primary dealers i.e. sellers and buyers of CDS 'insurance': JP Morgan Chase, Goldman Sachs, Morgan Stanley, Deutsche Bank, Barclays, RBS, Bank of America that decide whether or not they or another financial institution will pay on CDS contracts they buy and sell.
Fannie Mae's November release of its third quarter 2008 financial statement (copy) showed total cash and equivalents were $36.3 billion against a net loss of $29 billion. The Agencies could soon have trouble meeting their mortgage guarantees (whatever the legalese, the quasi-private Agencies were already backed by the taxpayer's Treasury), which meant the Federal Reserve Bank's largest member banks might need in the neighborhood of $1.4 trillion to pay up on their CDS 'insurance' given the prevailing mortgage bond losses. Others had also postulated this back then.
Instead, the quasi-private Federal Reserve's largest member banks called its kin the quasi-private Fannie Mae and Freddie Mac's default, as under a public-private partnership system, the public pays. (On a side note, having spent some formative years in a socialist-communist country, the communists call such public-private partnerships 'fascism' as both comrades agree free markets 'capitalism' is  overrated, although modern fascism has the edge on semantics and aesthetics.)
On October 6, 2008 the largest banks, who are the primary CDS buyers and sellers comprising the ISDA determination committee that called Fannie Mae and Freddie Mac's default, "bid" and determined the bond recovery to be 91.5% to 99.99% of the protection sold. The final prices resulted in CDS sellers paying out minimal losses. Many called it a technical non-event and ISDA issued a press release on its "success in settling a significant number of credit derivative trades on the two GSEs". But not all.
On October 10, 2008, the largest banks approved 352 Agency mortgage bonds as acceptable deliverables (a few Ginnie Mae). The bonds summed to $380.98 billion in initial principal balance with $348.09 billion in remaining balance. The average MBS original issue was about $100 million and about 60% were issued a year earlier in 2007 and 2008. In the case of physical settlement, CDS buyers give their bonds to CDS sellers in exchange for the bond's face value essentially covering any loss to the bond holder. That's assuming there is a one-to-one relationship on an estimated $1.4 to $1.6 trillion in CDS (and its variations) contracts insuring that amount of bonds referencing the Agencies. The other $1.2+ trillion?
"Naked" (Synthetic) Credit Default Swaps
It is estimated "naked" (or "synthetic") credit default swaps make up to 80% of the credit default swaps "market" centered in New York and London. A naked credit default swap is one which buyers and sellers of default protection do not own the bond,such as Fannie hMae or Freddie Mac bonds or sovereign (a nation's) bonds among CDS favorites in 2007, Brazil, Italy, Turkey, Russia, etc. A naked CDS buyer in essence is able to short-sell (bet on a decline) a bond and profit when there is a credit event, i.e. default triggering payment by the CDS seller on the notional or full principal amount of the contract. This is analogous to 10 people buying "naked" insurance on a neighbor's house and each is paid the value of the house when it collapses – the cash settlement. (Hold on to this thought.)
Sellers of naked CDS do not own the bond, but in promising to pay given default is as if the seller owned the bond. The naked CDS seller profits by collecting 'insurance' premium payments and determination of non-"credit events", which result in no insurance settlement to the CDS buyer. More broadly, the volume and price of naked CDSs traded on an entity can send smoke signals to the market about the entity's credit condition and affect the entity's ability and cost to borrow.
Physical settlement when required gets tricky as naked CDS buyers who do not have possession of the defaulted bond would need to find the defaulted bonds in the open market or be left 'naked' with an uncovered loss. When there are more CDS contracts than bonds, such as the Fannie Mae and Freddie Mac credit event, a defaulted bond can be obtained in a roundabout way: The same defaulted bond is sold over and over again to each CDS buyer in order for each to settle their contract. (Hold on to this $1.850 Trillion thought.)
A CDS holder can also sell his CDS derivative position, which can change hands 15 to 20 times. In the event of a default, the CDS buyer may not know which entity insured them.
October 2008 Warm-Up: U.S. Treasury Purchase of $225 Billion Fannie Mae, Freddie Mac Mortgage Bonds
It is unclear how the physical settlement occurred in October 2008 as CDS sellers needed about $350 billion cash to exchange for the Fannie Mae and Freddie Mac mortgage bonds at a time when markets began to fall freely. From Chart 2 in QE0-1-2-3∞, the largest banks liquidated about $90 billion in Treasuries and other securities in 2008 presumably to raise cash for a number of reasons.
Coincidentally beginning in earnest in October 2008, the U.S. Department of Treasury began to purchase $225 billion in Fannie Mae and Freddie Mac mortgage bonds. The U.S Treasury would not reveal (copy) from whom it purchased these agency bonds, nor the CUSIPS, which are unique 9-digit IDs akin to stock symbols but identifies a specific bond. The U.S. Treasury reported in May 2011 that its $225 billion Agency mortgage bond MBS purchase was worth $142 billion. In March 2012 to much media coverage, the U.S. Treasury announced making a $25 billion profit for taxpayers from selling the $225 billion Agency MBSs.
On November 25, 2008 Federal Reserve Bank announced its $500 billion program of Agency MBS purchases, i.e. Fannie Mae, Freddie Mac, and some Ginnie Mae: "This action is being taken to reduce the cost and increase the availability of credit for the purchase of houses, which in turn should support housing markets and foster improved conditions in financial markets more generally." On December 30, 2008 Federal Reserve expanded the Nov. 25th program to $1.25 Trillion, known as "QE 1", and operations to commence agency mortgage bond purchases in early January 2009.
Let's take a closer look at what the data showed actually transpired.
The Federal Reserve Bank is Naked: $1.25 Trillion Purchase of Phantom Mortgage Bonds and Its Largest Member Banks, European Banks

The table below summarizes what is known as 'QE 1', the Federal Reserve's printing of $1.25 trillion for what appear to be purchases of Fannie Mae and Freddie Mac mortgage bonds (copy mbs.xls – some Ginnie Mae, not the focus of the figures below). This helps to answer the question posed earlier in Section II: to whom did Deutsche Bank, RBS and BNP Paribas and other banks liquidate what appear to be hundreds of billions in Agency mortgage bonds… or derivative positions?
From Table 2, four banks – Deutsche Bank, Credit Suisse, Morgan Stanley and Citigroup – accounted for about half of the Federal Reserve Bank's $1.25 trillion net purchases of what appear to be Fannie Mae and Freddie Mac mortgage bonds. Deutsche Bank and Credit Suisse each liquidated nearly $300 billion in what appeared to be Agency mortgage bonds before any "repurchase" agreements with the Federal Reserve.  Adding the next five banks – Merrill Lynch (Bank of America), Goldman Sachs, JP Morgan, Barclays and UBS – gets to about 90% of what appear to be Federal Reserve Bank purchases of $1.25 trillion in Agency MBSs.
Table 2. Summary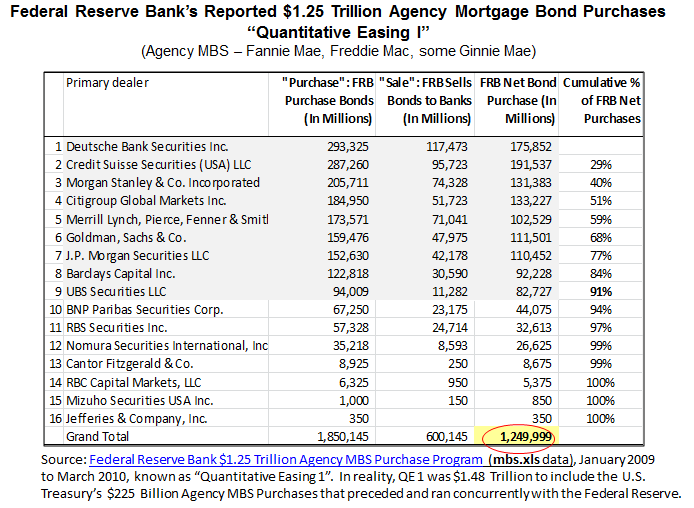 In the Agency MBS purchase program, the Federal Reserve explained its use of "agency MBS dollar rolls as a supplemental tool to address temporary imbalances in market supply and demand. A dollar roll is a transaction conducted at market prices that generally involves the purchase or sale of agency MBS for delivery in the current month, with the simultaneous agreement to resell or repurchase substantially similar (although not necessarily the same) securities on a specified future date."  (Bold is my emphasis).
The "agency MBS dollar rolls" is akin to a no-money-down 'Buy/Sell Now, Pay/Deliver Later' layaway plan summing to $600.15 billion in mortgage bond transactions with the largest banks. It just happens that these MBSs were already owned by some entities 25 years ago. It was not mentioned in the Federal Reserve Bank official announcements that dollar rolls might also serve an unofficial function such as borrowing securities to cover a naked short position. This could happen along the lines of the member banks and affiliates agreeing to "purchase" mortgage bonds the Federal Reserve does not have (to sell) and at an agreed upon date, sell these "bonds" back to the Federal Reserve.
The Federal Reserve omitted the 9-digit of the CUSIP in its mbs.xls file that would be helpful in looking up the bonds. According to CUSIP, the 9th digit is a "check" digit that is derived from a "Modulus 10 Double Add Double" algorithm based on the specific position of the first eight characters or numbers. This means the 9th digit is unique. There can cannot be multiple MBSs with the same first 8-digits and a different 9th digit.
Let's take a closer look at what the Federal Reserve actually bought:
There were 865 mortgage bond CUSIPS: 738 Fannie Mae, 127 Freddie Mac mortgage bonds (MBS);
About 70 out of these 865 CUSIPS accounted for $1 trillion of the Federal Reserve's net purchases.
All of these 70 CUSIPS were series "01FXXXXXX" for Fannie Mae and "02RXXXXXX" for Freddie Mac bonds.
178 of 865 bond CUSIPS were empty – all were newer series "313- or 314-XXXXXX".
What the Federal Reserve Bank and its largest member banks did with $1.850 TRILLION MBS transactions that netted the banks $1.25 trillion can be seen in Table 3, which  contains a sample of 20 Agency bonds CUSIPs (filling in the 9th-digit) that saw the largest transactions:
The Fannie Mae MBS CUSIP series "01F" were issued in the 1980s also with international ISINs and accounted for nearly all of the Federal Reserve Bank's dollars purchase of Fannie Mae MBSs. Fannie Mae's first MBS issue was in 1981. If this pattern holds, nearly all of the Federal Reserve Bank $1.25 trillion purchases were of Agency MBS mortgage bonds from the 1980s.
The Agency bonds were originally issued some 25 years ago in the $400 to $600 MILLION range. Yet,
The largest banks sold these bonds to the Federal Reserve Bank for $20 BILLION to $57.7 BILLION ! Bond CUSIPs in rows 1-8 were pure purchases by the Federal Reserve without any dollar-roll 'repurchase' transactions.
Naked Voodoo Table 3.  The Federal Reserve Bank's Quantitative Easing 1  a Cover for $1.2+ Trillion Naked Credit Default Swaps?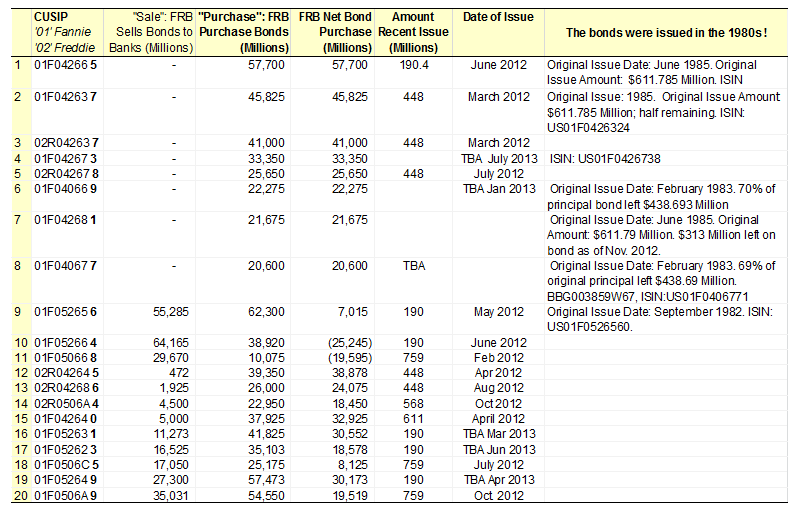 For instance, Fannie Mae MBS with CUSIP 01F042665 in Row 1 [*I would be happy to update the above table should someone like to fill in the rest of the last three columns.]:
Issued in 1985 for $611.79 million. Total Fannie Mae MBS Bond Issuance in 1985 was $23.142

billion

.
The banks sold this bond to the Federal Reserve Bank for $57.7

billion

; mostly Deutsche Bank, Morgan Stanley, Credit Suisse, Goldman Sachs, JP Morgan. Settlement date: June 11, 2009;
This same CUSIP was issued (re-issued?) in June 2012 for $190.4

million

. It is my understanding that Fannie Mae and Freddie Mac CUSIPs are unique to each new issue as old CUSIPS are not resurrected.
Yet, the Federal Reserve's holdings of 26,179 Agency MBSs (data) do not contain even one of the $1.1 trillion in Agency MBSs with CUSIP series '01F' or '02R' reported in its Agency MBS purchases program as of December 5, 2012; A few of the Federal Reserve's reported MBSs outstanding amounts looks a bit odd. In 2011 the Federal Reserve Bank of New York began to  consolidate the Federal Reserve's mortgage-backed securities (MBS) backed by Fannie Mae and Freddie Mac held in its System Open Market Account (SOMA) through a process called CUSIP aggregation. There were 35,045 Agency MBS CUSIPs that were combined into other CUSIPs, but not one was a series '01F' or '02R'.
Let's look at a transaction in Table 4 that involved what the Federal Reserve calls "agency MBS dollar rolls" using Fannie Mae bond CUSIP 01F052656 (Row 9 from Table 3 above), which was issued in September 1982. The Federal Reserve sold this MBS over and over again – 105 times – to the largest banks starting on March 12, 2009 and every business day thereafter until May 2009 and a few in early 2010 for a total of $55.285 BILLION. Total Fannie Mae MBS issues for the year 1982 was $13.97 billion. To see what this looks like, the table below shows a subset of these Federal Reserve 'sales' transactions to the banks totaling $45.125 billion, all of which settled on May 12, 2009.
Voodoo Rolls Table 4. Federal Reserve Bank's Agency MBS "Dollar Rolls"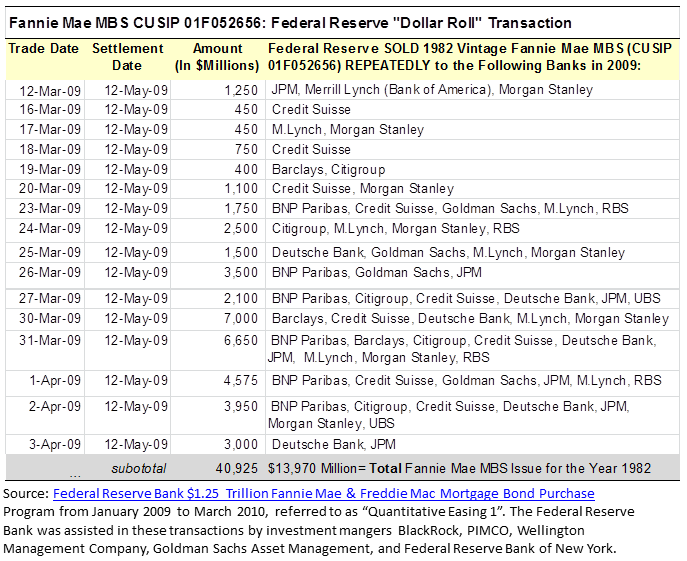 Then starting in mid-April 2009 to May 2009 (a few in early 2010) resembling much like the table above, the banks in succession sold back this Fannie Mae MBS to the Federal Reserve in transactions totaling $62.3 billion. The settlement date was May 12, 2009. The Federal Reserve purchased a net $7.015 billion from these banks, or conversely, the banks netted $7.015 billion from its Federal Reserve Bank based on a Fannie Mae bond that was issued in 1982 when Fannie Mae's total MBS issuance for the year was $13.97 billion.
What the Federal Reserve Bank calls "agency MBS dollar rolls" summing to  $600 billion  of mortgage bonds reincarnated from 25 years ago into "substantially similar (although not necessarily the same) securities" – looks a lot like an unofficial cover for naked credit default swaps settlement.
In Defense of the Federal Reserve Bank
The Federal Reserve has received much criticism for using vast quantities of U.S. dollars to save its largest member banks and extended dollars to the European banks at such low interest rates. To the Federal Reserve's defense, the U.S. dollars came out of nowhere and did not really "cost" anything to generate in its computer. In exchange for these digital dollars, the peoples of the U.S. and Eurozone put up their countries as collateral for the privilege of borrowing these funds that came from nowhere. In the big scheme of things, one could re-read Quantitative Easing 0-1-2-3∞… and replace the word 'mortgage bonds' with 'sovereign bonds' as the playbook is about the same.
There have been concerns expressed about the state of the Federal Reserve's balance sheets and its toxic mortgages. Why? The Federal Reserve can print any quantities of U.S. dollars to save itself, if not the value of the U.S. dollar. In the meantime, what would take most American adults a lifetime to payoff the mortgages on their homes, the Federal Reserve with a few computer strokes in Quantitative Easing 0-1-2-3∞ created digital dollars to own among its portfolio:
The NPR article noted that the quasi-private Federal Reserve Bank returned profits to the public Treasury, $77 billion in 2011. It just took QE $10 trillion dollar 'loans' swaps and QE 0-1-2-3 to do so as the average family net worth falls by 40% after 2008. This figure may not include Americans with negative net worth.
On December 13, 2012, the Federal Reserve Bank extended the dollar swap lines with the European Central Bank, Bank of England, and Swiss National Bank to shore up confidence in its monetary system. To further reinforce confidence in the monetary system (that hopefully other countries have not seen),
Former Federal Reserve Chairman Alan Greenspan(Aug. 7, 2011) reassured the public and foreigners that U.S. government bonds are "Very much so" safe investments, further on the Meet the Press interview, "The United States can pay any debt it has because we can always print money to do that" as emerging economies have reduced their relative U.S. dollar and Treasury holdings in half, which to some media intellectuals mean
A shortage of U.S. Treasury Bonds for investors as the Federal Reserve and its member banks are buying most of it December 3, 2012 .
Bill Gates, Microsoft, 2012, CNBC Interview: "Gold… is so psychological… it is purely psychological…" as Warren Buffet defends Berkshire Hathaway against a gold nugget.
Charles Munger, Warren Buffet's Vice Chairman on CNBC, May 4, 2012: "…civilized people don't buy gold. They invest in productive businesses." Indeed, when there is rule of law and the return to those investments are not devalued (or at least not foreclosed upon by the Federal Reserve Bank) as 35 of the largest U.S. multinational companies added nearly 3 times more jobs abroad than in the U.S.
From Beyond Quantitative Easing 0-1-2-3∞, China for the first time in 2010 and has since led the world's share of manufacturing output. In about three year's time, China is on a trajectory to be the largest economy in the world, according to the IMF. At also about that time, Hong Kong is set to become the financial capital of the world with Singapore quickly catching up, according to London's Centre for Economics and Business Research (CEBR) release in November. Last year, Hong Kong unseated both London and New York in financial development for the first time, according to the World Economic Forum in its 40-year history. CEBR noted that London's loss of dominance was due to "short-sighted over-regulation … and banker bashing."