Greece's new Ph.D. Oxford-educated Dutch-born-British-raised Finance Minister Euclid Tsakalotos.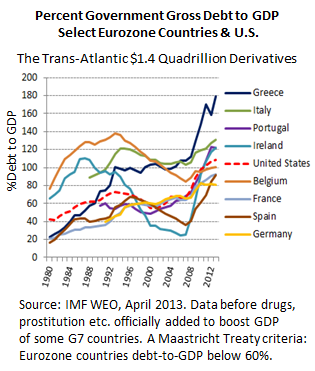 In early 2015, Greek Finance Minister Yanis "The-Bankers-Hate-Me" Varoufakis went to investment bank Lazard Freres to advise Athens on 'debt restructuring' – the same Lazard Freres that in 2012, "organized a massive debt swap which was little more than a disguised €100bn default, and which incidentally was part funded by the ECB" ("Greece Crisis: So is Greek Finance Minister Varoufakis a Marxist?" Independent, Feb. 9, 2015). The ECB must be shocked. This is the Lazard Freres with Rothschild, Morgan, and Hermann Abs of Deutsche Bank et al. that created Euro Monetary Union and served as advisers to the World Bank early in its inception (See Part IV Leave the European Union, Part II-III).
There was Goldman Sachs, the most heavily involved Wall Street bank in the Greece government, to arrange swaps that helped to blow up Greece's debt ("Greek Debt Crisis: How Goldman Sachs Helped Greece to Mask its True Debt." Spiegel, Feb. 2, 2010). Goldman Sachs COO Steve Cohen made frequent visits to the Greece government, meeting with Greece's Prime Minister George Papandreou to offer debt products. Varoufakis was an adviser to Papandreou, who started Greece on the road to "austerity", i.e. the "IMF's Four Steps to Damnation."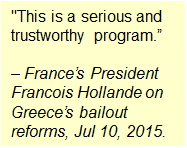 With the IMF "Secret" exposed on July 14, the IMF "stuns" with "a political earthquake in Europe" by calling for "massive Greek debt relief" ("IMF stuns Europe with call for massive Greek debt relief." Telegraph, 14 Jul 2015)… the same IMF whose "devised in secret" country assistance plans (CAS) marked "RESTRICTED" "CONFIDENTIAL" collapsed Greece's GDP by 25% and more than doubled the unemployment rate in the past five years to near 26%. Greece's debt burden nearly doubled. The Greek people are in shock.
With such successful bailout reforms, the IMF-ECB-EC, Tsipras, Oxford Ph.D. Tsakalotos, "The-Bankers-Hate-Me" Ph.D. Varoufakis, Merkel, Hollande et al. gathered in emergency "marathon" meetings and came up with more "bailout reforms" (to cripple) on what remains productive in Greece, including dismembering Greece €50 billion of its national assets so that the ATMs in Greece can spit out €60 more insolvent euros allowances. The people of Greece are shocked.
To "save" Greece during those midnight hours, the IMF-ECB-EC, Tsipras, Oxford Tsakalotos, "The-Bankers-Hate-Me" Varoufakis, Merkel, Hollande et al. must have borrowed from the previous Greece "bailout reforms" because the crew dismembered €50 billion of Greece's national assets in 2011 under Prime Minister George Papandreou ("Greece takes first steps to EUR50bn sell-off." Financial Times, Mar 23, 2011).
Lazard Freres, a long-term adviser to Greece, handled the restructuring of the Consignments, Deposits and Loans Fund, a state-owned lender which had failed European bank stress tests. This is the Lazard Frères old investment bank that Greece Finance Minister Yanis "The-Bankers-Hate-Me" Varoufakis promptly sought to advise Athens on 'debt restructuring' upon their Syriza party's election win in January 2015.
[That's odd, shouldn't the largest banks in the European Union and Federal Reserve have failed these bank stress tests? See posts Quantitative Easing…Levitating the Black Hole; The Federal Reserve Bank is Naked.]
The advisers in the 2011 bailout (dismemberment of Greece) sale included Rothschild and Barclays for Greece's roads; France's BNP Paribas and Greece's National Bank on the Athens International Airport; Lazard on exploiting the commercial activities of the Greek trusts and loans funds et al. ("The Big Fat Greek Sell-Off: Required to Contribute EUR 50Bn Towards Its Own Bail-Out, Greece is Finally Facing Up to the Sale of Its Most Treasured Assets." The Sunday Telegraph [London (UK)], 05 June 2011).
Warren Buffet reportedly has gotten an early start and just bought the beautiful Greek island of Agios Thomas on clearance for 15 million euros. (Sputnik, July 19, 2015).
No matter the outcome of the July 5th referendum, Finance Minister "The-Bankers-Hate-Me" Varoufakis vowed preemptively to sue the European Union to block Greece's exit from the euro ('Greece Threatens Top Court Action to Block Grexit." Telegraph, Jun 29, 2015)… and hand Greece back to the IMF-ECB-EC et al. bankers for the dismemberment.
Greece's Prime Minister Alexis Tsipras asks the Greek people he betrayed to accept more "bailouts" to "save" Greece from leaving the euro currency: "The worst thing a captain can do while he is steering a ship during a storm, as difficult as it is, is to abandon the helm," Tsipras said. "I won't escape these responsibilities…"
Perhaps what Greece's Prime Minister Tsipras meant to say to the Greek people was:
When a ship is being steered on a course that is destroying the ship and Greek passengers thrown to the sharks, a captain does not lock onto the same course to sink even deeper while blocking the exit and selling off the lifeboats, unless the captain's responsibility is to destroy the Greek passengers with the ship… at which time, the passengers must throw the captain et al. overboard to change course and save themselves and their nation.

"The-Bankers-Hate-Me" Varoufakis, who could not resist the opportunity to join Tsipras' Syriza team, railed against Germany's FM Wolfgang Schaeuble for "sacrificing" Greece to  "austerity" "bailout reforms" et al. This after Varoufakis previously advised and then railed against former Greece Prime Minister George A. Papandreou, who initiated Greece on the "IMF's Four Steps to Damnation" bailouts, that is, the dismemberment of Greece.
PM Papandreou, like his PM father, led the Greek PASOK party whose campaigns called for Greece to leave the European Union and NATO, railed against the bankers et al. and then did the opposite in power. PASOK apparently loaned their clothes now worn by Greek PM Tsipras channeling Papandreou and "the-bankers-hate-me" FM Varoufakis of Syriza ("Is SYRIZA the New PASOK?" Greek Reporter, Oct. 12, 2014) as both PASOK and Syriza once again, delivered Greece back to the IMF-ECB-EC-EU et al. because…
The task of Finance Minister Yanis "The-Bankers-Hate-Me" Varoufakis was to keep Greece in the euro, claiming that leaving the euro is too late ("Profile Greek Finance Minister Yanis Varoufakis." Reuters, Jan. 28, 2015). What an usual thing to say for a "brilliant" mathematical economist Ph.D. Varoufakis of a Euro Monetary Union in its 15th year insolvent when the Greek drachma has been around for ten centuries until some 15 twitter years ago.
Fresh from an island vacation, "The-Bankers-Hate-Me" Varoufakis deemed Greece's bailout the "culmination of a coup", perhaps befitting The New York Times (May 20, 2015) headline a few months earlier, Yanis Varoufakis, "A Finance Minister Fit for a Greek Tragedy?" On a world rail-against-the-bankers-bailout media tour, Varoufakis rails to BBC News that the bailout "will fail", which will "go down in history as the greatest disaster of macroeconomic management ever." ("Greece debt crisis: Reforms 'will fail' – Varoufakis." BBC News, Jul 18, 2015).
Thou doth protest too much, methinks
Amidst "threats" of a "Grexit", what the Greek Trojans, IMF-ECB-EU et al. really said was leaving the EU euro club is not an option. Therefore, Greece was "saved" from leaving the Eurozone and European Union.
Greece will be dismembered until the Greek people no longer have the will to exist as a nation, stripped of its wealth. Yet the illusion has been maintained for the people of Greece and others in the EU to fear their existence outside the euro and European Union ("Biggest Greek Bank Warns of Dire Euro Exit Fallout." Reuters, May 29, 2012) while being dismembered inside it. The biggest Greek bank, National Bank of Greece, issued dire warnings about exiting the euro when it was busy with BNP Paribas dismembering the Athens International Airport to bankers "creditors" a year earlier.
Just how did a civilization like Greece and its centuries old drachma manage to exist before the European Union?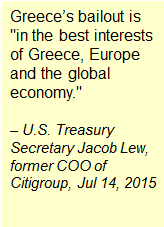 "The Greek government has presented a reform plan in accordance with the decision made at Eurogroup summit," said France's President Francois Hollande. "This is a serious and trustworthy program," noting "Greece thus demonstrated its intention to stay in the Eurozone." (TASS, July 10, 2015) [… lest France experiences another terrorist event…]
U.S. Treasury Secretary Jacob Lew, former COO of Citigroup, hails Greece's bailout to be "in the best interests of Greece, Europe and the global economy." ("Greece Deal Good for Europe, Global Economy: U.S. Treasury Secretary." Xinhua, Jul 14, 2015).
Which is why on the heels of the Greek 'bailout debt crisis', Hollande proposes the creation of a euro zone government, which would take control of the fiscal and economic policies of the 19 countries in euro monetary union ("France's Hollande Proposes Creation of Euro-Zone Government." Bloomberg, Jul 19, 2015). There is a method to the madness in breaking countries in the euro zone such as Greece, Ireland, Portugal, Spain et al. to insolvency.
Hollande is a messenger of a 'proposal' that has been decades in the making. The control over each country's fiscal and economic policies would lead to the common Euro Bond proposed during the "European sovereign debt crisis" ("EU Pushes Scenarios for Euro Bond." WSJ, Nov. 21, 2011). This was tested decades earlier by Hermann Abs, Rothschild et al. who formed the European Union and common Euro Monetary Union, after financing the destruction of Europe (Part II-III Leave the European Union, Part IV). In effect, if the euro zone countries follow this path, nationhood would cease.
This is to preserve and advance what was brought to fruition through decades of U.S. Central Intelligence Agency, Nazi SS et al. covert operations to round up war-torn Europe, after financing Hitler and the so-called Nazi Third Reich to destroy Europe, until the formation of the European Union and adoption of the Euro Monetary Union became "virtually inescapable". This declassified letter dated 1965 among others dating back to 1948, surfaced in 2000 following the adoption of the euro currency. ("Euro-federalists financed by U.S. spy chiefs." Telegraph, Sept. 19, 2000; Aldrich, Richard. "OSS, CIA and European Unity." Diplomacy & Statecraft, 1997; Leave the European Union Part I, Part II-III, Part IV).
Throw bankrupt Greece out of the bankrupt European Union? Costas Karamanlis, former Greek Prime Minister from 2004 to 2009, had advanced a Greece-Russia energy alliance. Greece would become a gateway for Russian oil and gas to Europe, about the time Rothschild, Brzezinski, U.S. et al. pushed the ill-fated Nabucco Pipelines to sever countries in the European Union from buying Russian gas (Part II-III Leave the European Union).
Karamanlis lost under "suspicious circumstances" in the 2009 elections to George A. Papandreou, as it emerged that Russia's FSB security agency had warned its Greek counterpart of a 2008 plot to assassinate Karamanlis to halt his pro-Moscow energy alliance ("UPDATE 2-Greece presses charges over alleged '08 plot against PM." Reuters, Mar 14, 2012).
Throw a bankrupt Ukraine out of European Union integration? Within days of the pro-EU Nazi armed coup d'état of Ukraine's Yanukovych government, the European Union offered the bankrupt, politically stable coup-induced civil war Ukraine: "We are ready to sign when Ukraine is ready to sign [EU Association Agreement]."  Ukraine's President Yanukovych had suspended signing the EU agreement on Nov. 21, 2013 in favor of Russia and consider the impact on their significant economic, trade and historical ties ("EU offer of free-trade pact with Ukraine still stands, Brussels ready to sign – EU trade chief." Reuters, Feb. 28, 2014; Part II-III Leave the European Union).
Ukraine, through which significant Russian pipelines deliver gas to Europe, has been part of Brzezinski, CIA, Vatican et al. covert operations over decades to corral the largest last of the post-Soviet states into the European Union and NATO (Zbigniew Brzezinski's Grand Chessboard; Bernstein & Politi's His Holiness). Assistant Secretary of State Victoria Nuland stated in recent times $5 billion has been spent to deliver Ukraine to the European Union, then NATO (Remarks on Dec. 13, 2013, U.S. State Department). With the coup d'état of Ukraine, the European Commission says Russia's abandoning the gas route through Ukraine is "unacceptable" (Sputnik, Jul 14, 2015).
This highlights the European Union's 'Copenhagen criteria' for EU membership which includes "stable institutions guaranteeing democracy, the rule of law, human rights" and "a functioning market economy". About 15 years into the European Union's Euro Monetary Union (EMU), most of the euro zone countries do not meet a basic criteria under the Maastricht Treaty, such as a debt to GDP under 60 percent. Germany, the European Union's largest and strongest economy, exceeds this ratio. Some countries were assisted with derivatives to mask their debt to "sneak" into the euro zone as a picture emerges, to be dismembered with all the countries in the European Union.
It is an usual time to observe the past and the present converge as nations are at an epoch turning point. Earlier this month, Austrian campaigners gathered 260,000 signatures of the required 100,000 for its parliament to put to a referendum Austria's exit from the European Union (Sputnik, Jul 4, 2015; "Austria is Fast Becoming Europe's Latest Debt Nightmare." Telegraph, Mar 7, 2015; "Austria Wants the UK to Give its Gold Back." CNBC, May 29, 2015).
Euro-skepticism stirs in Italy, France, U.K. et al. as the U.S. multinational corporations and banks threaten job loss and relocations in the event of an EU-exit as the U.S.-EU engage in secret trade negotiations (Trans-Atlantic Trade and Investment Partnership (TTIP) &Trans-Pacific Partnership (TPP)) that will allow multinational corporations to override a nation's laws.
Some 50 years to the fruition of the European Union and euro monetary union, the question is whether the people of countries in the European Union remember what it was like to be a sovereign nation and have the courage to be a sovereign nation again. What will the people do when their leaders steer the nation on a path to being dismembered?